Back to Top

Overview

Jump to Overview

Features

Jump to Features

Warranty

Jump to Warranty

Reviews

Jump to Reviews

true
Zoom
tier1
Fender

Stratocaster Electric Guitar Pickup
Product

301610
LROAAB
true
MMGS7/301610000181002_MEDIA_SET
false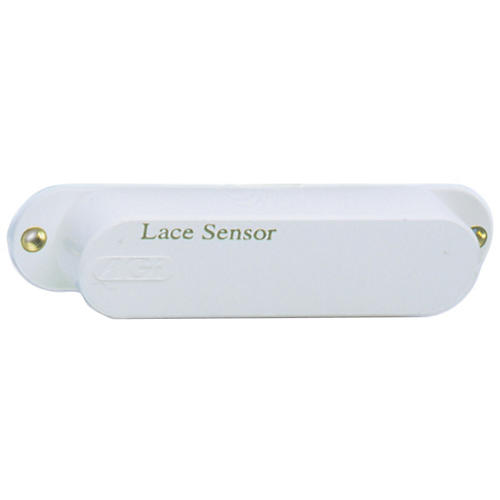 (48 Contiguous U.S. States)
Free
Free Shipping With Backstage Pass
2-Day Standard Ground
Free Shipping With Backstage Pass

(48 Contiguous U.S. States)
The Fender Lace Sensor Stratocaster guitar pickup offers high output with low noise and incredible response and sustain. Gold model offers crisp top ...Click To Read More About This Product
We're sorry-this item is unavailable.
Find a similar product below or contact our experts for a recommendation of great alternatives. Call us at 800-449-9128.
Customers Also Viewed:
OVERVIEW
Low noise, high output, and incredible response and sustain.
The Fender Lace Sensor Stratocaster guitar pickup offers high output with low noise and incredible response and sustain. Gold model offers crisp top end and glassy bell-like tones. The silver pickup is designed for higher output and it has more pronounced midrange tone like a Fender Fat Strat. The blue Stratocaster pickup is warmer with a '50s humbucker sound. The red version delivers extreme output, hot humbucker pickup sound. The Fender Lace Sensor Stratocaster pickups are available with black or white covers.
Your baby's well equipped with Fender guitar parts. Order today!
/pdp/reviews/productReviews.jsp
Loading....
Comments about Fender Stratocaster Electric Guitar Pickup:
I recently had to replace the neck pickup on my Jeff Beck Strat and I decided to go with a little darker sound than the "gold" lace pickup that it came with. I went with the "Blue" on the recommendation that it had a warmer sound more like a Humbucker. It sounds great and still has that crunch that you want but is just that much mellower that it really gives the guitar more range with a good Jazz sound on the neck pickup. I play a lot of blues and country and I've received comments that it really sounds good.
Comments about Fender Stratocaster Electric Guitar Pickup:
I own several 92 strat plus guitars equipped with gold lace sensor pups. They offer a bell like tone with shimmering fluid mids and whistleling treble. They have a weaker bass tone response then the blue or red sensors but deliver the strat quack in or out of phase. If you are looking for a fatter sound out of your single coil pup equipped strat check out the blue or red lace sensors. For great versatility I play my 91 deluxe plus strat equipped with red lace bridge, blue lace middle and silver lace neck pups.
Comments about Fender Stratocaster Electric Guitar Pickup:
My ?96 Deluxe Strat Plus came with the Red Bridge, Silver Middle, & Blue Neck Fender Lace Sensor pickups. Although very quiet, the Red FLS is more like an over wound Humbucker which is great for massive distortion while the Blue is more of a P90 sound. Also, the ?quack? tones on pos 2 & 4 is not very apparent. After having played a friend?s Strat Plus with 3 Gold FLS I found the neck and mid had excellent Strat tone and response but the bridge was a little week. So, I moved my Silver FLS to the Bridge (7.1k Ohms, 3.38 Henries, 3000 Hz peak frequency, fat 70s single coil sound and increased output with punchier midrange) and added two Gold FLS (5.8k Ohms, 2.4 Henries, 3600 Hz peak frequency, classic 50's style single coil with bell-like sound) in the Neck/Mid positions that I got from MF. That solved the Humbucker/P90 issue and now the tone is very similar to the CS54 Single Coils both in specs and tone but without all the hum. Now the ?quack? tone on 2 & 4 are classic Fender. Keep in mind these are not true noiseless but the overall hum is super-reduced without taking the life out of the pickups. Lace Sensors are the only true noise reducing single coil currently available. Holy Grail, Noiseless, SCN, Kinman, Virtual Vintage, Area 58 etc are all dual coil Humbucker designs and that is why they do not sound like true single coils. Also, per Jeff Lace, there is no difference between Fender Lace Sensors and Lace Sensors other than the embossed logo. As mentioned in another review, these will definitely sound best with the TBX (Treble-Bass-eXpander) tone control. The TBX came standard with the Strat Plus series. However, to get the most out of the TBX you MUST change the resistor and rewire it per the instructions detailed on the Blue Guitar website. The links arehttp://www.blueguitar.org/new/schem/_gtr/tbx-mods_and_details.pdf for the wiring details and http://www.blueguitar.org/new/schem/_gtr/tbx_poop.txt to explain why the mod is needed. This mod cost less than .99 from RS and replaces the 82k Ohm tone-sucking series resistor to 120k Ohm parallel resistor which allows the TBX to work flawlessly with passive pickups from 0 to 10 with no dropouts. It?s a very simple mod that make your Sensor loaded Strat sound how it should with little to no 60 cycle hum.
Comments about Fender Stratocaster Electric Guitar Pickup:
I have Blue at the neck, Silver in the middle and Red at the bridge. For the last 10 years, Lace Sensors have been my preferences. In my opinion, they are the best choice if you play different music styles. Probably I'm gonna stick with them for the rest of my life.
Comments about Fender Stratocaster Electric Guitar Pickup:
I have a Strat Deluxe with one each of the Blue-(neck) / Silver-(middle) / Red-(bridge).They sound great, best tone of all. I've compared them to four other Strats with regular pickup, including the HSS-LT S-1 model. More output, more sustain. Love them.
Comments about Fender Stratocaster Electric Guitar Pickup:
These pickups are great. They have great sustain, and at high output, they sound like humbuckers more than single coils. These are great for Rock, Southern Rock, Metal, Clasic Rock. I use the "red with Black Cover."
Comments about Fender Stratocaster Electric Guitar Pickup:
Great pickup, It doesn't sound too much like a humbucker, you still get that twangy single coil sound. But it does sound great and can hang with the heviest guitars. It sounds great playing anything. Even metal. The clean sound is amazing. I love it!
Comments about Fender Stratocaster Electric Guitar Pickup:
I am one of the lucky guys who happen to own an older model set of Pickups (sadly I am not sure what color it is). My Dad bought an '88 Strat Plus with these bad boys in it and I was AMAZED at the sound and the output. I pluged it into my 4" Amp and thought "This isn't going be NEAR loud enough", so I strumed an E Chord, and it blew me away. I had the neighbors mad at me, So I proceded to flip on my bridge and played "Thunderstruck". I was stunned to hear that these pickups that have nothing to do with a Gibson Humbucker, were actually pumping an AC/DC solo with no second thoughts. AC/DC is one of my favorite bands and these pickups are PERFECT for an Angus guitar riff. Basically if you get a wild hair to buy a set of these puppies, DO IT! You will not be disappointed in these pickups.
Comments about Fender Stratocaster Electric Guitar Pickup:
First, I started off with a Standard Strat. I put the Fender locking tuners on it and a roller nut, but I felt it was still missing something. So I bought 3 Lace Sensor Golds and installed them. This is by far the best combination ever. This guitar is now flawless. The neck pickup, I think, is the best. It has that fat, crisp, punchy sound that Clapton and Hendrix use. The middle pickup is great for clean jazz chords. The bridge is great for a classic blues distortion.These pickups are completely noiseless and are by far the best pickups you can buy for your strat. It's no wonder Clapton, David Gilmour, Billy Corgan, Jeff Beck, and Buddy Guy all use the Golds.
Comments about Fender Stratocaster Electric Guitar Pickup:
I have a 2004 American Stratocaster and I play through a Hot Rod Deville 410 amp. I read many reviews online, and while it may have been a quick decision to just buy a pickup set from word of mouth, I was not disappointed. These pickups give you a very tight, almost compressed sound while not losing the classic Stratocaster twang and glassy tones. Even though I am very picky about overdriven tone, these pickups easily satisfy my needs. The lows and mids are tight, while it is easy to produce leads that cut through the mix. For a pickup that gives you a tight, colorful overdriven sound and a clear, well rounded clean sound look no further than Lace sensor golds.
Comments about Fender Stratocaster Electric Guitar Pickup:
When I got my Strat, I knew my pickups had to be Sensors. The amount of tonal versatility you can get from them is outstanding. My setup runs the whole range, I have a gold in the neck, a silver in the middle and a blue/red Dually (humbucker size) in the bridge with a splitter switch. My favorite out of the four designs is the silver, as it adds a bit more midrange punch to the Strat tone and fattens up your single-coil sound. The gold is nice for neck runs, blue has a PAF-type bark. Red is a little harsh, try EQing your amp or installing a TBX circuit to make it sound better. To those who accuse them of "clinical" sound, that's the POINT of the pickup! If you want your Strat to sound like an idling chainsaw when standing under electric lights, that's up to you; but Don Lace obviously knew what he was doing, because these do better "clean" than Fender's own Noiseless pickups, since the Noiseless is just a little too bassy to really sound like a Strat (inherent in stacked pickups). Also, for those who think the golds are too weak, check out Lace's website and consider the Hot Gold Sensors, especially the 13.5k bridge pickup. Remember, you can put these pickups as close to the strings as you want since they have zero string pull. Overall, they're great. As long as I have a Strat, I will be using Sensors.
Comments about Fender Stratocaster Electric Guitar Pickup:
OK, I have had these pickups in 2 strats now, one american and one mex. One set golds, and one set silvers. This is the scoop from what i gather after 2 years. They are AMAZING for clean tones, expecially the golds, and would be amazing for a country band. However, they are not too good with distortions and effects and are almost bad with loud live gigs. Basically play them before you buy, also, if you want a good sound, live, and something to hold effects, try the texas specials.
Comments about Fender Stratocaster Electric Guitar Pickup:
Great sounding futuristic looking pickups. Genious invention!
Comments about Fender Stratocaster Electric Guitar Pickup:
I bought these in '90 and used them for 11 years. I had a blue in the bridge and 2 golds. I replaced a set of Duncans and regreted the move. Now these pickups are not horrible by any stretch of the imagination but I did find them to be a bit souless and clinical. The blue had more of a humbucking type tone of which I was looking for at that point while the golds had the more vintage tone. I hoped that they needed to be played in but the tone never really came into it's own so I figured since I paid enough for them I might as well get my money's worth out of them and them. Surprisingly they made a good workhorse type pickup and the blue blended very nicely when I switched to Marshalls. I have since switched the pickups over to 57/62's.
Comments about Fender Stratocaster Electric Guitar Pickup:
I got my Strat back in 1989 or 90. It came with Lace Sensor Gold pickups. They are nice but I always thought I was not quite getting the classic Strat sound I heard from David Gilmore and Mark Knopfler. I switched to Texas Special pickups last week and I really love them. The difference is small, but to me the small difference is worth it.
Comments about Fender Stratocaster Electric Guitar Pickup:
Awsome. I put a silver in my 62' Strat and it made all the difference in the world. EXACTLY what I was looking for. Tone, sustain, and no noise. Ofcourse it depends on personal taste, but with the different types of Lace Sensors I would highly suggest trying these out. From clean to scream these are awsome pickups. I'll be replacing my middle and bridge pickups with these at no hesitation.
Comments about Fender Stratocaster Electric Guitar Pickup:
I have been a start player since I first started playing guitar. My first guitar was a cheep Mexican start, which progressed into my current lineup of 4 American Strats. The only down side to the start for me was the noise, that 60 cycle hum was not something a like dealing with. Playing in clubs with neon signs all over was a plague to my Strats, but the lace sensors cut out the noise, and still give me my sought after start quack. great tone, no noise, and amazing quality. In the studio or on stage these pickups allow me to get the best out of my guitars and my stage rig.
Comments about Fender Stratocaster Electric Guitar Pickup:
I put a silver(neck), blue(middle), & a red(bridge)into a standard strat MIM as a little experiment. I don't know anyone who likes stock factory strat pups. I always disliked the weak bottom end. The Lace pups are quiet, well defined, and they give you a compressed sound. However, the red version is hot and works very well with Boss metal zone. For most of the distortion leads I record, I use the middle and bridge combination with the both tone pots set at 5 or slightly less. This is then run through a Boss compressor-Boss volume pedal-Ibanez Tube Screamer-DOD Flanger-Boss DD6 delay-Marshall Chorus- (clean)Marshall 100 Stack with presence set slightly less than half. example of sound: "Layla". You won't have to push the amp very hard. I have recorded with this guitar without any other mods for the last 5 years.Hope this helps.
Comments about Fender Stratocaster Electric Guitar Pickup:
I bought a U.S. Strat Plus back in '91 that was equipped with 3 Gold Fender-Lace Sensors and these are fantastically quiet, very responsive pickups. The Gold's sound ALMOST just like vintage 50's Fender pickups, minus the hum. Personally I love them, but a lot of players learned with and are accustomed to that low noise you get with traditional pickups. There IS a difference in the overall tone, but once again it's mostly due to the EXTREMELY quiet response you get. Try them before you buy them.
Comments about Fender Stratocaster Electric Guitar Pickup:
I've recently upgraded my Strat to Fender Lace Sensors (Gold/Neck; Blue/Middle; Red/Bridge). All I have to say is I LOVE 'EM! They have a slightly compressed sound to them that kicks hiney! I play a lot of metal and can get a great sound from them all and it has me wondering why I didn't try these earlier. I have to say that I'm a very picky person when it comes to my sound and now I'm happy!! Overall they're easy to install and fun to use!
{ "pageType" : "item_page", "placements" : "2", "placementNames" : "OOS,rr2" }