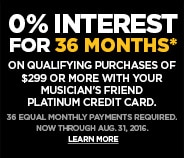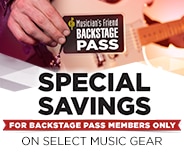 all
No Brand Items Returned
Quick Search Tips:
Try just one or two terms.
Instead of using the search box, find your gear by clicking the product category tabs and other navigation links.
Try varying the spelling to see if the word is spelled correctly.
Check out the items below that are suggested based on your search terms.
We'd love to help you find what you're looking for-call us anytime at 800-449-9128.
Suggested Items:
About ADAM Audio:
Even if a musician honed their skills until their craft was absolutely flawless, they still need to be equipped with top of the line audio equipment if they want to showcase their highest level of potential for an audience. Of course, ADAM Audio has been a trusted name amongst musicians and sound engineers since 1999 for this exact reason, and more often than not, their monitors and subwoofers can be found on stages and in recording studios all over the globe. In fact, ADAM stands for "Advanced Dynamic Audio Monitors", so their dedication to pristine sound reinforcement is found right in their name.

As you look through ADAM Audio's catalog of options, it's important to remember that the right monitor or subwoofer for you will be largely decided on the specific application you have planned to use it in. For example, if you're building a home studio setup with limited space but still want a monitor that has incredible accuracy, go with the A3X 2-Way Studio Monitor. ADAM's smallest monitor to date, this model delivers acclaimed ADAM sound quality by using an X-ART tweeter for the higher frequencies. No doubt, if crystal-clear audio reproduction is what you desire, then the A3X is for you.

Or, maybe what you need is a powerful, versatile subwoofer that's solidly built and easy to set up. If so, then go with the Sub7. Featuring a pair of motorized controls for input level and crossover frequency tweaking to dial your preferred settings for any environment, this subwoofer also comes with a remote control, so you can oversee your settings without leaving your listening position. Boasting a low cutoff frequency of 31Hz, the Sub7 is an excellent solution to filling out the lows of your sound system.

When choosing audio equipment, you want to be sure that the choices you make are capable of letting you do what you do best without ever holding you back, and for that, you've definitely come to the right spot. Continuously on the cutting edge of monitor and subwoofer construction, ADAM Audio is proud to provide you with the necessary gear to make great music sound the way it was meant to be heard.