Back to Top

Overview

Jump to Overview

Features

Jump to Features

Warranty

Jump to Warranty

Reviews

Jump to Reviews

true
Zoom
tier1
true
MMGS7/487823000000000_MEDIA_SET
false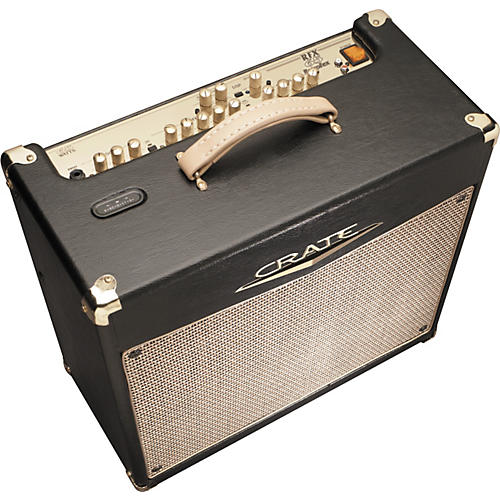 Lowest Price

Ships Internationally

Top Rated
(48 Contiguous U.S. States)
Free
Free Shipping With Backstage Pass
2-Day Standard Ground
Free Shipping With Backstage Pass

(48 Contiguous U.S. States)
USD
The Crate RFX65 Combo Amp has full 3-channel operation with independent Gain, Level, and tone-shaping circuits plus a versatile DSP effects section t...Click To Read More About This Product
We're sorry-this item is unavailable.
Find a similar product below or contact our experts for a recommendation of great alternatives. Call us at 800-449-9128.
Customers Also Viewed:
OVERVIEW
Vintage style with modern features.
The Crate RFX65 Combo Amp has full 3-channel operation with independent Gain, Level, and tone-shaping circuits plus a versatile DSP effects section that gives you lots of sonic options. The effects section on the RFX65 combo includes Chorus, Flange, Phase Shift, Vibrato, Octave Down, Touch-Wah, and Reverse Wah, and also has 15 delays that can be set for depth and speed. The Save/Tap button serves as a tap tempo input and lets you save your effects customizations on each channel. Reverb is separately assignable and has settings to control room size and reverb amount simultaneously. Crate includes a chromatic tuner and 3-button footswitch with the RFX65 Combo Amp.

Crate RFX series amps are all about smooth, classic tone and looks, skillfully mated with modern DSP effects for combos that deliver the sonic goods!
FEATURES
65W
12" speaker
Full 3-channel operation
Flexible DSP effects section
Independent Gain, Level, and tone shaping on each channel
Effects include: Chorus, Flange, Phase Shift, Vibrato, Octave Down, Touch-Wah, and Reverse Wah, 15 delays, Reverb
Separate reverb control
Tap tempo
Chromatic tuner
Includes 3-button footswitch
21"W x 19-1/4"H x 10-1/4"D
34 lbs.
Play any stage anywhere with your favorite sounds ready to go. Order now!
/pdp/reviews/productReviews.jsp
Loading....
Most Liked Positive Review
Sweet tone for an SS amp!
I tried this out today because I was looking for randall amps to try out, but they didn't have any, so I set my eyes on this puppy. I'm in the market for...Read complete review
I tried this out today because I was looking for randall amps to try out, but they didn't have any, so I set my eyes on this puppy. I'm in the market for a good sounding solid state combo, and this is right in there for sure! It also looks sweet! Don't let the vintage look fool you, this thing is totally capable of some sweet metal sound! The tones are very sweet in my opinion, the clean can be very warm or cristal clear depending on how you set the eq. The rhythm channel has a nice chunky feel, not pushed hard enough for a sustaining metal lead sound, but excellent for rhythm; it is very similar to a Mesa recto sound if you ask me. The lead channel is what was the most interesting to me! It has that usual fuzzy tone you get from tube amps usually, but only when playing chords and lower notes I notice; go up on the neck to shred and the notes open up in a great silky warm sound. Very similar to the warmth of tube amps that may have a high gain channel. For having a shared eq with the rhythm channel, the solo channel has an excellent sound! I didn't take the time to mess with the effects that much, I just heard some of the analog delay and chorus effects. The chorus sounded surprisingly lush to me, and the delay was a delay; I can't say nmuch about it because I didn't have enough time to tweak and figure out the sounds. All I gathered about the amp were at low practice level volumes, so I can't say much about how it holds at performance volumes, but at $300, I would be willing to make that an experiment! I gave a 4 on quality simply because I can't say how it would hold up to decent abuse since I only tried it in the store. If you don't want to take my word for it, try this puppy out the next time you see it in your local music store, I think you will be pleasantly surprised.
Most Liked Negative Review
Think!
Nice looks, but the rhythm and solo channels are unusable for anyone with a decent ear. The distortion is raspy, buzzy, and lacks and any harmonic character. I am amazed that Crate...Read complete review
Nice looks, but the rhythm and solo channels are unusable for anyone with a decent ear. The distortion is raspy, buzzy, and lacks and any harmonic character. I am amazed that Crate continues with this Flexwave 5 preamp; it is incredibly bad sounding. There is nothing musical sounding about this amp, save the clean with chorus and delay. have been a transistor amp player for over 20 years. I have owned several Crates before this one but got away from them as soon as my ear got more discerning. I came back to this new series becuase of the hype on certain sites, so I tought that SLM changed the preamp and deveolped something more musical -- not a chance. Go with a different manufacturer. Peavey's Transtube line has some promising tones. I try to avoid tube because of maitinence and cost issues -- a good SS amp can produce if it has the right stuff for tweaking. Crate RFX isn't even on the radar for "right stuff" in an amp's tone.
A very smooth amp for SS. I have owned the Fender 65 Twin Reverb and the Mesa-Boogie Nomad 45 and currently own the Bose L1. Besides the L1, this amp and is equal to the other two. It's hard to imagine that at 65w it can produce the sound and add to that the cost and there is no comparison. I play mostly the blues but it should work for alomst any type of music. You really need to check it out as Crate out-did themselves with this amp.
I bought one of these recently after playing on one for a few hours and man am I impressed. Once I got it in my home and could really crank the volume, I couldn't believe how good this thing sounds. It's quite loud for a 65 watt and the features are incredible. The distortion is so good that I haven't touched my toneworks AX3000g since I got this, the stomp box is of course great, and the reverb, chorus effects are just out of this world. Don't get this amp if you don't want to spend A LOT of time playing guitar!!!
This amp sounds awesome looks cool and has some good effects for the price you will pay for it. I was looking for a SS single 12" amp that sounded good clean (pedal guy). I owned a Fender Deluxe 112Plus in the past, so that's what I was comparing the rfx65 to...as well as the Vox ad50vt. I never considered a Crate product prior to finding this amp. As far as sound quality, no comparison...the Crate wins. The Fender had one sound - loud. It would go from no sound to too loud with a turn from 1 to 2 on the volume knob. The crate has much better range of volume and sounds better at all volumes. It has 3 drive channels - clean (sounds beautiful) rhythm (nice gritty crunch) and solo (all out gain if you want it). All three channels are fully tweakable, very useful and sound good to great. The effects are pretty good for a practice amp...not as good as some pedals of course. The amp has a classy retro look to it..pretty cool. I play a musicman Axis thru it and it has given me any sound I want. Two small gripes....the controls are hard to read in a darker setting (but the footswitch can make up for it if you use it properly) and there is no headphone jack. That's it....Great amp!
Fantastic sounding true 3 channel amp with digital effects. I am a true valve fan and was initially sceptical. How wrong could I have been. The first channel is a great clean a la Fender sound, the second is true rock, the third a great hi gain. What's more, effects can be assigned to each channel and you are given a channel change switch. The beauty of this amp is that it sounds fantastic - and when you consider its price the value is absolutely outstanding.
Well, I'm not a professional and I've never claimed to be. What I do know is that I've been playing for 18 years and have had the pleasure of using some real nice equipment. This is a real nice amp. Sounds good if you know how to use it correctly. Oh Hell, it sounds good if you don't know how to use it correctly. I find it hard to believe that someone labeling themselves as a Hobbyist can honestly say that anyone who finds this amp good does not have a good ear for sound. Especially when almost all of the ratings on this amp are way good. Bottom line is this, it's a great amp-especially for the price range. Buy and you'll see.
I've had this amp for about 8 months, and use it for live gigs as a one man band performer. it's a very versatile, nice sounding piece of gear. It has a deeper, richer tone than my other amps (Fender Hot Rod Deluxe, Fender Deluxe 900, Peavey Renown). There is also a lot of flexibility in shaping the tone in each of the 3 channels. And, it has killer vintage looks!The clean channel is pristine. The other two channels let you dial in as much crunch and distortion as you wish.The on board tuner is a nice feature, and because it and the rest of the controls are on top of the amp, they are easier to see and access.I'm not overly impressed by the effects. Some are okay, but the vibrato, phaser, and flange effects sound too much alike. And instead of letting you dial in the strength, delay, intensity, and other effect characteristics, you are stuck with a limited number of presets. On a positive note, you can store two effects with each channel, controllable by the included footswitch.Overall, this is very well built, great sounding amp at a reasonable price. It's not too heavy to carry, and is suitable for live gigs in small venues. And if the effects bother you, a $70 multi-effects box will solve that problem!
this amp is probably the best peice of acquipment ive ever owned. the effects add layers of sound onto this amp. the clean channel is amazing i turn the reverb all the way up and put the echo on it takes your sound to a completely different level. the gain channels are amazing i like the rythym channel alot. the power is unbelievable for 65watts it can compete with my drummerwhich says alot,because he plays hard.for 350 bucks this amp is a steal it's a crate so its quality its a must buy
I myself am a fan of fender amps. But to get the amp I really wanted I would have to pay more than twice this. This is a very good. It is alot better than i thought it would be. Its clean channel is suberb, way better than most of the Marshall amp clean channels i've heard. It has two distortion channels. I usually stick with the rythm channel because it adds just the right amount of distortion fort classic rock and blues. The other channel(solo) is great to but more for metal music. The effects are great on this amp. Im not a big fan of digital effects, I like pedals better, but these effects exceeded my expectations. There is such a wide range of them, they are a little tricky at first to get a handle of how to use them but after that its great. This amp is worth buying for anybody its possible its loud enough for a gig and its not very expensive. This is probably your best bet in this price range.
This little amp can kick. It isn't the Crate your used to. This is an all new amp the that can do clean, country, blues, rock, metal, and anything else you can think of. Classic looks and style as well as features to match. If I could change any thing about the amp I would honestly chang nothing. For the little money you spend on the amp you get a lot. So go ahead and find the tone that inspires you.
I just received my RFX65 a few days ago. This is my second Crate amp and they just keep getting better. I've been using it with an Epiphone Dot and Taylor 414CE and both sound great. Don't let the 65 watt rating fool you. There's plenty of power for just about any style guitar. If you're looking for a smaller amp with lots of punch and great sound, this is it.
I played this amp in the store a few days ago and I have to say the sound was "sweet". I have been playing since I was 14 and now I am closer to 60 ha.ha. I played various styles on the amp and have to say the presence of sound and clarity was beautiful. I like to play Chet Atkins and Jazz styles and it was such a joy to play and hear the sound. Everyone has their own taste and preferences but I think I have developed a pretty good sense for tone and pitch over the years. I have tried and owned a number of amps over the years and for the price I was "very very impressed". I will be purchasing one of these. The delay was beautiful and some of the effects were very nice. I use pedals so I was not concerned about the effects but really the clarity of sound. Crate has produced a wonderful amp for the money. The looks are retro for sure. Quite catchy on the eye. Handy little tuner on the top. Anyway I will be making one of these part of my collection of gear. Ultimately the tone and control is in the hands and heart but I have to say it was a pleasure to listen to what I was playing. Makes one sound very good. Try one out and I think you will enjoy what is coming out of the speakers. Good luck in your musicial journey!!!!
This little amp packs some seriously awesome tones. The cleans are clear and powerful and the crunch channel, (my fav) has a very cool feel and reminds me of an overdriven marshall. (get a jcm 800 for that) (different story). The lead channel is very searing and harmonius. As far as amps go for the price, you will NOT find any better for home or small gigs than the crate. Vintage looks too. Pick one up.
I am very impressed with this amp. I had my eye on it for a long time and was finally able to get one; man am I happy. The built-in effects sound great and give you great flexibility with your sound. Each one sounds authentic but my favorite is the wah-wah. The vibrato effect along with the clean channel allowed me to sound just like the guitar in Sun King by The Beatles. Huge amount of bass, I usually had to turn it down lol. The 65 watts is very loud, I always have to keep it below half or else I'd blow the room away. The gold matches my Sheraton perfectly and is very attractive. This will last me forever! Go buy it.
This is truly an amazing tube amp! This little monster packs alot of punch and has a truly unique tone and warmth to the sound. The effects are amazing and the tap tempo and built in tuner are awesome. If you want a high quality, great sounding amp; look no farther, go buy it now!
Excellent amp. This is the second Crate amp I've owned. The sound is amazing. It gets very loud even with the volume set fairly low. Great quality. Looks and sounds a lot more expensive than it is. I highly reccomend this amp for any style of music.
I just got this recently and at first it was fine then about a day later it started buzzing horrendously and it still is because i havent found out the problem. I cant even use it becasuse the buzzing is so severe. I think theres some kind of wiring issue in this thing. The clean channel is awesome, the distortion is ok. The effects are mediocre. Id probably go for something else.
This amp is really amazing! The clean tone I get on it is amazingly good. But the absolute BEST feature on this amp is the solo channel. My solos sound soo good on the solo channel (no duh..lol)The effects are aiite. They aren't bad at all, but they could be better. I usually use the chorus. The only problem im having with my amp is that it is starting to buzz like crazy. But im sure i can fix that :)
Please note that I am a tube guy and I have the Crate V50 and V30 in my studio to compare this against. That said, this is an exceptional SS amp with a warm and sparkling clean channel and two ripping overdrives. The rhythm OD does good crunch and great old school vintage tones like Clapton, ZZ Top and AC/DC stuff. The solo channel can go Santana to Shred city depending on tone and gain settings. Not noisy at all and effects are better than on my V50dfx. Looks killer and a total steal at this price. I have an 8 ohm Celestion I may slip in and see what that does but great amp stock.
Well, Its a nice amp. When I first got it I had never played on it, my mom ordered it for me for a Christmas present, I thought it was gonna suck because of the looks...Looks pretty vintage so I thought it wasn
I bought this amp in pinch needing a small amp to travel on missions trip with. I was really looking for a vox but also wanted atleast a 12in speaker. After talking to a salesmen at guitar center I was shown this amp and a Line 6. Neither brands are brands that I particuly like but I was in pinch. The Crate took me by suprise. Simple yet has enough effects that I won't use still unlike the Line 6 which was way more complex. A very handy built in tuner is great feature. Some of the effects are not so great and the foot pedal is annoying to take down and put together because of the two cables. Overall this amp is good. Plenty of power out of a small amp. Good features, nice looks. It was a good buy. Although I would still buy a vox over it.
{ "pageType" : "item_page", "placements" : "2", "placementNames" : "OOS,rr2" }