Back to Top

Overview

Jump to Overview

Features

Jump to Features

Warranty

Jump to Warranty

Reviews

Jump to Reviews

true
Zoom
tier1
Crate

V Series V18-212 18W 2x12 Tube Guitar Combo Amp
Product

487055
HAADD
true
MMGS7/487055000000000_MEDIA_SET
false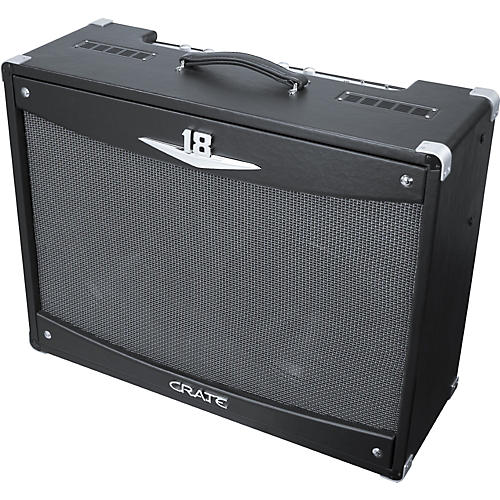 Lowest Price

Ships Internationally

Top Rated
(48 Contiguous U.S. States)
Free
Free Shipping With Backstage Pass
2-Day Standard Ground
Free Shipping With Backstage Pass

(48 Contiguous U.S. States)
The Crate V18 212 combo features a single-channel, Class A design with gain and master volume controls, 3-band EQ, and spring reverb, making it one o...Click To Read More About This Product
We're sorry-this item is unavailable.
Find a similar product below or contact our experts for a recommendation of great alternatives. Call us at 800-449-9128.
Customers Also Viewed:
OVERVIEW
Blazing Class A British blues tone!
The Crate V18 212 combo features a single-channel, Class A design with gain and master volume controls, 3-band EQ, and spring reverb, making it one of the most versatile little amplifiers around. This baby produces sweet cleans and warm, smooth overdrive from its dual cathode biased EL84 output tubes, punching 18 watts into dual 12" speakers for the perfect pub/club amp.

Back in the day in merry olde England--before rock was huge and 12 year olds had tinnitus from 100 watt stacks--an 18 watt 2x12 combo was all you needed to set toes a-tapping at the local garden fete. A few years later, some crazed Limey decided to crank just such a combo into distortion and found it produced a brilliant, compressed sustain perfect for the blues. People started selling their souls to find these rare gems, but you don't have to because we've recreated that vintage setup—and with all the mod cons.

Just the smell of those glass bottle tubes blazing with fire gets amp aficionados to perk up and lose their cool. Giving our all for the evolution of all-tube tone, Crate's V-Series combos and stacks produce the sweet cleans and earthy distortion that can only come from tubes. Roadworthy construction, modern features and genuine value are causing legendary players and novices alike to develop a thermionic love-Jones for the Crate V-Series amplifiers.
FEATURES
18W power
Class A tube circuit design
2 x 12" speakers
2 x EL84 output tubes, cathode biased
Gain, Level, Treble, Middle, Bass, and Reverb controls
Power and Standby switches
/pdp/reviews/productReviews.jsp
Loading....
I LOVE THIS AMP! I have many amps, but this is now #2. I do want to say though. if you are playing a Strat, this amps tone is similar to Stevie Ray, or John Mayer. If you use the gain, or add a distortion pedal with a guitar that has the two humbucker set up; this thing rocks. With that said, the humbucker guitars will never sound good and clean on this amp, and the single coil guitars will never do the "metal thing" like the humbuckers.It's tone is loud, and "in your face", but the right guitar is what makes it work.
It's a straight ahead basic amp. No digital effects. I bought two of these. I run them in stereo. I got them for a couple of reasons. One was because I decided I didn't want to put the wear and tear on my vintage amps. (Vox AC30 and a 65 Fender Bandmaster. The other reason is because the price was right. This low price for a class A amp.I figured what the heck. Why not? When I first played through them one was rattling. I checked it out and one of the EL84 tube holders was off. Easy fix. I play a cover gig that does a bit of everything and these will do the trick. I use a number of pedals(Keeley compressor, Satchurator,Ernie Ball Volume pedal, MXR phase 90,Chandler Tube Driver into a Boss GT6, out stereo to each of these. Believe me it's plenty loud and I was pleasantly surprised by the tone. I have the Gain set to 3 and the level on 5 for both of them and it works great. I roll the volume on the guitar down and it cleans up nice. Not really into the reverb on the amps but the EQ is pretty active. For the money it's a no brainer. Great deal for a small investment and now I don't worry about my old amps.
When I bought this amp, I was skeptical about it only being 18 watts but this thing will blow you away. It has a very warn tone and you can crank it louder than your ears will take. This amp rocks and for the price, it's a must have. BUY IT!
In September 2009, after much frustrating research and testing of tube amp and microphone combos, I found a Crate V18 in one of my local music stores and immediately fell in love with the power, wide tonal range and "honk" of this rig. Paired with a Labtec AM-22 600 OHM computer voice mic, this combo kicks serious butt. With judicious use of the gain, volume and tone controls, you can use this amp. for virtually any performance situation that calls for a "rude" tone. I find the reverb is only useful if I keep the level below 2 (anything more and it sounds tinny and strange), but I simply roll it off to 0 and either go through my delay pedal, or get my FX from the house mixer. I have read on forums that you can easily swap-out the original reverb unit for something else, so that is another option I may pursue.The 18 watt output doesn't sound like much on paper, but this amp really comes through come gig time. And in recording situations you rarely need to go much above 20-25% power to achieve the desired tone.You may, of course, find other mics. that work equally well with the V18 as with my Labtec, so some experimentation may be in order before you decide to buy.The various guitar players I perform and record with really like playing through the Crate ... when I allow them! If you are a guitar or harp player and want a real-deal tube amp., find one of these at your earliest convenience. I understand they have recently been discontinued, so time is fleeting and supply is limited (you may have to buy used).I hope this helps.
And here's why. I wanted a vintage tube amp with that vintage sound, and this one fits the bill. I bought it as a backup amp to my Fender Hot Rod. And after playing it for a couple of months, "I sold the Fender"!! This thing has a buttery sweet sound for blues and can rattle the walls if you want to rock out. Plus for an old guy like me (56) it's a hell of a lot lighter too. And no need for effects pedals. Just crank the gain knob and you can do from crystal clear to Stevie Ray, Hendrix and even heavy metal. I play an upgraded vintage 1966 Vox Tornado and an "Original late 50's Tele through it as well as my both of my Resonators and it covers them all fantastically.
I've only had this thing a day, but it is awsome if you like that old marshall sound it has it. It's like a jcm,walls and waves of creamy cruchy grind. It sounds like a jet taking off. It's worth every penny.
I purchased the Crate V18-212 mainly due to the close out price. I can't pass up a good deal and am always comparing price and features. I received the amp and was impressed at how well packaged it was. The amp has a classic look and is built well enough to withstand the road.I have been playing guitar, Bass and drums for about 40 years and have owned, sold and traded everything you can imagine. I currently own a Fender Thinline 72 reissue and a Gibson Dual pickup Melody Maker reissue. I have and have had many different models of Fender tube amps.This amp blew me away from the get go. Playing Rock and Blues I've always wanted that clean deep full sound. This amp at first had to much distotion for my taste. I couldn't turn the gain past 1.5 without breaking up. The manual it comes with is very good. Tubes all have a tolerance range and by simply switching the preamp tubes around you can signifcantly change the sound. I would put this up against a Fender Twin Reverb any day. The 18 watts give plenty of power to play any small to medium venue. I am so impressed with this amp that I would buy another one just because of the price. Nothing compares. You can't go wrong.
I'been playing guitar/bass for 30+ years and with the exception of my 1st amp that I trashed out of ignorance, I have almost always played solid state amps. I now have my own home studio and I was looking for a small, good tube amp to add to the studio. After testing a Fender, a Peavey, and a Vox, I saw the ad for the 212 and decided, based on price/features to buy it site untested. I was amazed at the sound this bad boy has!If you're looking for a bright Chimey Fender sound, it's not here. The Crate is decidedly closer to a Brit sound. Though it's a basic amp, the sound is full, versatile and unquestionably a better bargain than you'll get from Fender or Peavey in the same price range. I auditioned some Crate amps in the past and was NEVER impressed with their sound, but this amp has changed that without question! I was thinking of holding it for a month or two and then trading up to something better, but the sound on this is indeed impressive. Specifically, the clean sound is warm, full, and clear. I did need to almost crank the treble to get a good high definition, but it is there. The bass doesn't need much coaxing to fill the bottom in, and the reverb is fine -- but you shouldn't need more than about a 2 or 3 on the knob. It can get thick pretty quick after that. The distortion is full, and carries that classic tube distortion sound right up to crunch, but not into the crunch zone. This amp is GREAT for jazz, pop, rock, -- most anything but metal, but a good pedal will put you there easily with this amp. I gave the amp a 4 on features simply because of the lack thereof. It is a good, solid, great sounding basic amp, but overall, this amp is a keeper in my book! BUY IT!! You won't be disappointed!!
So cheap for a class A. I've been comparing online and in stores forever, and never could get into the cookie cutter solid state sound, but couldn't afford tubes. This amp sounds amazing. A local studio engineer said when I was recording with this that he wouldn't be surprised if we couldn't notice a difference in his vintage $1,000 Fender and this amp. It weighs 55 lbs. Know that. But it looks good and rocks well. I cannot turn it up past Vol 1 without the walls shaking on Gain 10.
This amp is great, a great value, and a great sound. First it's all tube and sounds great when played clean or with the gain cranked, and oh..the sustain with the gain, great. I highly recommend it to anyone, beginner or experienced, and for the price? Unbeatable. Also the reverb is excellent and clean. The ONLY drawback, which is common with tube amps, is that this beast is heavy! I play blues mostly and some pop, and this baby gets the job done!
This amp is a very nice sounding amp, and for the price you cant go wrong. The amp itself is not very versatile. It only has the one channel but can switch from a nice clean to a good distortion with just the gain knob. the only effect is reverb which is not the best but it creates a nice tone for doing arpegios. My friend could believe how much this had costed me, a tube amp for this price is more than reasonable. If you purchase this amp you might consider investing in some pedals.
I play guitar, bass, and drums. I own and use SS and Tube amps. I've been in the pro A/V business for many years and use the best gear available. For the price I would take a chance on any tube combo over 5 watts. Why not? So I just bought this V18-212 and I am Blown Away by the sound and toughness of this amp. Don't let the 18 fool you. This thing get's VERY loud. If you are like me and debating between the V33 and this, let me tell ya, this V18 wont disappoint you. I play a Jackson Dinky with EMG HZ's thru it along with a Metal Zone pedal. I can get ANY sound I want out of this and can easily crush my drummer with a little turn of that volume knob. The Reverb is way overkill but that isnt a problem. I keep it at 3 and its perfect right there. The overdrive sounds awesome and this thing really kicks out the bass. It cannot do metal on it's own, but if you are experienced with EQing, get your metal pedal and chorus hooked to this V18 and you've got every sound you'll need. The thing was perfect looking right out of the box and the pots feel tough and smooth. The reverb assembly is neatly attached to the bottom of the cab under a black vinyl cover. I'm sure you've seen the video of the guy chucking a Crate V50 across the room and then using it...I am sure I could do the same with this V18. However, I love the way this thing looks. I dont want a scratch on it.
I was disappointed with the sound, which was kind of muddy, as well as the reverb, which needs to stay at a very low level or it is way too much. I read about all of the people who change tubes and speakers, which doesn't make sense. You might as well buy a different amp if you are going to go through all that trouble. Then I tried it with my Boss OS-2 distortion/sustain pedal, and what a difference!! The amp sounds great now, and the tone can be adjusted to get all kinds of tones using the pedal's tone switch. It was like night and day. You can get clean sounds to Led Zeppelin like distortion with ease. It is now a keeper. Get the amp and the pedal, and your good.
VERY nice amp. Nice controls - the Treble almost acts as a Bright control after about 7. Reverb was a little pingy, but I think that was what they were going for - that old Deluxe sound. Beautiful, space-filling presence. I got the 2x12, because I wanted a little more "sag" - and I got it! It's probably not as road-worthy as a Marshall Bluesbreaker, but it sounds VERY close to one and costs a tenth as much at this price. If you've EVER wanted one, now's the time!
Buy this amp now! I have the 12X1. I spent a little time tinkering, than put an eq in line, I now get every tone I want! This is a great blues/ rock amp and you don't have to do anything to it! I bought a new speaker and pre-amp tubes, but now I don't know why? - it sounds good the way it came. Buy one before they are all gone!
I have been playing Guitar for several years. I play mostly Country, but do mix in a little Classic Rock and Blues. I have to say that for the money .... this amp rocks! I'm not too crazy about the fact that it doesn't have an effects loop though. Any effects that you use other than reverb (which this amp has an abundance of), will have to come in through the input. The Treble and Mid controls were a little noisy right out of the box ...Hmmm ... so I think that the controls used could have been a little better quality. OK .... with that said .... I plugged my Tele into this thing .. and didn't want to stop playing! The sound is very good ... and can go from a clean tone (No not a Fender Shimmering Clean ... but, a good usable clean, to a really good Rock or Blues tone with just the turn of the gain control... you don't have to have an electronics degree just to operate it ... So in my opinion if you're looking for a really good small club amp this will definately fill the bill! I can't comment on durability, as I just opened it, but the cabinet is solid and appears to be built to last... also has a vintage/classy look to it. At this price ... BUY IT! ... You can't go wrong!
{ "pageType" : "item_page", "placements" : "2", "placementNames" : "OOS,rr2" }