Back to Top

Overview

Jump to Overview

Features

Jump to Features

Warranty

Jump to Warranty

Reviews

Jump to Reviews

true
Zoom
tier1
Tech 21

Sansamp PSA1.1 Preamp
Product

480041
HABFA
true
MMGS7/480041000000000_MEDIA_SET
false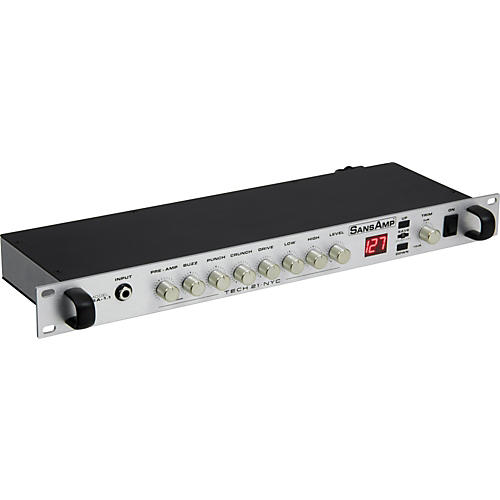 (48 Contiguous U.S. States)
Free
Free Shipping With Backstage Pass
2-Day Standard Ground
Free Shipping With Backstage Pass

(48 Contiguous U.S. States)
USD
The SansAmp PSA has been used on major releases and worldwide tours for multiple applications and instruments including horns, vocals, and drums. Pla...Click To Read More About This Product
We're sorry-this item is unavailable.
Find a similar product below or contact our experts for a recommendation of great alternatives. Call us at 800-449-9128.
Customers Also Viewed:
OVERVIEW
A stage and studio staple!
The SansAmp PSA has been used on major releases and worldwide tours for multiple applications and instruments including horns, vocals, and drums. Players, engineers, and producers alike find the SansAmp PSA very simple to operate. To program, you just tweak the knobs and save. Parameters are adjusted in real time with traditional analog potentiometers. The digital memory stores the positions of the pots. With 256 incremental steps, each rotary control increases and decreases in a smooth linear fashion.

The exceptionally versatile SansAmp PSA-1.1 offers 49 factory presets of the most recognized vintage and modern tube amp sounds for guitar and bass, plus 77 user-definable locations. A Universal Output Section enables compatibility with full range systems as well as guitar/bass speaker cabinets. With the SansAmp PSA-1.1, you can record direct to tape, as well as warm up existing tracks in mixdowns. For live applications, it can be used as a pre-amp, "monster direct box" to P.A. system, and as an outboard processor.
FEATURES
49 factory presets with vintage and modern bass and guitar tube amp sounds
Master volume
128 programs
XLR ground lift switch
XLR and 1/4" inputs and outputs
Phantom power MIDI input
Headphone out

SPECIFICATIONS
Input impedance/Input 1: 1 MegOhm
Input impedance/Input 1: 4.7MegOhm
Input level/Input 2: -10dB
Input level/Input 2: Switchable to -10dB or 0dB range
Output impedance/1/4": 1K Ohm min
Output impedance/XLRs: 600 Ohm min
Output impedance/1/4": Switchable to -10dB or 0dB range
Output impedance XLR: Switchable to -10dB or 0dB range
Maximum output level: +10dB or better
XLR Pin Configuration: Pin 1: Ground / Pin 2: In phase / Pin 3: Reverse phase
Effects send loop: 1K Ohm min, -10dB, Mono
Effects loop return: 100K Ohm min, -10dB, Stereo/Mono
Low Frequency Response: 10Hz or better
High Frequency Response: Harmonic content, 20kHz or better
Maximum power consumption: 5 Watts
AC Input Power (factory set): 100V, 117V, 230V, 240V
Cycles: 50/60 Hz
Enclosure: Aluminum and steel, fully shielded
Dimensions: 19"w x 1-3/4"h x 5"d
Overall depth: 6"
Weight: 5 lbs.

/pdp/reviews/productReviews.jsp
Loading....
Comments about Tech 21 Sansamp PSA1.1 Preamp:
Overall, I couldn't ask more from this unit. It delivers exactly what it claims. When paired with a high-quality effects unit and power amp, you've got an unbelievably versatile rack rig that would be tough to duplicate. My brother tried to convince me to get an all-in-one unit (Boss GT-10, ElevenRack) and I just didn't want that. Invariably you lose control over the tweakability of your sounds. Having everything separate just makes a world of difference to me. Plus, if one unit fails, it doesn't mean your whole rig is blown (try getting stranded without an amp on the road if your Marshall/Mesa/Fender tube amp blows and you don't have a backup or money for repair). This thing focuses on creating great tones and it delivers. It also seems able to pack it in for the long haul. I'm never getting rid of this thing.
Aside from everything being analog in this little unit, there aren't many "features" to speak of other than the fact this thing goes from super clean to uber-distorted very easily and with great versatility. It does have several routing options that are nice (1/4" and XLR ins and outs) as well as being MIDI-switchable make this a perfect, no-frills rack pre. I had previously read reviews that mentioned running this unit either direct into a PA for live use (or using full range speakers in general-which isn't feasible for me because I like my 4x12 with Vintage 30's) or using a solid state power amp to power the unit. I can vouch for the power amp. I first tried it with a tube power amp and even though it sounded awesome and a tad bit warmer than the solid state, it did lack the punch that I would imagine you'd miss if you're used to your cab smacking you in the back while you play. So I use mine with a 1 space rack Carvin DCM200L (4 lbs!!, 200 watts). I run this on ONE channel (my rig is mono) and it's PLENTY of power and punch. This goes through an Avatar 4x12 with Vin 30's. Sounds amazing. My band mics everything down anyway so it still goes through the PA. Effects loop works great and has different setup options for it and the unit as a whole can be run stereo, which I have yet to try but imagine it would be just as good as the mono signal I run.

This unit works great for direct recording as well. My bass player and I used it to re-record some overdubs for my bands album direct into my Presonus Firestudio Project. The direct guitar sounds are great, but be careful how much gain you use. The patch that I'd programmed for live use didn't sit so well direct in. It was too much gain and it sounded fizzy (my fault, not the unit's fault). If you're going direct in and you'll be overdubbing tracks anyway, you should turn the gain down especially with multiple guitar tracks. The clean patch I'd programmed was WONDERFUL and the engineer liked it so much he used it in our final mixes with little to no additional processing. We ran the bass through the SVT preset with almost no tweaking (I think I only adjusted the volume) and it sounded huge and fat with that great Ampeg grit.
So far, so good. Been touring with this for about 6 months or more with zero issues. Integrates well MIDI-wise with my G-Major 2 effects unit and once you get all the MIDI mapping and programming down, it's a cinch. It is safely housed in my 8-space rack unit but my rack spends its touring time either in the trailer or on stage, otherwise it's at my house. Works great regardless of where it has been.
I do think this unit is a bit pricey but you know, you totally get what you pay for. I'm a firm believer in this. Where this unit is a bit more than I wanted to spend initially the investment was totally worth it. The tones this unit produces can't be reproduced without investing thousands in the amps that it claims to model (even though this isn't a modeler). I have a Marshall Plexi and have played the Bluesbreaker and those 2 models get so close, I can hardly tell the difference. The Fender models get very close as well (Champ and Twin). There is a lot of tweaking available in this piece and tones galore. Just spend some time with it and start with a preset that's a close to the sound you want and tweak from there. If you're a bit inventive you can create your own signature sound on this with some patience in learning what each knob does. Read the manual on this.
Comments about Tech 21 Sansamp PSA1.1 Preamp:
I don't know why this is listed under BASS products. Although it does have frequency response to handle bass and has several presets that are great for bass, it is first-and-foremost a guitar preamp; one of the best preamps you will ever hear.My original PSA is almost twenty years old and it still works perfectly. It's been in and out of racks, rained on, frozen, baked in hot trunks, shipped overseas and back a dozen times. It's never let me down. I got a new one just because I wanted a spare.Why MF doesn't put this under the GUITAR category is a mystery.It certainly is the most versatile raw guitar preamp available.No effects. Just great tones.Easy to edit and store ( one button )Lightweight. Works well with numerous power amps. I plug this into two 2x10" cabs for stereo ( with a TC chorus) powered by a QSC 300 watt amp. I can get great authentic Marshal distortion at low volumes, but I can also rip heads at twenty paces.It not only sounds like tube-amps, it BEHAVES like a tube amp.If you know how to use your guitar's volume knob, this is the old-school feel you want.I have never needed repair to my PSA preamps, or any other sansamp products despite decades of heavy use. But I have spoken to tech 21 for advice and technical support. They are real guys, easy to reach by phone, and they know their toys inside and out. That's because they actually make them here in the USA instead of outsourcing to the Asian rim.If you have experienced real tube amps as much as I have, you will appreciate the Sansamp product line. This is their flagship rack mount version. It can send phantom power to a midi foot-controller through the midi cable, so you don't need a wall-wart power supply. I use a cheap Rolls midi foot-control, but sansamp makes two great midi FCs that are reasonably priced. If you want all the great guitar tones, AND you need midi switchable control, this is the ticket. It completely rocks.
Comments about Tech 21 Sansamp PSA1.1 Preamp:
No, it doesn't have a gazillion effects. Neither does it have a slick software interface. There's no USB. It does one thing and one thing well - serve up great tones for guitar, bass, and even vocals.But the ANALOG, Mosfet circuitry of the PSA-1.1 gives it the edge over any digital amp modeler. I am running mine through a tubepower amp and the tone has impressed guys using all tube heads as well as modeling preamps. It will do everything from super clean to full on raging metal gain. The controls take some getting used to but really allow for some majr tweakablility. Does it sound exactly like a Dual Rectifier, Plexi, or Twin? No but it'll get you VERY close. It actually emulates the characteristics of these amps but still has a character all its own.After 20 years of playing this unit provided me the tones I heard in my head and could never find in other amps or effects units. I've owned.
Comments about Tech 21 Sansamp PSA1.1 Preamp:
Have owned several preamps, including other tech 21 products (tri od, prog. bass driver, para driver). This one is the mother of all. I have lost the need for the tri od and bass driver and solely use this and para driver for all guitar and bass needs. Mostly play bass (fender jazz) and the 10 presets are great- only need minor tweaking for your preferences and save in the memory. For guitar, I love how the Fender clean models react to strat single coils and how marshall and mesa sounds react to humbuckers. I must admit I use an MI audio overdrive very lightly to warm up the clean settings. You could probably just tweak knobs to get that effect, but I just find it easier to use the pedal. I have found the effects loop sounds best for me in the 50/50 mode where it blends dry and effect equally. Delay and modulation sounds very natural this way and preserves your sound better. Also, there are 2 returns on the loop for running stereo. Sounds are amazing and versatile for a "non tube" product. I buy and sell alot of stuff, but this one's here to stay.I use the midi mouse to access patches. It works smoothly as well.
Comments about Tech 21 Sansamp PSA1.1 Preamp:
I have used Sansamp products for decades. All sound great. None have failed. This particular unit? ...Fantastic! The PSA1.1 totally rips ?modeling amps? a new one. When you play a modeling amp, even the best, it does not react like a real amp. Turn down, the gate kicks in too soon because it has to be on high threshold to cover up all the digital garbage. This Sansamp preamp is not like that. It behaves like the sweetest amp(s) you've ever heard, has low-noise (really low noise considering the massive amounts of gain it creates!) AND it doesn't turn to digital garbage when you turn down! Dynamics are still a part of real music and always will be.I have never had to call Sansamp with any problems, but I have called them and e-mailed for technical advice. The VP called me back and spoke to me personally. He was helpful and knowledgeable. Try getting that kind of personal service with any of the pop-digital toy-makers.If you have any experience, you will recognize good tones. This box has them all. It's easy to use... intuitive, natural, FAST! It cooperates with any of your favorite pedals or rack effects. There are no menus, no scrolling, no BS. Adjust it on-the-fly, in real-time with one hand. There is one knob for each function and it works like it is supposed to? right now!To store any setting, you simply press one button. You?re done! Thank You, Sansamp! (They must have some real old-school guitarists working there.)I noticed that another reviewer advised getting a good transparent power amp. I agree. (I got a new Tapco for three-bills, ?it rocks!)You could spend thousands more and never get the eargasm this thing provides. With the money you save on this fairly-priced dingus, you can buy really good effects, like TC Electronic and Carl Martin. Save yourself grief, time, hassle and MONEY! Buy this unit. Your playing will improve too because you can finally hear your guitar as you should. Beware Wankers! This unit will expose technical weakness! If you lack the minimum will-power to practice or you are just short on talent, this isn?t the box for you. Great tone amplifies details, both good and bad. However, if you are a real player, then get your girlfriend to buy you one.When politicians behave like this preamp, we will end taxes and war.SANSAMP RULES. QED.
Comments about Tech 21 Sansamp PSA1.1 Preamp:
Sansamp has not only created magnificent tube tone emulation in this pre-amp. It also has it's own great sound at the same time. The PSA 1.1 gives you great sound for any genre of music with user friendly tweakability. No phony "digital" type sound.
Comments about Tech 21 Sansamp PSA1.1 Preamp:
This thing kicks a$$! Seriously, this has to be the absolute most underrated product I've ever heard. I've owned Marshall, Mesa, Crate, and Ampeg amps and this unit puts them all to shame. I'll give credit where it's due though - those where all good amps. That being said, the Sansamp has the most reputable 30 amps from Marshall, Fender, and Mesa (10 from each) preloaded in as the factory settings. Yes they sound like the real deal too.The tones really are unbelievable. I've had side by side comparisons with this unit, a Triaxis, Triple Rectifier, Mode Four, and a POD XT Pro. Although this unit has less features than the the Triaxis and the POD XT Pro, it blew all of them away in tone.I've never tried recording with it. I play on average 3 gigs a week with it and it always sounds the same and I constantly receive good comments on my tones.My recommendations:(1) This unit MUST HAVE a "transparent" solid state power amp. Otherwise the tones suffer terribly. Steer clear off tube amps with this unit.(2) If the plan is to tie in an effects unit, turn the 50/50 mix button on. I used a lower end TC Electronic unit (which sounds great). I had to set the FX unit to Max. Input with a 100% wet mix ratio. Sounds phenominal.Pros:*absolute killer tones for all styles of guitar*pretty easy to program (little tricky at first)*all metal construction = very durable*almost infinite sustain*tones are pristine, tight, and articulate*phantom MIDI power built in so you don't need any fancy MIDI or power cables to power your foot controller*I like the fact that it is strictly a preamp. Leaves the options open for a high end FX unit, no FX at all, or anything in between.*sounds great with guitar cabinets and PA speakersCons:*at hi gain settings it likes to feedback (yes I'm a metal head so it's partially my fault. Noise gate cured that problem real fast for me)*there is no MID frequency adustment knob. The level of HIGHs and LOWs together dynamically control the MIDs. That took me some time to get used to but it does work very very well.*the other guitar player in the band will be forced to upgrade their equipment! ;->
Easy To Use
Excellent Sound
Good Warmth
Portable
Home Studio
Performances
Professional Recording
Comments about Tech 21 Sansamp PSA1.1 Preamp:
This preamp is genius. I have taken this preamp over the top-of-the-line Engl and Mesa Triaxis.

Essentially, this preamp provides you with a rack mountable pedal of your dreams. You can add variable amounts of preamp distortion and poweramp saturation while also adjusting lo/mid/highs.

You get a stereo effects loop and MIDI presets. Plus it is reasonably priced.
Comments about Tech 21 Sansamp PSA1.1 Preamp:
I have used Tech 21 equipment in the past - mainly the TriAC - but the PSA 1.1 might be the best piece of sound gear ever. Start with the presets and tweak away. Hooked to a Power Engine 60 (or 2 or 3 or...) its tone will absolutely kill for any style of music.
Comments about Tech 21 Sansamp PSA1.1 Preamp:
I recently purchased a PSA 1.1 that I'm using into a PA (FRFR) set-up. This thing rocks, I can go from pristine cleans with Marshall, Fender or Mesa tones, to overdrive to full saturation while controlling the distortion/harmonics at the frequency bands; while mid control would be great, the active Low and High settings when lowered push up the mids. I AB'd some of the presets with their namesakes on youtube and recordings where consensus has the artist using the modeled amp. One example is the bluesbreaker - near spot on to what Clapton had, and there are more examples.Analog dynamics too, you can dial in the feel and dynamics too. I also have a few Character Series pedals, and combined they cover a wide range of tones in a small foot print, now I'm upgrading my effects
Comments about Tech 21 Sansamp PSA1.1 Preamp:
I had used the original version a few times before to great effect, now I have this one in my studio rack and have put it through it's paces. Works great on direct guitars, especially for tight high gain rhythm mesa/marshall emulations. Can be a stunning surprise on electric bass DI, big warm Ampeg-like drive sounds jump out. I take XLR outs into line ins on a UA 2-610 preamp into my DAW and get fat warm "vintage-modern" tones. It has some character all it's own. I have used this for vocals, adding some heavy aggression to drums, etc. It adds this great edge and crunch to variety of sources. Tech 21 got it right, this is the great workhorse of emulation.
Comments about Tech 21 Sansamp PSA1.1 Preamp:
Great preamp. Sounds 300x better than any POD or anything like that. Great for Rock and Metal and Blues and has amazing cleans. My friends actually though it was a tube preamp. You'll be satified. For a poweramp you might want a solidstate one or a Mesa, which can get expensive.
Comments about Tech 21 Sansamp PSA1.1 Preamp:
This one tops all the preamps I've owned. The versatility is top notch. I've connected a Sansamp RPM to this unit. I now have the perfect electric and acoustic guitar setup all in one package (add radial cabbone and power amp) The price is right and midi, well, there's no limit to what you can do.
Comments about Tech 21 Sansamp PSA1.1 Preamp:
This is the real deal- it eclipses any digital modeling amp I've ever heard, and is quite convincing, so much so that I sold all my tube amps & may never go back. No kidding. The Factory presets are stage & studio-ready... right out of the box; and though the controls are a bit different than usual bass, mid, treble & presence; they do the job very very well. I'm what some would call a "tube snob"..and well, not only are my vintage amps gone, but I'm selling off most of my tube collection. Consistency, reliability, flexibility and portability... It's all there. I love it.
{ "pageType" : "item_page", "placements" : "2", "placementNames" : "OOS,rr2" }