Alesis Complete Electronic Drum Sets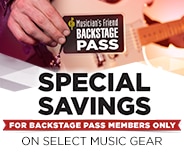 all
No Results Found
Quick Search Tips:
Try just one or two terms.
Instead of using the search box, find your gear by clicking the product category tabs and other navigation links.
Try varying the spelling to see if the word is spelled correctly.
Check out the items below that are suggested based on your search terms.
We'd love to help you find what you're looking for-call us anytime at 800-449-9128.
Suggested Items:
Since 1984, Alesis has been specializing in the design and construction of electronic musical equipment. Today, Alesis remains on the cutting-edge of technology with their ever-growing line of instruments, and when it comes electronic drums, many experienced players agree that they construct the most responsive and natural-sounding kits on the market. Within this selection, you'll discover an extensive range of complete electronic drum sets, from compact session models to six-piece powerhouses.

Any owner of electronic drums would be more than happy to explain what makes their kits so special. The lightweight portability of electronic drums make them a perfect alternative for percussionists who rehearse in cramped spaces, or for those who live in apartment buildings and have to keep their volume down by a certain hour. Of course, you can bet that Alesis has a complete set for every taste and application. For example, if you're looking for a kit to record with, check out the DM7X Session set. Loaded with premium Alesis sounds, the pads on this five-piece drum set are extremely playable and contain many realistic extras, including a dual-zone snare for accurate rimshots, and a crash cymbal choke. Additionally, the sturdy drum rack on this kit boasts a wide stance with longer feet for improved balance. Versatile and easy to set up, the DM7X Session set will exceed the expectations of any demanding percussionist.

Now for those who want a complete electronic drum set that's exploding with features, the DM10 Studio six-piece kit is an absolute monster. With its authentic size DMPAD cymbals and RealHead drums, a sound module with more than 1,000 sample-based sounds, a customizable drum rack with integrated boom stands and more, this set has it all. Whether you're laying down tracks in the studio or hitting the biggest stages in town, you'll have no problem bringing your talents to the forefront with the DM10 Studio electronic drum set.

Electronic drums have come a long way since the '70s and '80s. In fact, long gone are the days when the sound of electronic drums could be spotted a mile away. Today, these kits are practically indistinguishable to the human ear, and a big reason is because of innovative companies like Alesis.