Simmons Complete Electronic Drum Sets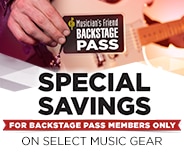 all
No Results Found
Quick Search Tips:
Try just one or two terms.
Instead of using the search box, find your gear by clicking the product category tabs and other navigation links.
Try varying the spelling to see if the word is spelled correctly.
Check out the items below that are suggested based on your search terms.
We'd love to help you find what you're looking for-call us anytime at 800-449-9128.
Suggested Items:
All around the globe, more and more drummers are discovering the portable convenience of electronic drums, and it's no wonder why when you consider how much modern e-drum sets are capable of sounding like a regular acoustic kit. With that in mind, most professional percussionists agree that Simmons is one of the most recognizable names in electronic drums. Within this catalog, you'll find an impressive selection of complete Simmons electronic drum sets, ranging from smaller beginner models to colossal 6-piece monsters.

Owning an electronic drum set has many benefits. For example, if you live in an apartment building and prefer to practice late at night, you can hone your craft well into the wee hours without disturbing a soul by simply turning down the volume or plugging in some headphones. Not to mention, electronic drums take up less space than acoustic drums, and they're also lighter. Of course, you'll want to make sure that the e-drum set you go with is from a company that's trusted worldwide for the exceptional playability and sound quality of their instruments, and for that, you've definitely come to the right place.

So let's take a look at what Simmons has in store for you. For a versatile kit at a price that won't break your bank, go with the SD500KIT full-sized 5-piece electronic drum set. Containing 3 cymbal pads, 4 drum pads, an integrated kick pad/pedal and a hi-hat controller, this kit's realistic feel and tone is stunning. Additionally, it also offers many features that are typically found only on more expensive kits, including 352 killer sounds across 35 drum kits. In other words, the SD500KIT drum set is perfect for a wide range of genres.

Now for those who want something larger, check out the SD1500KIT. Consisting of a 6-pad configuration, four cymbals and a hi-hat controller, the SD1500KIT is the most natural-sounding e-drum set in its class. Built around an extensive sound library and featuring 22 separate triggers, the SD1500KIT is ideal for today's gigging electronic drummer.

Every percussionist should sit behind an electronic kit at least once in their lives. The simple truth is that they've come a long way since the 1970s thanks to the many advancements made in technology, and proof of that can be found in a complete electronic drum set from Simmons.