LP Drum Accessories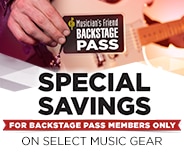 all
No Results Found
Quick Search Tips:
Try just one or two terms.
Instead of using the search box, find your gear by clicking the product category tabs and other navigation links.
Try varying the spelling to see if the word is spelled correctly.
Check out the items below that are suggested based on your search terms.
We'd love to help you find what you're looking for-call us anytime at 800-449-9128.
Suggested Items:
Being a successful drummer takes a lot more than just a great drum kit. To really excel, you need high quality accessories that perfectly complement your kit and your playing. One company who truly understands this is LP. For more than half of a century, LP (or Latin Percussion) has been building accessories for drummers from all over the world. With a serious focus on durability, LP have established their accessories as gear that you can trust to withstand everything you can put it through, whether you're playing at home or are out on the road for months at a time.

LP is proud to offer you a wide assortment of drum accessories so you're certain to have no trouble finding everything you need right here in this section. If you're not entirely certain which drum accessories are ideal for you, maybe start by checking out some of our best sellers. For example, LP's Cajon Brushes are renowned for their versatility and feature weight-balanced handles for projection and rebound. With rubber tips that add increased bass response and attack, these brushes are a great option for playing the flamenco, the rumba or Latin jazz.

If you're more in the market for accessories to protect your drums, you'll want to check out options such as the LP Cajon Bag, the Quilted Conga Bag, the LP539 Timbale Bag Set, or the LP546 Pro Conga Bag with Wheels. These bags make it easy to transfer your drums to and from the venue, all while keeping them safe from wear and tear. With bags like these on hand you can definitely help to extend the life of your drums.

And that's not even the half of it, whether you're looking for lug lube, ties for chimes, replacement heads, or something else entirely, LP has you covered. See what they can offer you today; you'll no doubt be pleased with the results.