Drum Head Pre-Packs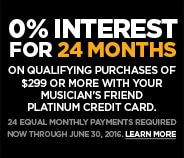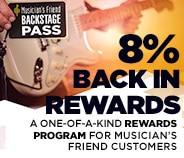 all
Open Box
Results 1 - 1 of 1 matches
For a musician, picking out an instrument is the most important decision there is. That definitely applies to drummers as well, and with drums being as customizable as they are, there are plenty of different choices that you can make. Shells are the beginning, of course, but after those, your next priorities will be the skins. These not only have to take a beating (literally), but you'll also want to get your hands on a well-made set so they'll sound better for longer. Thankfully, the variety of drum head pre-packs in this section gives you a great range of options.

Getting your drum heads in a pack is really a matter of common sense: why purchase individually when you can get a full set in one simple bundle? You'll save a few bucks and it's a great opportunity to upgrade all of your drums at once. Whether you're scratch-building a new kit and searching for its first heads, or replacing the faithful-but-worn drum heads you've been playing for years, a pre-pack is the fastest way to take care of things.

Just like individual drum heads, pre-packs come in lots of different kinds, so it's easy to find a great fit for your individual tastes. For instance, if you like a KickPort on your bass drum, check out the Kickport Remo Powerstroke 3 to get one pre-installed. Are you a fan of hydraulic heads? The Evans Hydraulic Glass 12/12/14 Fusion Drum Head Pack might be the way to go. You can also take your pick between coated and uncoated drum heads here - it's all up to you.

If you want to skip all the shopping around and outfit your drums with a whole new set of heads all at once, you're looking in the right place to make it happen. Drum head pre-packs can get you up and running quickly, and with options to suit any experience level or playing style, you can find a great fit no matter what sort of drummer you are.