LP Drum Heads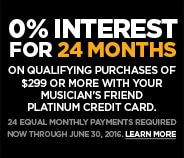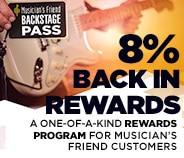 all
No Results Found
Quick Search Tips:
Try just one or two terms.
Instead of using the search box, find your gear by clicking the product category tabs and other navigation links.
Try varying the spelling to see if the word is spelled correctly.
Check out the items below that are suggested based on your search terms.
We'd love to help you find what you're looking for-call us anytime at 800-449-9128.
Suggested Items:
If you really love getting lost in the groove of your percussion, you know that pounding away on your drums can really do a number on them. Every now and then, you're going to need to replace your drum heads. When that time comes, it's important to choose your replacement heads from a brand that has built their reputation on quality and durability. That brand is LP. For over half a century, LP (or Latin Percussion) has been crafting drum heads for drummers who demand gear that will last. If you care about your drums, then LP is definitely the only brand you need.

LP is pleased to offer you a wide assortment of drum heads for plenty of different types of drums. That's fantastic news for you, as it means you shouldn't have any trouble finding the right drum heads for you in this section. Among the drum heads available from LP, their Bongo Head is the most popular. This rawhide bongo head offers a great feel and tone that you'll no doubt love. This head is ideal for your small bongo drum. Don't worry, however, as LP also offers a bongo drum head that is designed to fit on their larger drums. Whichever size is right for you, they've got it here.

If you're in the market for a djembe head, take a look at the LPA630A Djembe Replacement Head 12.5". This head is crafted from genuine goat skin for a look, feel, and tone that is wonderfully authentic. This construction goes a long way to beefing up your sound, making it a must for playing with larger groups of performers.

LP offers more than just bongo and djembe heads. Do you play the congas? Check out the Galaxy Rawhide Conga Head. Are you more interested in the tumba? Look at the Performance Tumba Replacement Drum Head. Maybe you're a timbale fan? LP also has timbale heads. Regardless of the drum head you need, LP will help you keep the rhythm alive.