Drum Practice Pads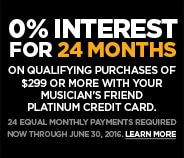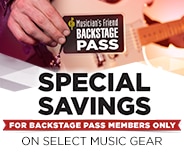 all
No Results Found
Quick Search Tips:
Try just one or two terms.
Instead of using the search box, find your gear by clicking the product category tabs and other navigation links.
Try varying the spelling to see if the word is spelled correctly.
Check out the items below that are suggested based on your search terms.
We'd love to help you find what you're looking for-call us anytime at 800-449-9128.
Suggested Items:
Your craft should never be limited by any noise restrictions so practice pads make it possible to hammer out your beats with reckless abandon, no matter the hour of the evening. Slide some pads onto your toms and snare and you can wail away to your heart's content. Maybe you just need an effective way to warm up before a big gig. Most pads can be easily stashed and brought out in the green room to help get you ready to give the performance of a lifetime. The material constructions vary but most offer you a remarkably equivalent surface to thrash upon. Neoprene, when placed on your kit, allows you to enjoy an authentic drum feel with the added ability to feel the bounce of the drum head. Rubber is also a popular material choice as the natural bounce closely mimics that of a synthetic drum head. Free standing pads offer a chance to practice and develop your skill, even if you are located in a bustling apartment building. The sound is negligible but the set-up is exactly the same as a conventional kit. Your fills, crescendos and even polyrhythms can be worked out and perfected before you ever hit the stage. Once you sit down with a traditional kit you'll be ready for action. Knee practice pads are the ideal variety for the beginner or enthusiast. You can easily travel with this compact unit and bust out a beat that may pop into your head suddenly. They're great for the creative spirit and help you hone your skill on a basic level, building your beats gradually so you can soon master the whole drum kit. Looking to take your practice to the next level? Tunable pads are the next logical step as beautifully displayed by the Remo 5-piece practice set. Offering even more versatility, these pads look exactly like an authentic kit but with a fraction of the noise. You can still hear your signature beats and customize to your liking without waking up the neighborhood. The more you play the better you'll sound. Time between gigs can sometimes feel a bit long so drum pads allow you to exercise your talent even in tight quarters. When you hit the stage, you'll be well rehearsed, warmed up and ready to showcase your notorious solos.