Drum Sticks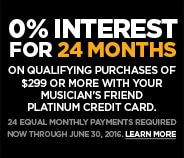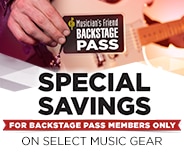 all
No Results Found
Quick Search Tips:
Try just one or two terms.
Instead of using the search box, find your gear by clicking the product category tabs and other navigation links.
Try varying the spelling to see if the word is spelled correctly.
Check out the items below that are suggested based on your search terms.
We'd love to help you find what you're looking for-call us anytime at 800-449-9128.
Suggested Items:
The point of contact between you and your drum kit should be one you can rely on. With such a staggering array of options, it's good to know how different sticks can affect your overall sound and give you the effect you're after. Cymbals, toms and snares are all only as good as the items thrashing on them so you're wise to choose carefully. The modern drumstick design became popular back in the 1950s with the widespread appearance of the three piece kit. Drumming was becoming more and more accessible with catchy Carl Perkins inspired bands popping up all over America. Rock n' roll took the world by storm and the common 4/4 timing coupled with a spin of a drumstick ignited dance halls everywhere. Nostalgic musicians may still choose to play in this manner but with so many different genres in today's scene, it's no wonder there is such a colored collection of drumsticks to pair with them. Using the proper tools for the job is always ideal. With drumsticks, your first consideration is the wood type. A lightweight maple stick has stand-out flexibility and gladly absorbs energy, saving your hands from an extra hit. Hickory is the middle ground, offering moderate energy absorption and flexibility. The mighty oak is the densest of all giving heavy metal drummers a real challenge to break one. With modern times come state-of-the-art materials. Nylon tips are a newer option that helps the cymbals emerge in a softer, smoother manner. Traditional wooden tips, while prone to chipping, bring you a classic sound you can identify with. Either choice contributes greatly to your overall sound and can be experimented with easily. Thickness of your drum stick can also affect the sound you want to obtain. Thinner, lighter sticks allow for a softer sound, perfect for jazz drumming. Rock drummers love a medium thickness that can bring the noise or turn it down for a softer ballad. Hearty heavy metal or hard rock artists give it their all with thicker sticks, ideal for crowded gigs. Once you perfect your technique you'll know what suits your style. You still may break a stick during a ferocious fill but that's all part of the fun. The drummer is the power behind the beat and having the tool that's right for the job easily makes or breaks a memorable song.