Earphones
Ways to Shop
Best Sellers

Price Drop

Open Box Gear

Top Rated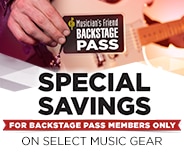 all
No Results Found
Quick Search Tips:
Try just one or two terms.
Instead of using the search box, find your gear by clicking the product category tabs and other navigation links.
Try varying the spelling to see if the word is spelled correctly.
Check out the items below that are suggested based on your search terms.
We'd love to help you find what you're looking for-call us anytime at 800-449-9128.
Suggested Items:
When you think of professional headphones, your first thought might be of big, bulky DJ-style or over-the-ear monitors. What may surprise you, though, is that you can get great sound from far less intrusive earbuds. Unlike a giant set of 'phones, these little powerhouses are super lightweight, easy to stash in any case or gig bag, and a lot simpler to wear on the bus or at the airport. Whenever you listen, whether it's before, during or after a gig, there's a set of earbuds that's right for the occasion. A pair with multiple drivers and a good, long cable works well as a compact home studio monitor so you can mix and sequence without bothering housemates or neighbors, even into the wee hours of the morning. For keeping time during a live performance, put on a pair with a noise-canceling design to make it easier to hear over the stage noise. When the show's over and you just want to listen to a couple of tune on your portable device, grab some earbuds with a built-in mic and remote that will let you adjust the volume, take calls or use voice commands on the fly. For any pair of earbuds you may be considering, the frequency response range is something to look into. This will tell you the lowest and highest frequencies that the drivers can put out. The best-sounding earphones will generally be among those with the largest range, because they'll more accurately deliver notes close to the ends of the spectrum. Another deciding factor in your choice will be the shapes and sizes of sleeves included with the buds, especially if you've got bigger or smaller-than-average ears. A good fit is important, especially if they're noise-canceling earbuds and even more so if you'll be wearing them for hours at a time. Some professional earbuds come with other features as well, such as detachable cables, an over-the-ear cable configuration or an included carrying case. The best earbuds for you will come down to a balance of the sound you want, the fit you need, and which extra features best suit your needs. Regardless of the choice you make, your music will never sound better than it does on a set of professional grade earbuds.