Fulltone Effects Pedals
Ways to Shop
Best Sellers

Open Box Gear

Top Rated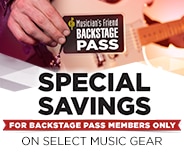 all
No Results Found
Quick Search Tips:
Try just one or two terms.
Instead of using the search box, find your gear by clicking the product category tabs and other navigation links.
Try varying the spelling to see if the word is spelled correctly.
Check out the items below that are suggested based on your search terms.
We'd love to help you find what you're looking for-call us anytime at 800-449-9128.
Suggested Items:
Effects pedals have been a fundamental part of music ever since they came onto the scene in the 1960s. They've only gotten better over the decades, and since the early '90s, Fulltone effects pedals have been among the leaders with outstanding pedals like the OCD ("Obsessive Compulsive Drive"), OF-2 Octafuzz, SB-2 Soul-Bender and the Deja Vibe, a regular on Joe Satriani's pedalboard.  The company borrows its name from its founder, Michael Fuller, who started making Fulltone effects pedals in 1991. Michael's goal was to capture the character of the original vintage stompboxes while using modern building techniques to deliver amazing tone in a reliable package. Fulltone's philosophy is still focused on that mindset, which is why they back their effects pedals with a five-year warranty.

Michael Fuller is a tinker at heart, and when he can't find a ready-made component that's up to his standards for a new pedal design, he makes his own part instead. This habit of never settling for anything but the best has helped Fulltone expand from their California shop to the pedalboards of musicians all over the world.

Of course, anyone can say that they build a sweet effects pedal. To find out whether they're justified in saying so, we only have to look as far as the artists who use them. In Fulltone's case, that's a list that includes Eric Johnson, Tom Petty and Peter Frampton. That some of the world's foremost guitar legends stand by Fulltone effects pedals says as much about their sound and reliability as any words ever could.

What it all boils down to is a simple standard set by Michael Fuller himself on the day he founded Fulltone. No cutting corners, no compromises on sound, and only the best components are good enough - even if that means making them in-house. You can expect your new Fulltone effects pedal to last for years, and keep on sounding as good as the day you took it out of the box.