Electric Guitars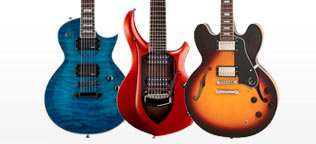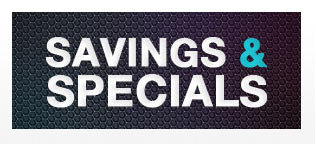 By the turn of the twentieth century, it only made sense that the popularity of the guitar would soon be combined with the onset of electronics. Over the past 75 years, the electric guitar has established itself as one of the most iconic, unforgettable instruments in the world. From jazz and big band to rock'n'roll and funk, popular music would be drastically different today had it not been for the electric guitar.

By the 1950's, brands like Gibson and Fender were gaining notoriety thanks to the popularity of rock'n'roll and its stars. Players like Dick Dale, Bo Diddley, Chuck Berry and Carl Adkins could all be found carving their own places in music history with the electric guitar, and by the early 60's the instrument saw an extraordinary upsurge in popularity. Today, there are an endless amount of rock sub-genres, making no shortage of superbly crafted electric guitars from the world biggest brands, including Ibanez, Epiphone, and DanElectro, as well as Godin, Gretsch, Peavey and more. Whether you're into black metal or folk rock, you can be sure that there's an electric guitar that perfectly matches your own style and tastes, and it can easily be found right here, regardless of your skill level or budget.

For a true classic, the Fender American Deluxe Stratocaster electric guitar is an icon with modern upgrades. While still maintaining its traditional look and feel, this axe now includes three N3 Noiseless single-coil pickups that still produce their legendary sparkle and snap, but minus the hum. For metalhead's, try your luck with the Jackson JS32 DKA electric guitar. Swift, mean, and easy to play, this guitar has offers classic Jackson tone and playability at a more than affordable price. Another great choice is the Epiphone Les Paul Custom PRO electric guitar. Professionally upgraded with a full bound body, neck and headstock, the Les Paul Custom is the king of solid body guitars and we think you'll agree that this monster is truly dressed to kill. We just got the new lineup of Gibson 2016 USA electric models available for purchase, so check out the collection page for more info

So what is the perfect electric guitar for you? Experienced players can answer that question no problem. But for beginners, it's a question that can be better answered by simply going through your own collection. Music is subjective, and we all have our own preferred tastes. If you're not sure where to turn, just listen to your favorite groups and find out what they play. Even the greatest guitar players of all time had idols and influences, and who knows; as you progress as a player, you too could stumble upon a style and tone that's all your own, and carve your own place in electric guitar history.
all
No Results Found
Quick Search Tips:
Try just one or two terms.
Instead of using the search box, find your gear by clicking the product category tabs and other navigation links.
Try varying the spelling to see if the word is spelled correctly.
Check out the items below that are suggested based on your search terms.
We'd love to help you find what you're looking for-call us anytime at 800-449-9128.
Suggested Items: