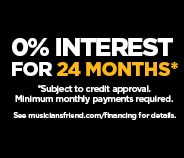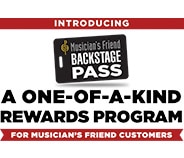 all
Open Box
Results 1 - 1 of 1 matches
Top Rated

$1,299.00

List:

$2,598.00

$1,039.20

Compare

Compare Now

site1prodJ26287
When the iconic Gibson Flying V electric guitar was originally released in 1958, it was not an instant success. In fact, like its futuristic sibling The Explorer, it was a bit ahead of its time. Intended to modernize Gibson's standing in the marketplace to compete with the flashier Fender Stratocaster, the Flying V and Explorer models met with lackluster sales, and while the Explorer continued its initial production run until 1963, the Flying V was discontinued after only a year or so. However, by 1967, with popular culture rapidly evolving, and with the dawning of the psychedelia and hard rock movements, Gibson reissued the Flying V with greater success, and it has remained in production ever since, including variations like the V2, from the late 70s, and the limited-run Reverse Flying V, released in 2007.
The first run of Gibson Flying V's were constructed with a body of solid korina, or limba wood, an African tonewood which is similar to mahogany, but lighter in weight and color, and with an enhanced midrange. They were loaded with a pair of Gibson's recently-developed humbucking dual-coil pickups and a Tune-O-Matic bridge, with through-the-body strings, rather than the stopbar tailpiece used in later configurations. Early Flying V players include blues and rock virtuoso Lonnie Mack, who bought the seventh V off the production line, and has used it throughout his career. Lefty blues legend Albert King flipped his over and played it upside down, with the low E string on the bottom. He played a collection of V's over the years, each one named Lucy, and was a huge influence on Jimi Hendrix and Eric Clapton, among others. The Kinks helped launch the British Invasion, and guitarist Dave Davies helped popularize the Flying V, which he got for the band's American tour in 1965. After it was re-released in 1967, the Flying V caught on with guitarists like Leslie West of Mountain, Andy Powell of early-70s rockers Wishbone Ash, and, of course, Jimi Hendrix, who owned three V's, including the psychedelic one he painted himself. Other rockers who favored the V were brothers Rudolf Schenker (of The Scorpions) and Michael Schenker (of The Scorpions, UFO and MSG), Johnny Winter, Lenny Kravitz and Eddie Van Halen. Aerosmith's Joe Perry has a Flying V or two in his impressive arsenal, as does Keith Richards of The Rolling Stones, and ZZ Tops' Billy Gibbons. Of course, Metallica's Kirk Hammet helped define 80's heavy metal with Flying V.
Today, the Gibson Flying V is still riding high, with models like the Traditional Pro, featuring a mahogany body and neck and loaded with a pair of screaming Zebra humbuckers, or the Heritage Cherry, with ceramic pickups for screaming metal tone. Or check out a signature Kirk Hammett Flying V if you're looking to Ride the Lightning - whatever your playing style, the Gibson Flying V will get you there in first class style. Order yours today!
Gibson Flying V Starting at: $1299