Back to Top

Overview

Jump to Overview

Features

Jump to Features

Warranty

Jump to Warranty

Reviews

Jump to Reviews

true
Zoom
tier1
Fender

American Stratocaster Electric Guitar
Product

510590
AAG
true
MMGS7/510590000833063_MEDIA_SET
false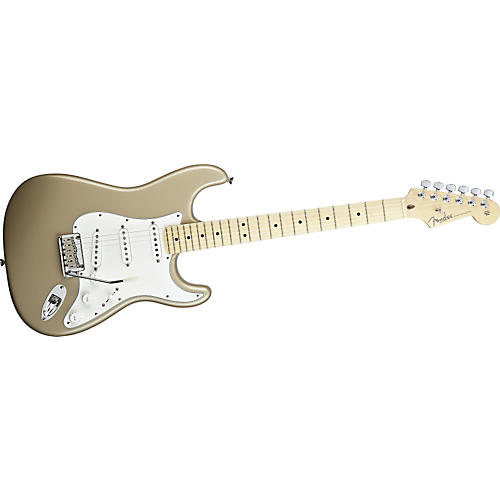 (48 Contiguous U.S. States)
Free
Free Shipping With Backstage Pass
2-Day Standard Ground
Free Shipping With Backstage Pass

(48 Contiguous U.S. States)
USD
The Fender American Stratocaster Electric Guitar is a Fender icon. Juicy new upgrades include a non-veneered alder body and a hum/single/hum pickup r...Click To Read More About This Product
We're sorry-this item is unavailable.
Find a similar product below or contact our experts for a recommendation of great alternatives. Call us at 800-449-9128.
Customers Also Viewed:
OVERVIEW
The world's most famous guitar with a half-century of upgrades!
The Fender American Stratocaster Electric Guitar is a Fender icon. Juicy new upgrades include a non-veneered alder body and a hum/single/hum pickup routing for more wood, more resonance, and more tone while retaining the ability to install humbuckers at the bridge and neck. It has more highly detailed fret and nut work for greater playability and tuning stability, plus a new neck shape with rolled edges that plays faster and smoother. This Strat features the original headstock shape but has staggered machine heads losing one string tree and improving string angle over the nut. Custom staggered pickup magnets improve string-to-string balance and give the G-string better tone. Cosmetics include parchment/black/parchment pickguard and parchment pickup covers, knobs, and tips.
FEATURES
Solid alder body with hum-sing-hum routing, leaving more wood
3 hot single-coil pickups
New neck shape with rolled edges for smooth, fast play
Staggered machine heads
Parchment/black/parchment pickguard
Parchment pickup cover, knobs, and toggle tip
/pdp/reviews/productReviews.jsp
Loading....
Most Liked Positive Review
jbylake
I have owned three Stratocasters in the last 30 years, or so. After first purchasing this guitar, I was disappointed in two areas. The guitar was set-up poorly from the factory, and...Read complete review
I have owned three Stratocasters in the last 30 years, or so. After first purchasing this guitar, I was disappointed in two areas. The guitar was set-up poorly from the factory, and frets were buzzing all over. When I first got it, I thought that the change from my Dean Hardtail was the problem, that I was just playing the neck a little poorly. (I'm one of those people that can't pick any guitar out of a rack, and play as well as I do on my #1). But the problem got worse, after about a week. Since I never use the whammy bar, I had it blocked by a great guitar tech. Then I had a set of Schaller locking tuners installed, and finally, had the guitar set-up correctly, and to my specs. Blocking the tremolo cured the tuning problems I had with it. It wouldn't stay tuned for a half hour. I can't beat it out of tune now. Since the mods the guitar plays fast, and the tone is great. The tuners, of course, just help speed up re-stringing. However, except for a few vintage Strats that friends of mine were kind enough to let me play, it's one of the best playing and sounding Strats, that I have owned and played. To avoid the money and expense that it took to get such a great sounding guitar, just buy one of the "select" models, with tuners, excellent factory set-up, etc. You will end up spending the extra money anyway. I also like the "Delta Tone" feature. Clean, or ran through a Voodoo Labs Sparkle Drive (yes there is a better pedal than the Ibanez), this guitar is a real butt kickin' blues and blues/rock monster now. Also, fit, finish, and quality are great, although I plan on having in re-fretted with Jumbo fret wire. I think Fender would do a little better set-up on a guitar at this price, when some of their Mexican Made Models (without mods) sound just as good, before I had the mods made to mine. If you're shopping for one of these, I suggest you play everyone on the rack, to see which one sounds the best.
Most Liked Negative Review
Overblown
Background: I've had my American Standard since 1997. I've been playing guitar since 1991. I've used the Strat extensively with a Mesa/Boogie DC-5 and a Fender DeVille.Review: Although I was excited...Read complete review
Background: I've had my American Standard since 1997. I've been playing guitar since 1991. I've used the Strat extensively with a Mesa/Boogie DC-5 and a Fender DeVille.Review: Although I was excited about the acquisition for a few months, it really has done very little for my playing and I have not come to love it (as I have my Gibson SG).It's a little difficult to play compared to my other guitars. Its tone is a little thin for my tastes. Both clean and distorted, it's more dissonant than warm, but I suppose many folks prefer this.I guess I thought if it was good enough for Jimi it would be good enough for me. But either his Strat was far removed from mine (and obviously his was built a long time ago) or, since I don't have 10% of his skill, his playing could make up for the weak tone. I'm convinced he would play something else were he with us today.I will say the Strat is very well built, I've had no problems with it, and it's reasonably priced for an American guitar. So if you like the tone and it feels good in your hands, by all means get one.Don't buy a Strat just because they're popular. Try out the various models yourself, with the kind of amp you have at home. Then try a Gibson SG and any others that pique your interest. You may find that the one you had your heart set on is not the best in terms of playability or tone.Good luck!
Reviewed by 261 customers
This guitar is one of the best guitar's i've ever played, I went to Guitar Center and tried it and I fell in love. I have the Chrome Blue / Maple Neck version (highly recommended). Anyway this guitar has great tone and good sustain. It handles distortion well and has a warm, rich tone while playing clean. This is a great deal for such a fantastic guitar.
this guitar the best my dad has this one in the shoreline gold he put vintage noiseless pickups in it and the tone was amazingit can do any style you want I like this guitar so much i know I will by one of someday.
great high quality guitar but not for everyone and i am 1 of them. Let me explain why.1. For some, like me The Volume knob gets in the way when playing. If your like me,that is really annoying and litterally want to take a axe and smash this guitar to pieces because of frustration. I cannot play with the volume knob beeing there!! IT GETS IN THE WAY!!2. Compare space to put your hand on between a Les Paul (Any les paul) and any Fender strat. A Strat has less space to put your hand on,for me thats also frustrating. I like having a alot of free space to put my hand on when playing.3. Pickups are to weak for my personal taste.That covers the main things...Some people are hardcore Strat players and some are not! What im i? I am a les paul man
Lately I have been playing my American Strat. The more I play it, the more attached I become. Its finished neck allows you to fly and the pickups give me that bluesy sound that i crave. Overall this is a great guitar.
Ive been playing guitar everyday pretty much for the last 3 years, on a mexican made stratocaster, and after playing this guitar i will never be able to play any guitar again, the pick-ups are amazing, and the neck just molds into my hand, i think this is the best guitar money can buy period
I recently purchased a brand new 3 tone sunburst beauty and I can't put it down. The only issue that I have with it is that the pickups are considerably more fuzzy than on my telecaster. The tone is much more rick than previous american strat models and the new neck shape is more of a 50's C style than the recent shift to the V shape. The only other bad point I have is that setting it up is a task which can take weeks. Easy enough to adjust the action with the neck rods, but difficult to adjust the floating trem bridge. If a hard tail would have been available I would have bought it, but there wasn't one.
Just in time for CHRISTMAS! American strat rips. Great guitar, nice deal, pick-ups sing, colors killer (charcoal frost metallic) maple neck. I like it a lot. Just finished gig with the band, my bass player digs it, plays american fender jazz. Now were one big happy family! Not a bad rap, big deal a tiny scuff (case) a scratch, could not find one, a new set of strings, its ready to rock. And by the way the delta tone sounds great. Best bridge p/u for me (high output, no-load tone control for middle and bridge p/u. Works for me. Sounds excellent through my JCM9004102combo, BluesDeville2x12 linked together with a switchbone (tonebone AB-Y) switcher best one out there, a lot of testing on other AB-Y,s. All I can say is mucho gracias!
I've had this guitar for about a year and its flawless. It sounds amazing played thorough my marshall stack. The clean tones are amazing and when distorted (using a boss blues driver)also sounds great. It can be used for every style of music. This is the best guitar you can buy.
The 600+ reviews so far pretty much cover all the bases. The only thing I'll add is if you want to use the whammy bar a lot, it might be worth the extra $$$ to spring for the Am Deluxe which adds locking tuners and a roller nut. Stays in tune a lot better when using the trem. I had my tremolo blocked since it didn't alyways come back in tune which was a little annoying. If I want to pound on a whammy bar, I get out my PRS Custom 22 which stays in tune perfectly. Even though the PRS costs over 3X as much as the Strat, it isn't a whole lot more playable. This is where the Strat shines. The neck is wonderful and totally accessible. I was always a Gibson guy and have a '71 LP and a newer SG. The Fender neck radius adds a whole lot of playability. The Strat is now my go-to guitar for everyday noodling. The S-1 switching offers a lot of tonal flexibility too.
My 16th guitar, I currently own nine. Day one (26 Jun 07), brand new, out of the box - The frets clang...the tremolo wants to cross-thread, and literally, the guitar wont stay in tune for five minutes. I'm very disappointed. The only plus...the famous Fender sound.
best guitar highly recommended to buy!!!!! good for whatever music you want to play!!
This guitar is an amazing improvement on my affinity squire, which was the last Fender I had purchased. The neck has a feel unmatched by any other guitar I've yet to play (and I've been around), the sound is sharp and clear, there is no lack of sustain. The pick-up selector is silent, which makes good for on-stage switching (a big problem with some other guitars I've played before), there are no places I've found on my particular neck where the bends die out, and the harmonics are great. It's lightweight, and comforablle on stage, the knobs are in the right place (as with all Strat series guitars).
I've owned higher end Ibanez,Samick, and epihone guitars. This is by far the best quality and sound. The 5 way switch gives very different and distinct tones ranging from bright to warm. None of my other guitars had very distinct tones like this one. Very clean sound and, rocks out with addition of gain, reverb, and or distortion. I've had this guitar for a little over two months now and don't even care much to play my others. I think you will feel very much the same. Great guitar, good quality, and value.
I bought this guitar for 2 reasons; The price was reasonable and it's a Fender. So far i have found nothing wrong with it. Fender has once again lived up to its reputation.
The American Strats are amazing. Gibsons are nice, but they weigh and cost too much. Strats also have more options (5 way switch, whammy bar). The only things Les Pauls have that Strats don't is a killswitch and better distortion. But, this guitar is a great buy, especially if you play lead or with cleaner tone. There are a lot of nice guitars out there, but I'm sticking with my Strat.
I love so much Fender. So that my nickname is Leo_FENDER, but the american stratocaster hot rod red with maple neck is a result of beauty and quality. I don't have words for explain the Fender sounds
I would first like to say that this instrument is better overall than some Gibson Les Pauls being currently produced. I have had a pleasurable experience with it's awesome sound and extraordinay character. This is a girl I can definitely hold close. But, as for the case, it sucks. This is a cheap Made In China repo molded case that would be better off if sunk in the ocean to provide an envirnment for small fish. Do yourself a favor and order an original hardshell case, you'll be glad you did. Your instrument is in jeopardy of getting severly scratched and/or marred due the the closeness that the aluminum trim is to the case. If you decide to keep the case then be very careful.
I've played a number of strats and I'd say that this guitar is rather a waiste of time. I compared it directly to a G&L american strat and the G&L kicked the fender's tushy. I would actually buy a tribute by G&L before I would buy a Fender American Strat in this price range.
Prior to purchasing my American Standard Strat a few years ago, I owned one of the top of the line Mexican made Fender Strats, the guitar I really learned how to play electric on. After about 3 years of daily playing, that guitar was completely worn out, wouldn't stay in tune, strap buttons ripped out, whammy bar broken, saddles rusted, etc.I have played my American Strat exclusively and daily for 7 years now and the only thing I have ever replaced is the saddles, because I neglected to keep the screws clean and they rusted from palm sweat, my fault. The American Strat is built to be played...hard. The durability of the American series is unbelievable and much superior to the less-cost models. You may think there is not much difference between the cheaper Fenders and the Americans...but the real deal will last you for decades and sound better every year...the cheaper ones won't hold up to heavy playing. Go American!
I really took my time to investigate by going to several stores, even the comments left here inorder to make sure the next instrument I bought was first "American Made" and could meet my expectations for quality and sound. The American Standard Stratocaster is the answer I sought, and from the moment I played it through my fender Deluxe the joy and excitment was "Awesome". I have the Sunburst 3-tone finish w/maple neck and The only "Change" I made to this guitar was a Pearloid plate. You can take all the recommendations from other musicians out here concerning Pickup combinations. I say it's whatever fits your cup of tea, but really with a 5-position switch, a good amp, I have all I need. I'm pretty sure many of you will also.
{ "pageType" : "item_page", "placements" : "2", "placementNames" : "OOS,rr2" }