Jackson

SLXT Soloist Electric Guitar (Used)
Product #H77183
See All Jackson Solid Body Electric Guitars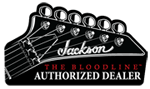 The X factor = fantastic tone, ultra-fast playability and unbelievable value.
New Jackson® X Series guitars are loaded with purebred Jackson DNA-hot humbucking pickups, bound compound-radius fingerboard with the distinctive shark-fin inlays, and stunning finishes. Classic Jackson
models imbued with the X factor, with fantastic tone, ultra-fast playability and unbelievable value for 21st century guitarists.

The Jackson Soloist™ SLXT has a basswood body (flame maple veneer on Trans Black finish), through-body maple neck and passive EMG® HZ H4-AN (neck) and H4-B (bridge) humbucking pickups that deliver
well-balanced tone with tight bass, glassy mids and crunching highs. Its bound compound-radius rosewood fingerboard curves more dramatically at the nut for easy chording and flattens out as it approaches the
neck joint for low-action bends without fretting out. Other features include 24 jumbo frets, three-way pickup switching and TonePros® fully adjustable bridge with through-body strings for thick sustain.
Features
Series: X Series
Body Shape: Soloist™
Body Wood: Basswood (with Flame Maple Veneer on Transparent Color
only)
Body Finish: Gloss Polyester
Headstock: Jackson® Pointed 6 In-Line
Neck: Maple, Through-Body Maple Speed Neck with Tilt-Back Scarf
Joint Headstock
Neck Binding: 1-Ply White
Fingerboard: Rosewood, 12" to 16" Compound Radius (304.8 mm to 406.4
mm)
Inlays: Pearloid Sharkfin
Frets: 24, Jumbo
Scale Length: 25.5" (64.8 cm)
Bridge: TonePros® Fully Adjustable Bridge with Through-Body Strings
Pickups: EMG® HZ H4-B Pickup (Bridge)
EMG® HZ H4-AN Pickup (Neck)
Pickup Configuration: H/H
Pickup Switching: 3-Position Blade: Position 1: Neck Pickup, Position 2: Neck and
Bridge Pickup, Position 3: Bridge Pickup
Strings: NPS, Gauges: .009, .011, .016, .024, .032, .042
Unique Features: Through-Body neck construction, TonePros® Bridge, EMG®
Get the axe with the X-factor and order the SLXT today.
Customer Reviews
/productDetail/reviews/productReviews.jsp
Loading....
Fun To Play
Good Feel
Solid Electronics
Comments about Jackson SLXT Soloist Electric Guitar:
Neck is nice and thin, with the compound radius and jumbo frets, it plays like a jackson. It's not a USA or anything (its made in india), but for a quarter of the price, it's pretty rad.

Setup was weak. But, with a bit of truss, bridge height, and intonation adjustment, she shreds. Can't expect too much precision on the relief and action, what with all the shipping, but they didn't even try with the intonation.

Personally, I dont like EMG HZs. They might work for your tone, but I find the bass to be kind of flabby in high crunch conditions. I put a dimarzio D Activator in the bridge. Very articulate pickup in basswood when under a lot of crunch.

Upon opening the control cavity, I found a very pro looking wiring job: star ground, consistant wire colors, zip ties, grounded shielding paint in the pickup and control cavities, alpha 500k pots.
Comment on this review
Classic Jackson Look
Set Neckthru
Trans Black Is Awesome
1 Dead Note
250k Pots
Bad Fret Finishing
Emg Hz4
No Bag No Case
Comments about Jackson SLXT Soloist Electric Guitar:
Mine has a dead note e string 16th fret, emg hz is kinda flat sounding and not much power, jb will be getting installed, double boxed maybe best to find a place to play before you buy, looks awesome, hard to change to a larger gauge string with the bezels in the body.
Comment on this review
Comments about Jackson SLXT Soloist Electric Guitar:
Pickups are great and the through neck is a great feature.
Awesome guitar for the price !
Arrived in great shape.
This guitar is a very sweet purchase for the price!
Comment on this review
Comments about Jackson SLXT Soloist Electric Guitar:
Color is awesome. Some don't like EMG-HZ pickups but if you can't adjust your "quality" amp to get the sound you like then buy something else. There is nothing I don't like about this guitar. I will put a review on youtube shortly because there aren't any good ones. I think musicians friend has a money back guarantee if you are not happy so if you don't see them in your local store, buy it and try it, you can't lose.
Features are perfect for drop d tuning on the spot. Neck thru. EMG HZ Pickups sound great. Came with strap locks which was a nice touch. Would give it a 10 if it had locking tuners. lol
I was worried about the quality from reading other reviews but I can't find a flaw on this guitar. A little fret buzz out of the box but a half turn raising the bridge and now perfect with still low action.
A neck thru jackson guitar for $500. is crazy. Don't compare it to a Jackson USA soloist which is probably 8 times as much money. Just play it and adjust your amp to get the sound you like.
Comment on this review
Comments about Jackson SLXT Soloist Electric Guitar:
I bought the Kawasabi Green not realizing until I received it that it is what my friend calls "Highlighter Green" as it looks the exact same color as a green highlighter. The guitar has a bright sound to it, which could be from the basswood, or the pickups or a combination of both as this is my first guitar with that type of wood or pickups. There is tons of sustain to be had, the neck is thin and fast just like any Jackson guitar I have ever played. This guitar will be a great upgrade for anyone looking for something better than their current starter guitar, but I personnaly would be comfortable using it as my primary for gigging at shows. Remember that at the end of the day Jackson is a "Metal guitar" maker and you are definitly getting one here. Your cleans won't be as clean as say a Fender strat, but hey that means you get to rationalize buying another guitar for your collection.
The features are what an experienced musician would expect on a guitar of this price range, although I was happily surprised that mine arrived with Dunlop Strap locks.
The guitar itself is very well put together as far as joints, frets, and initial setup. My guitar arrived with the back looking as someone started to sand it with some fine grit emery paper after it had been painted and clearcoated. I was sort of disappointed but I had it shipped to Afghanistan as a replaceable / disposable guitar while deployed so I will live with it. Other than the less than stellar Quality Assurance / Quality Control for the paint job the guitar is in keeping with what you should get for the money you are paying.
I have a Custom Shop SL2H, and DK2 and now this SLXT from Jackson and for the money you are spending you are getting an outstanding guitar. I have spent twice what I paid for this one and not gotten as good a guitar from other manufacturers. I feel as though the guitar is worth every penny spent on it.
Comment on this review
Comments about Jackson SLXT Soloist Electric Guitar:
Good guitar, great value for the price.
Good solid guitar for the price. Plays nice,the neck feels very comfortable. My only complaint is the pickups. They sound okay but the output is a little weak. Will probably swap out the pickups for some Dimarzios later.
Seems to be well built.
Great value for the price!
Comment on this review
Comments about Jackson SLXT Soloist Electric Guitar:
fantastic
I just got this guitar for christmas and i wanted something like an Ibanez RG but not Ibanez. Reason being everybody around this area all has the same brand with either white or black. I caught onto this guitar for its looks and simularity. I got the kawasabi green one. The tone knob is really touchy but does quite a bit. I just love how this guitar looks and plays. When it comes to you in the mail it will need set up by either yourself or a pro guitar person but once its ready its good to go!
Comment on this review
Comments about Jackson SLXT Soloist Electric Guitar:
This guiar gives me exactly what I need from a guitar. Dual-humbuckers that are compatible. Very little fret buzz. It's snappy-sounding which I find to be unique.

You can upgrade the volume and tone knobs and even the tuners maybe, but other than that this lightweight guitar will get you were you need to be quickly.
Dual-EMG (passive) humbuckers. (Stock) D'Addario strings (9-42). Maple neck-thru. Basswood body wings. Rosewood fretboard. 24-jumbo frets. 6-in-line tuners. TonePros bridge.

Rated features a '9' because I'd prefer a toogle switch as opposed to the blade-switch it has.
Very good quality. My Jackson SLXT Soloist came shipped to my home sight unseen and it doesn't have very many flaws. Quality player right outta the box. The finish is a little poor, but for this price and the fact that this guitar is meant to be played hard on, it's not a big deal.
High. It gets the job done. When you need that high volume crunch for modern-day Metal, this axe delivers all-around.
Comment on this review
Jackson SLXT Soloist Electric Guitar