Back to Top

Overview

Jump to Overview

Features

Jump to Features

Warranty

Jump to Warranty

Reviews

Jump to Reviews

true
Zoom
tier1
Schecter Guitar Research

C-1 Hellraiser Electric Guitar
Product

513105
AAG
true
MMGS7/513105000127000_MEDIA_SET
false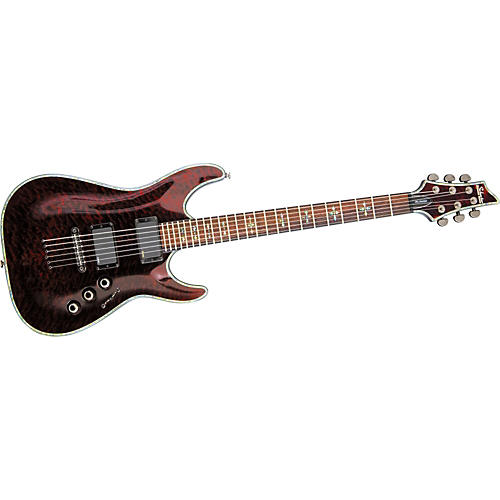 (48 Contiguous U.S. States)
Free
Free Shipping With Backstage Pass
2-Day Standard Ground
Free Shipping With Backstage Pass

(48 Contiguous U.S. States)
The Schecter C-1 Hellraiser Electric Guitar delivers tones that are sure to please any metal player. The mahogany body has an ultra-access cutaway th...Click To Read More About This Product
We're sorry-this item is unavailable.
Find a similar product below or contact our experts for a recommendation of great alternatives. Call us at 800-449-9128.
Customers Also Viewed:
OVERVIEW
You're sure to shake the underworld with this metal monster!
The Schecter C-1 Hellraiser Electric Guitar delivers tones that are sure to please any metal player. The mahogany body has an ultra-access cutaway that really lets you get all the way up the 3-piece mahogany neck. The rosewood fretboard has 24 extra-jumbo frets and abalone gothic cross inlays for a dark, sinister look. Active EMG 81 and 89 pickups deliver crushing electric guitar tone that's easily fine-tuned by the 3-way pickup switch and volume/volume/tone control set. TonePros tune-o-matic bridge with string-thru-body design makes for stable tuning no matter how hard you play. Binding specifically chosen to complement the finish, Grover tuners, and black chrome hardware round out the Schecter C-1 Hellraiser's killer look. Black Cherry finish has a quilted maple top.
FEATURES
Mahogany body (Black Cherry finish includes Quilted Maple Top)
Set, 3-piece mahogany neck with rosewood fretboard
24 X-jumbo frets
25-1/2" scale
Ultra-access cutaway
EMG active 81/89 pickups
Volume/volume/tone controls
3-way pickup switch
Grover tuners
Abalone binding and gothic cross fretboard inlays
TonePros tune-o-matic bridge with thru-body design

/pdp/reviews/productReviews.jsp
Loading....
Most Liked Positive Review
hell yeah.
if this guitar is any indication of the quality of all of Schecter's instruments, i'm probably never buying another non-schecter again. i've owned (and usually sold) jacksons, an ibanez, epiphones, other...Read complete review
if this guitar is any indication of the quality of all of Schecter's instruments, i'm probably never buying another non-schecter again. i've owned (and usually sold) jacksons, an ibanez, epiphones, other random no name guitar brands, and have played everything i have been able to get my hands on, and NOTHING i've played so far holds a candle to this thing. i'll never get rid of it or stop playing it, and if something ever went wrong, i'd surely replace it. i am almost tempted to buy another one just to store it somewhere - it's that good. the price is amazing for such a quality instrument. so, onto some specifics about the guitar. obviously the look is stunning. when i pulled it out and showed my girl (heheheh) even SHE wanted to play it! the pictures here do NOT do justice to its amazing aesthetic. as a force of habit, i tuned it up right out of the box and played a few clean riffs unplugged; the sound was pristine. dropped down the tuning and i jacked into my Spider II and went straight to the metal setting - this thing almost melted my face off. the harmonics are simply beautiful and the tone is absolutely CRUSHING. the pick ups are nothing short of godly, and if you play metal, i doubt you will want to change them. you can scream out leads or lay down brutal riffs. a toggle might have been a slightly better choice, but even as is i can't complain. the neck is super fast and i have yet to find a bad spot for any string on any fret... every note rings clear as could be. if you're not neccesarily a metal player, you shouldn't be turned away, altho you might want to try to play it first in a store through a similair set up to what you would be using. as far as other musical styles go, i dialed up a lush, swirling chorus and played some Pumpkins stuff, and it sounded just as... dreamy and moody as Corgan or Iha ever did. for the sake of the review, i played some classics too, (yes, Zeppelin, kill me) as well as some of more recent (over-rated!) arena rock type bands, like Staind and 3DD and the like, and this thing did it all to the 10's. lastly, the Hellraiser is light as a feather, even compared to other light guitars, and it holds tune like you wouldn't believ.
Most Liked Negative Review
not good
After waiting almost 3 months for this guitar I really wanted to like it. It is the hottest looking guitar I've ever owned. There are 2 major problems I have with this guitar....Read complete review
After waiting almost 3 months for this guitar I really wanted to like it. It is the hottest looking guitar I've ever owned. There are 2 major problems I have with this guitar. The first is the fact that there is alot of fretting out(string noise). The active pickups only compound the problem. The second disapointment is playing clean using the neck pickup. No matter what I tried I couldn't get a rich sound. It sounded very flat with out the usual amount of bass you normally get from a bridge humbucker. When it comes to distortion the EMG's sounded good, but not as good as all the reviews would have you believe. They only sounded slightly better than the stock pickups in my Ibanez. My guitar also had a blemish in the binding. I can't believe I waited almost 3 months for this. I'm returning mine.
Reviewed by 113 customers
This is a great guitar. I ended up buying a used C1, but of the C-1's that are brand new and stock, this is definitely the best deal out there. The EMG's are way better than the duncan designed pickups, and as with all of these C1's, that's really the only thing you have to be concerned about with them. I played this guitar for about 2 hours in the store, and had decided I was going to get it. For any of you that might have a problem with the "hellraiser" emblem, the guys from Schecter told me you can either rub it off, or they'll send you a blank one for free. The red is an awesome color!
I cannot put this guitar down since the day I got it. I have the Gloss Black version, the pictures on here look dull, it is actually pretty smooth and shiney. The EMGs are beastly and you can play heavy metal and also get pretty sweet clean tones. Plus, look at the price! I like this thing better than Gibson and Fenders.
Hellraiser alright! I love this axe. Intonation was perfect as well as the action, right out of the box. Plays awesome. Solid feel to the instrument. A quality guitar for sure. I love it! Its my favorite guitar of all time. I've been playing metal since 1986. Went from Aria Pro to Jackson. The C-1 Hellraiser brought me over to the Schecter camp. I can't speak highly enough about this guitar. For metal players out there, this beast can create tones like hell on earth! Recommended!
Out of all the schecters throughout the diamond series line this is by far the best looking and well playing guitar for your money. The only flaw to this guitar is the excess string nise you get with the active pick ups yet if you learn to control it the actives are definitly the way to go with the bridge pick up going the arpegios and fall off scales just come out well defined and great tone. I recommend this guitar for all metal lovers out there!!
I have had this guitar for about 3 weeks now and I totally love it. I have a Jackson DK2Dinky and I haven't touched it since I got this guitar. The active pick ups are awesome. They aren't the best with clean tone but still really good. I don't think I would ever buy another guitar without them. It is also great for low tunings. I tuned it down to an A# and it is just as clear as standard tuning. This is the coolest guitar I have ever played and well worth the money! Get it!
I just picked up this guitar this afternoon, and after just spending a few hours with it, I can safely say that this guitar is excellent. The looks are killer: This is one sexy guitar. The black cherry finish is so deep, it's amazing. The EMGs simply scream through my Line 6 Ubermetal and Vox VTXAD30, and the action lets it play like a dream, combined with the fast neck and the ultra-access heel. Do yourself a favor and buy this thing. Raise a little hell!
I just went out and bought this thing at my local music store. It is the most expensive guitar I own next to my Epiphone Les Paul Standard (I'm short on cash). This is one of the most prettiest guitars I've ever seen. I love the styling look of my LP better, but the finish and binding on this Schecter ROCK, and I'm not dissing the style either; it still has a pretty sharp body style. Straight up, though, the EMG's make this guitar what it is. I wanted pickups that were USA-made without the USA price on it, and being that EMG are the best pickups money can buy, and they are active, of course (which is AWESOME), then I thought that it was worth it. I LOVE the sound! That's what a guitar is really for, right? On a record album, you can't see the guitar, but it's the sound that catches your attention. This thing SCREAMS on distortion. You can get such an incredible distorted sound out of it, and the clean isn't as bad as I've heard from some people. The clean is ok, but truth be told, I'll use my LP for "clean" songs on the stage, but my new Hellraiser RULES on distortion. The feel is pretty nice, too. The neck is smooth, and the nut width is just right and not too thin for my fingers. I'm used to Grover tuners, since my LP had the same exact ones on it, and they hold me in tune pretty well. I gave FEATURES an 8 because I don't like the volume/volume/tone setup for the knobs. I really wish it was volume/tone/tone, but I'm not complaining. Overall, this guitar is INCREDIBLE! It's worth the money and the sound is fenominal. Buy this thing! You won't regret!
This guitar is a monster from hell. Clean or overdrive it sounds great from top to bottom. You can not go wrong with this one, if anyone can say anything bad about it they don?t know how to play.
This guitar is perfect for metal. The pickups scream the neck is amazing the action is perfect. running it through my mesa triple recto its a perfect combo. I love this guitar i traded my c-1 elite for it (wich was very hard for me to do b/c the guitar was ownd by sean from smile empty soul) but i am very happy with my hellraiser
now i can't speak for everyone here but this guitar is just all together and its beautiful!!these picutre do not do this guitar justicei love this guitar
I purchased the Schecter C1-Hellraiser a couple days ago and overall this guitar does live up to it's hype. The Hellraiser is a work of art in the looks department, go see one in the flesh. I did find a VERY small imperfection in the finish between the nut and the truss rod cover. No big deal.The Hellraiser features two of the nicest Active pickups I've played. The difference between the sounds they produce make the guitar a serious contendor in both the Rythem and Lead roles. The X jumbo frets are growing on me and make moving around on the neck very easy while giving some durability if you play hard. The neck is comfortable, and fast enough to shred on. The set neck also resonates your playing into your body which speaks for the strength and sustain this axe can produce. This guitar falls into the "most bang for your buck" category as the overall experience is almost breathtaking. I wouldnt reccomend it to a blues or jazz musician but if you want a heavy sound this is the real deal.
One of the first things I noticed was this axe seemed much lighter than a Jackson DKMG I had and I would have to say that the Hellraiser wins the beauty contest too. I've played the Jackson through a Line 6 Spider II 2x10 and I've played the Hellraiser through a Line 6 Spider II 1x12 with no problems so I would suggest if you are having problems with a Line 6 amp and EMG pickups send the amp back for an exchange and get one that works. This is one of those guitars you could sit and look at all day or would be afraid to play for fear of scratching it but if you let yourself be seduced by her good looks then you'll never get to hear her sing and she sings even better than she looks. The tonal variations are amazing. I gave it a nine for features because I would have preferred a toggle switch to a sliding switch on this guitar. Other than that this is just one impressive instrument. I would definitly replace this guitar if anything happened to it and for those who are still shopping let me warn you that I think this one will be hard to put down and walk away from for most of you.
i have owned this guitar for a while now and i absolutely love it. i own a gibson les paul and i would choose the hellraiser over that any day. it is light, well-balanced, beautiful, has a screaming tone, satys in tune, and plays like a dream. this guitar is perfect for metal and, surprisingly, sounds great on the clean channel as well. you won't find a better guitar for the price.
this Guitar is a beast, it plays so amazing, i have the one with the floyd rose, that thing stays in tune not matter what u do, it is beyond amazing, i recomend this to anyone who wants speed
This is an excellent guitar. I have used the C-1 and own the Hellraiser Avenger. They are both very similar, main difference being body shape. The EMG's are amazing on this. They have a really hard sounding crunch to them which really makes the sound stand out. The Quality of this guitar is exceptional as well. If you were to play this guitar without a knowledge of its price tag, you would probably think that it would cost much more. The fretboard feels great and mine rarely goes out of tune. All in all an exceptional guitar and would be perfect for any type of guitarist ranging from rock to hardcore Metal. Schecter really went over and above with the entire Hellraiser series.
Well, ive had this guitar for almost half a year and what can i say, amazing guitar. I gave features a 10 because the emgs are great, the neck is real smooth, the grovers are awesome, the color is sick, and the bridge is nice. The only problems ive had were that the right strapholder comes loose real easy(happpens with most guitars) and the biggest problem is sustiin on some frets, majorly the b-string 15th fret (anyone else have that same issue?). Other than that, this thing is a beast, and im definetley keeping it, i may even purchase the same with a floyd rose, either that or an ibanez. Overall this is a great guitar, dont compare it to gibsons, fenders, or ibanez, they cant even compare. It is a very cheap guitar for what it is. buy it
this is one great guitar. i have been playng it for about a year now and im still just as pleased with it as i was when i first got it. i love how i can play very chunky and brutal death metal and then still be able to play very melodic metal and shred all with the same guitar. this is the best guitar you will find for the price and you wll not regret getting it.
I just picked up this guitar, and, WOW! I played it saide by side with a Gibson SG and Les Paul, and this thing could crank out everything that thry could. It just screams, and I like the design even more than the other two. The finish, inlays, and quilted maple top just look beautiful, WAY better than the pictures. The only problem is that the low end is a tiny, tiny bit muddier than on the Les Paul. GREAT GUITAR!
I have had this guitar for 3 months now and I love it. The active pickups are awesome. I don't think I would ever buy another guitar without them. You can tune this guitar way low and it still sounds great. I have a Jackson Dk2dinky and I haven't touched it since I got my schecter. I would recommend this guitar to anybody it rocks!!
This is the guitar for you. Definetly made for some heavy riffs. The EMG 85/81 set up is awesome. Schecter has been known to make some quality guitars for a very affordable price... and they've done it again. This is my favorite Schecter guitar, and definetly on the top list of guitars over all. It's insanely comfortable, and it looks amazing. I would have killed for this guitar if it had an ebony fingerboard.. but the rosewood is still smooth. The Hellraiser feels and plays like a professional guitar, but for a third of it's price. If you're considering getting this guitar.. get it.. don't even think twice about it. You're sure to be satisfied.
{ "pageType" : "item_page", "placements" : "2", "placementNames" : "OOS,rr2" }