Nady Handheld Microphone Wireless Systems
Ways to Shop
Best Sellers

Open Box Gear

Top Rated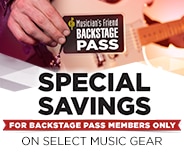 all
No Results Found
Quick Search Tips:
Try just one or two terms.
Instead of using the search box, find your gear by clicking the product category tabs and other navigation links.
Try varying the spelling to see if the word is spelled correctly.
Check out the items below that are suggested based on your search terms.
We'd love to help you find what you're looking for-call us anytime at 800-449-9128.
Suggested Items:
If there's one thing that nobody likes, it's being limited. So it's no wonder that wireless pro audio systems are so popular - when you cast off the cord, there's nothing holding you back from moving where and when you want to on the stage. Performers aren't the only ones with something to gain, either: if you're a venue manager, you'll really appreciate doing away with tangled cables and finicky plugs. Whatever your reasons are for going wire-free, Nady handheld wireless microphones are fantastic choices to get you there.

Deciding which Nady wireless system is right for your needs won't be a big challenge. All you have to do is make a quick mental checklist of what you're looking for in a wireless mic and then narrow the list down to the Nady option that ticks all the boxes. For instance, if you're gearing up a pop group with multiple singers or even just a public event where more than one presenter needs to speak, the 401X Quad WHT Handheld VHF Wireless Microphone System and the U-41 Quad Handheld Wireless System are top contenders. Each model can run four live microphones at once, so everyone onstage will be able to chime in.

Sometimes, what you need may be a little bit of versatility. You'll find that here in the form of bundles, like the Nady Encore DUET HT/LT/O Combo Wireless System Ch A1&D. It's a well-appointed set that comes with a two-channel transmitter, power adapter, mic stand bracket and, of course, a Nady handheld microphone. But what's especially nice about the DUET HT/LT/O is that it also includes a lavalier to run on its second channel, which makes it great for interviews and other situations that call for two different kinds of microphone at the same time.

There's a lot to appreciate about Nady. Not only do their handheld wireless microphones come in loud and clear, but they also offer plenty of variety so you can carefully choose the system that's right for you. On top of that, they're surprisingly affordable, which puts them within your reach even if your organization is on a tight budget. All in all, Nady gear is always a smart choice.