Evans Individual Drum Heads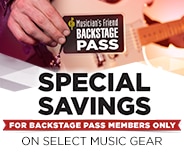 all
Open Box
Results 1 - 1 of 1 matches
Was:
It should come as no surprise to anyone that drums that after a while your drum heads are going to be in need of replacing. If you're up on the stage night after night pounding out the rhythm for your band, your drum heads will eventually begin to show their wear and tear, and that will affect your playing. Of course, some drums heads will wear out more quickly than others, which is why it's fantastic that you have the option to buy individual drum heads right here. If quality is important to you, you'll want to go with a brand that has a proven history of delivering the best, such as Evans. For over 40 years Evans has had the respect of performers all around the world, making them a top flight option for any serious drummer.

Purchasing individual drum heads provides you with the opportunity to mix and match and produce a sound that is entirely your own. And because Evans offer such a wide variety of individual drum heads, you can rest assured that you're going to leave this section with the exact sound you crave.

Choosing the right drum head for you can be as simple as deciding which drum head you're looking to replace on your kit. For example, if you're doing some upkeep on your kick drum, be sure to check out the EMAD Resonant Bass Drum Head. This head offers a heightened low-end response, and features a 4-inch offset microphone port that gives you more control over your tone, sustain and attack. This means you won't have a need for internal dampening, which can be a real hassle.

If it's a tom that you're looking to upgrade, you'll definitely want to have a look at the Hydraulic Black Tom Batter Drum Head. This beauty is inspired by the thick, wet sounds of the '70s and offers an impressively controlled sustain and a solid attack. Perfect for drummers with a penchant for rock music, this drum head will help keep your grooves interesting.

And these are only two of the dozens of options available here. From snares, to congas, to batter heads, and more, Evans has all of your individual drum head needs covered. Make the upgrade our drums deserve today; your band and fans will definitely appreciate it.