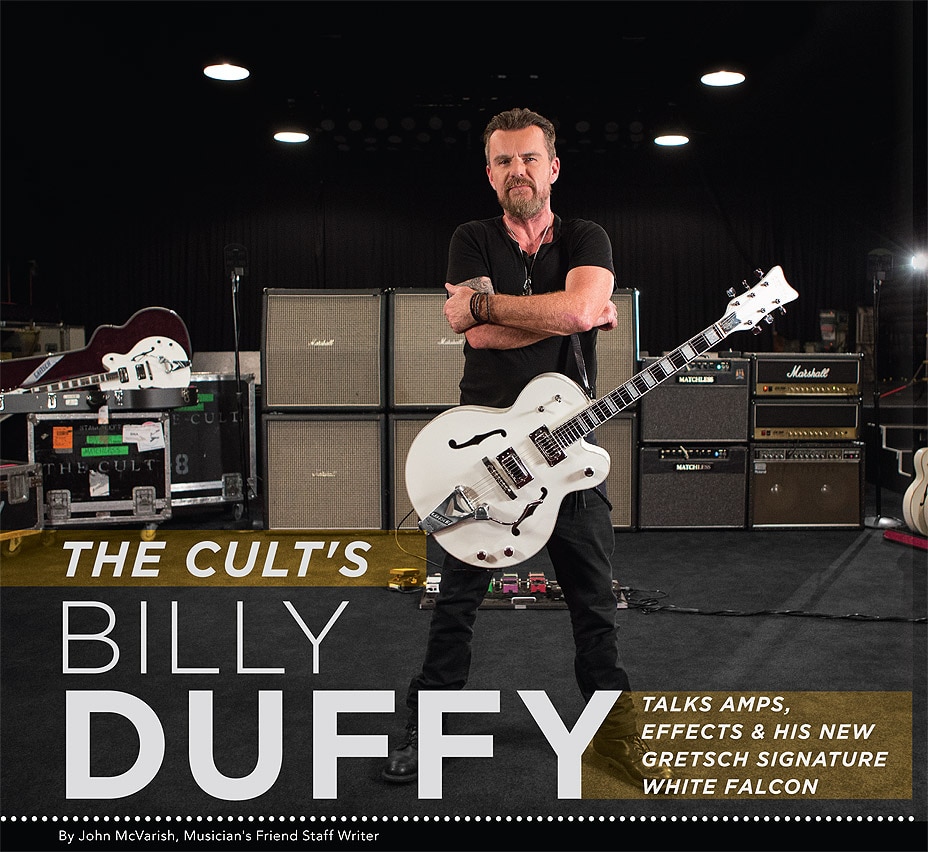 W
illiam Henry "Billy" Duffy was kind enough to meet us in Hollywood, where The Cult were preparing for their Electric 13 World Tour. Over the course of our conversation Billy proudly presented his signature Gretsch Falcon, spoke of his preferences for certain effects pedals and amps, and shared his perspective on how his guitar-playing aspirations have evolved over the years. He also gave us some great advice on becoming a better guitarist. A delight to interview, this introspective Englishman had a lot to say.
Musician's Friend: What first drew you to play a Gretsch? Was it the aesthetic, the sound, the Bigsby?
Billy Duffy: The Gretsch thing is definitely the look, because the first Gretsch I was really interested in was a White Falcon. I believe it was just pre-punk. A lot of my mates and I were in little high school bands and we were into Neil Young. Neil Young and the Falcon was my main (reason for) getting into Gretsch—those images of him in his barn with the old one without a tremolo and the four switches. They were quite rare in America and in England they were unbelievably rare. So it was this mythical beast, almost like the great white buffalo. I thought one day
maybe I'll get one of those. Up until that point I'd been into more attainable guitars that I could afford or steal or whatever.
MF: You have a signature Gretsch Falcon out now. How did the partnership with Gretsch come about?
BD: The Gretsch thing actually happened very organically. On the last Cult album I needed a double-cutaway Falcon and I didn't have one. I needed to get really high up the neck and had some particular things I needed to do in the studio. So we just contacted Gretsch and a guy named Mike showed up. We were sitting around with these Gretsches around