In-Ear Monitors
By Jon Chappell Senior Editor, Harmony Central
If you've turned on the TV in the last five years, you may have noticed that more and more bands-and especially acts appearing in high-end venues-have been donning flesh-colored blobs in their ears. No, these musicians are not wearing hearing aids or listening to their smartphones. They're taking advantage of the latest high-end technology in stage monitoring: in-ear monitors. In-ear monitors have many advantages over conventional onstage loudspeakers, but the three chief ones are: 1) the monitor signal is isolated and directed to an individual musician, with no bleed into other musicians' ears; 2) the musicians can move about freely on stage-and even into the audience-without the sound changing, as happens with speakers in fixed locations; and 3) with speakers taken out of the equation, onstage sound levels are drastically reduced, which results in better control over the sound of both the monitor and house audio. Let's take a look at a variety of available in-ear monitor systems, from entry level to professional.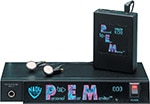 Nady E03 In-Ear Personal Monitor System
This entry-level package offers simplicity of operation and excellent features. The E03 has a 250-foot range, making it suitable for indoor as well as outdoor venues. The wireless transmitter has a front-panel mic input and operates on one of eight factory-selectable channels. The pocket-sized receiver is powered by a single 9V alkaline or rechargeable battery and includes a set of durable earbuds.
277500
, MSRP $249.99
$199.99

Shure P2R Personal Monitor Hybrid Bodypack Receiver
This personal beltpack receiver has excellent sound and many useful features-including a built-in headphone limiter, frequency locator, integrated cable management (great for when wardrobe is a concern), volume knob, high/low gain switch, frequency-select control, and a 1/4" line-level input jack. The numerous displays on the P2R provide indicators for power, RF reception, frequency selection, limiter, and low battery. This makes the P2R easy to see on a dark stage and to assess status info quickly.
270239
, MSRP $361.00
$289.00
Bose IE2 Audio Headphones
Bose is a leader in sound-on-ear technology, and the IE2 headphones are built for musicians. The earpieces are made of Bose-designed StayHear silicone, using advanced materials and a design that allows the tips to fit comfortably and snugly inside the bowl of the ear, while also naturally conforming to the outer ridge of the ear.
H65610
,
$99.95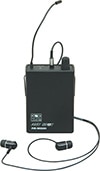 Galaxy Audio AS-900 Wireless Personal Monitor System
A great entry into wireless personal monitor systems, the single-channel AS-900 is a fixed-frequency unit with an impressive 150-foot range. Included in the package are the rackmount AS-900T UHF Stereo Wireless transmitter (with rack bracket, removable antenna, and headphone jack with volume control), AS-900R bodypack receiver, earbuds, and transmitter power supply. The bodypack runs on either AA or rechargeable batteries.
502823
, MSRP $259.99
$199.99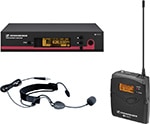 Sennheiser ew 152 G3 Headset Wireless System
If you're wondering what it's like to be on the delivery side of wireless transmission (as well as the monitoring side), check out Sennheiser's ew 152 G3, considered an industry standard in the wireless headphone and microphone arena. This system consists of a cardioid condenser headset mic (with pop protection) and a true-diversity receiver with automatic frequency scanning and an illuminated display. The bodypack transmitter has a four-step LED battery indicator can be run on two AA batteries or an optional rechargeable battery.
620142
,
$649.95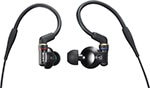 Sony MDR-7550 In Ear Monitor Headphones
These in-ear headphones feature an over-the-ear hanger design, and are custom-crafted to handle the wide dynamic range of stage instruments and vocals. The 7550s incorporate large-caliber 16mm dynamic drivers, and the ear-hanger material is flexible enough to be folded, but rigid enough to maintain its shape once on the ear. Newly developed silicone rubber earbuds ensure comfort and secure contact.
H72841
, MSRP $349.99
$314.99