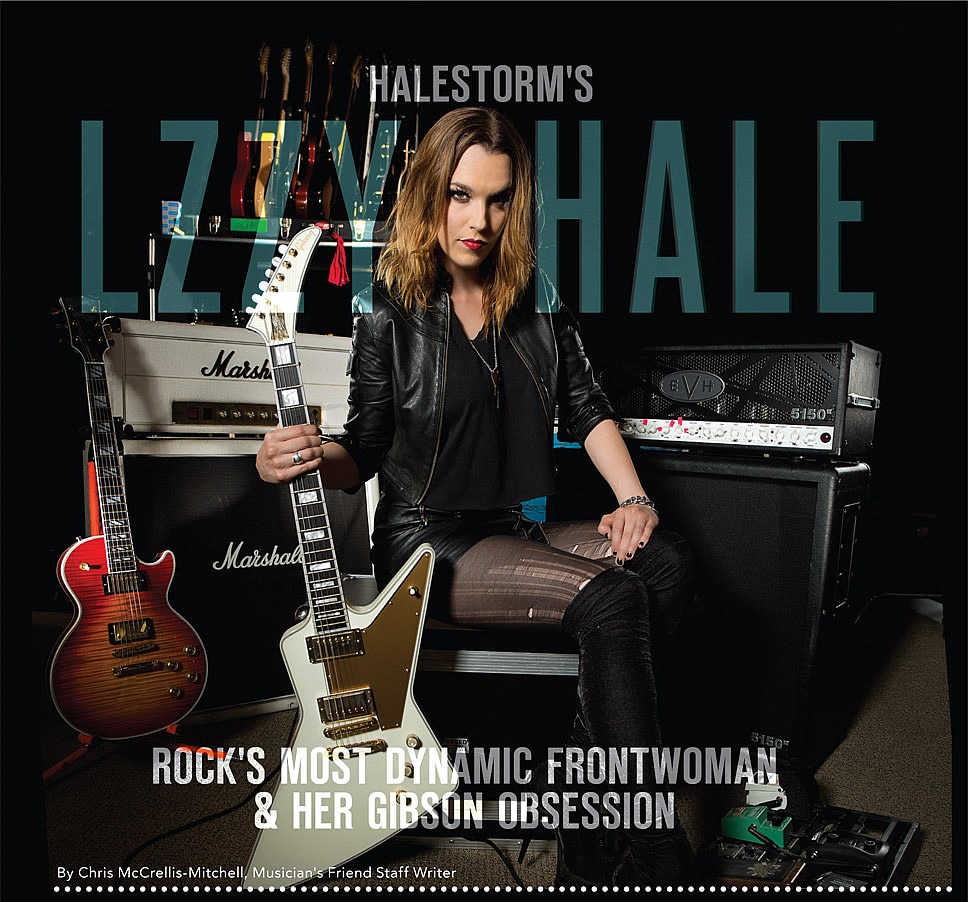 s frontwoman and guitarist for Halestorm, Lzzy Hale lays it all out there, combining her wailing vocals and catchy hooks with a major dose of attitude. Having played music with her brother and bandmate Arejay since the two were teens, she's grown up in the scene and at 28 has the kind of chops that defi ne a professional. The band's second album, The Strange Case Of…, has propelled the band into the national spotlight, earning them a Grammy earlier this year for the hit "Love Bites (So Do I)." Success has come in many forms for Lzzy, but perhaps most special to her is the relationship she's developed with Gibson Guitars, who developed a signature model Explorer that captures her style perfectly. We spoke with this rising star about her Gibson addiction, and all the gear that fuels the Halestorm juggernaut.
Musician's Friend: When you first got into playing, what drew you to Gibson guitars?
Lzzy Hale: I got into Gibsons because I wanted to be a badass, basically. [laughs] I got my first Gibson when I was 17 years old, and it was this huge tobacco burst Les Paul Custom. It more or less became my identity, to the point where you go around introducing yourself to people and work it into the conversation, like, "I'm Lzzy Hale and, by the way I have a Gibson Les Paul at home." When you think about the
standard in rock-and-roll, that's Gibson, to me. Tom Keifer of Cinderella, Brian May and Tony Iommi. The people that you look at and you think "rock-and-roll." The tonality of everything they brought to the table is because of their guitars. So definitely from an early age I caught the bug and have been a Gibson girl always, even before I started talking with them.
MF: Was there any particular guitar that you really connected with the first time you saw it?