http://static.musiciansfriend.com/static/mf/js/2014/2014-03-fender60-01.js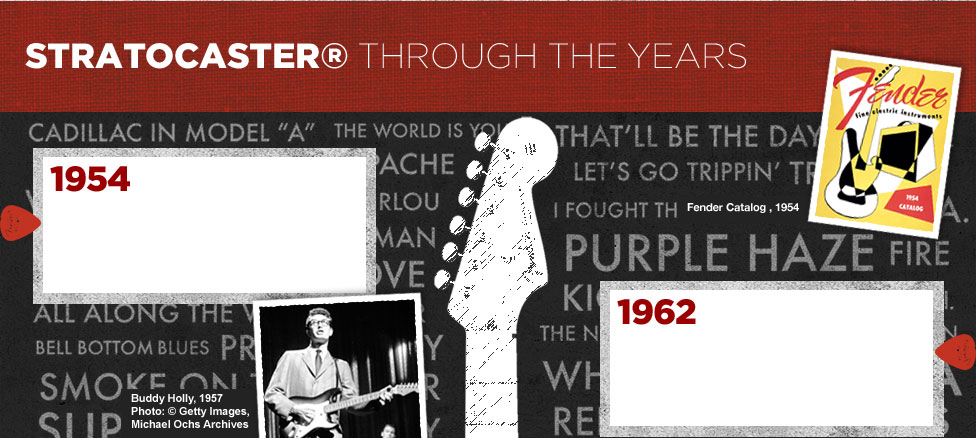 Fender introduces the Stratocaster guitar, a sleek new electric guitar with three pickups, a remarkably comfortable contoured body, an elegant sunburst finish and an ingeniously effective vibrato bridge.
The Stratocaster rides the huge vocal and instrumental surf music wave, exemplified this year by debut Beach Boys album Surfin' Safari and the exotic instrumental fury of Dick Dale's "Misirlou."
During the first major U.S. appearance by the Jimi Hendrix Experience, on June 18 at the Monterey International Pop Music Festival, Hendrix turns in an incendiary performance, literally, when he concludes the band's startling set by smashing his '65 Stratocaster and setting it aflame onstage. The performance makes Hendrix – already popular in the U.K. – an overnight sensation in the United States.
The members of Deep Purple watch from their hotel as the nearby Montreux Casino on the shores of Switzerland's Lake Geneva is destroyed by fire on December 4. Inspired by the "fire in the sky" and the smoke drifting over the lake, the band composes 1972 proto-metal classic "Smoke on the Water," for which guitarist Ritchie Blackmore creates the most imitated Stratocaster riff ever.
An especially colorful year for the Stratocaster with two chart-topping comebacks: David Bowie's Let's Dance,
on which millions of listeners get their
first blistering earful of young Texas
blues virtuoso Stevie Ray Vaughan, and Yes' 90125, on which guitarist Trevor Rabin uses his '62 Strat, most notably for
a strikingly angular solo on number-one
hit "Owner of a Lonely Heart."
Fifth U2 studio album The Joshua Tree is released in March. A cinematic-sounding Stratocaster tour de force by guitarist David "Edge" Evans, it features hits including "With or Without You," "I Still Haven't Found What I'm Looking For," "In God's Country" and epically ringing concert favorite "Where the Streets Have No Name."
The Red Hot Chili Peppers' Californication is released in June. It marks the return of Stratocaster-wielding guitarist John Frusciante and remains the band's most successful studio album, with hits including the title track, "Scar Tissue"
and "Otherside."
Our Strat Sixty sweepstakes ended on 3/23/2014
To enter our current sweepstakes click here
For a list of previous sweepstakes winners click here
To view our digital catalog click here