Percussion Mounts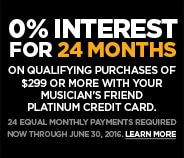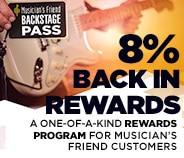 all
No Results Found
Quick Search Tips:
Try just one or two terms.
Instead of using the search box, find your gear by clicking the product category tabs and other navigation links.
Try varying the spelling to see if the word is spelled correctly.
Check out the items below that are suggested based on your search terms.
We'd love to help you find what you're looking for-call us anytime at 800-449-9128.
Suggested Items:
Stability, reliability and precision: these things are all important in a drummer, and they're just as important in the drummer's equipment. Whether you're on tour from venue to venue or just making your weekly practice, your kit needs to go together quickly and accurately every time you set it up—that's why having the right hardware is so important. With mounts for everything from wood blocks to microphones, you have the freedom to expand your drum set with any accessory you prefer. You may be setting up a completely personalized rack configuration, or just looking for a way to attach instruments and accessories to individual stands. Whatever your needs, you can meet them with the customization potential offered by percussion hardware. As a professional, you have every reason to set up your gear exactly the way you want it. Universal and purpose-built clamps are a key component to making your dream kit a reality. No matter what you decide to include in your drum set, there is a mount that will work for every piece. From custom microphone mounts and conga stands to drum module attachments and cabasa holders, specialized mounting hardware will make exotic instruments and accessories right at home in your kit. For percussion implements that support standard mounting rods, there is a wide variety of straight, angled and L-rods to choose from. Look for rods that feature the precise adjustment options you need to perfectly mount your gear. Along with your clamps, rods and other hardware, the right mounting accessories are a great investment to make in your kit. Additions such as support cords, drum bumpers and installation leathers will not only improve the security of your mounting, they will also help to protect your drums and other instruments from damage and wear. You owe it to yourself and to your drums, cymbals and accessories to look for the best mounting solutions available. With the right percussion mounts, getting the most out of your rack and stands is simple, helping you to create a drum set that's all your own.