true
Zoom
tier1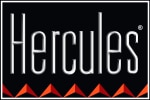 Product

633250
YCD
Hercules DJ

DJ Console Portable DJ Controller/USB Interface
The DJ Console brings the tactile aspects of vinyl DJing to the digital world, with this groundbreaking new MP3/WMA/CD interface. DJ Console gives DJ...Click To Read More About This Product
We're sorry-this item is unavailable.
Find a similar product below or contact our experts for a recommendation of great alternatives. Call us at 800-449-9128.
Customers Also Viewed:
OVERVIEW
A does-everything device for the digital DJ on the go!
The DJ Console brings the tactile aspects of vinyl DJing to the digital world, with this groundbreaking new MP3/WMA/CD interface. DJ Console gives DJs a great sense of control, providing the ultimate mixing experience with endless creative possibilities.

It's ideal for creating your own real time live music mixes and compilations with pro audio quality right on your desktop/laptop PC, while perfecting your skills faster than with vinyl.
MP3/digital music fans can enjoy smooth background music with professional-quality sound. MP3s have never sounded this good!
Club DJs, FM/Internet radio DJs, and DJs on a budget can now prepare their mixes faster and more easily than ever before, going beyond the limitations of conventional turntables with additional features like looping, cueing, search functions, and more. Users can access tens of thousands of their favorite digital tracks and find any title in seconds with no need to lug around hundreds of CDs or LPs.

Fun, easy and ergonomic mixing/skratching in a dual, highly-tactile unit

DJs can now instantly locate, play, mix, sample, loop, skratch and remix digital music"including MP3s, WMAs, and CDs"with Hercules' DJ Console and their desktop or laptop PC. You'll enjoy the full hands-on control of a regular turntable with a minimal learning curves, instead of using tedious keyboard shortcuts to control your audio applications. DJ Console is also perfectly suited for use under low light conditions at parties thanks to at-a-glance LED mode indicators plus backlit and phosphorescent soft rubber keys.

DJ Console features 2 vinyl-style jog wheels for spinning and skratching, with finger grips for rapid, accurate song searching or speed adjustment. A crossfader offers seamless mixing between the 2 decks. 6 ergonomic potentiometers and bass/medium/treble controls deliver creative remixing on the fly.
2 rotary encoders and 2 sliders let you tweak volume and change the pitch and master tempo in real time. 28 buttons let you play/pause songs, speed music up or down for accurate mixing (pitch bend), add effects, create cue points (song positions) and loops on the fly, skip through tracks backwards or forwards, rewind or fast forward, and more. A soft rubber ministick provides mouse emulation and special effects control

DJ Console comes with a complete, intuitive DJ/music software suite. Hercules' advanced communication protocol guarantees 100% compatibility with the MP3 DJ software

External multichannel USB soundcard

Thanks to its high-end converters, DJ Console records audio from instruments, home stereos, CD/DVD players, or other devices and plays back music with the highest audio quality. The comprehensive front and rear audio panels provide an incredible range of high-end connections including optical and coaxial digital and MIDI I/O to easily connect most analog/digital consumer devices and audio/MIDI gear! Users can remix out to amplified speakers and enjoy up to 5.1-channel surround sound (up to 6 outputs).

DJs will appreciate being able to play one track for their audience via the DJ Console's speaker outputs, while listening to another track over the headphone output at the same time, to prepare the next mix. To speak to the audience, DJs can use unit's microphone input with gain control. A handy talkover button allows users to reduce the music volume so that they can be heard more easily, and an input clipping indicator avoids sound saturation.

Stylish, 100% USB bus-powered, hot-plug & play portable unit

Incredibly user-friendly, DJ Console is easy to install and use: simply hot-plug the unit via its USB connector and go! DJ Console is 100% USB bus-powered, with no external power supply required.

Featuring excellent compatibility, DJ Console works with any PC with a USB port. If the computer has another sound card, there is no need to uninstall it before using the DJ Console.
Perfect for mobile use, DJ Console is robust, light, and compact and can be used anywhere with a laptop computer. Its robust casing and sleek detachable cover provide maximum protection, while the removable shoulder strap allows for easy transportation.


FEATURES
Plays MP3s, WMA, WAV, and CDs
24-bit/48 kHz USB sound card with 102dB input and 106dB output
Connects to most outboard gear via stereo RCA line level inputs
6 analog line level outs that are surround sound ready
MIDI I/O, optical and coaxial S/PDIF I/O
1/4" jack mic-in with front gain control and signal/clipping LED indicator
Front volume control on headphone jack
Full-speed USB bus is USB 1.1 and USB 2.0 compatible
2-5ms latency under ASIO
Compatible with Direct Sound, Direct X 8.0, ASIO 2.0, General MIDI, Direct Sound 3D Dolby Digital, and Sound Blaster
Compatible with most other DJ software (such as Traktor) through MIDI Mapper controls it will read functions assigned to command keys
Talkover attenuation button
Full suite of DJ software included: New DJ, Virtual DJ, Storm 2.0 DJ Edition, and OTS Audio
100% USB bus powered; no external power supply needed
Long USB cable is included
DJ controls include 28 phosphorescent soft buttons, 16 LEDS, 4 encoders, 6 potentiometers, a high-quality ALPS crossfader, 2 sliders and a soft rubber x/y ministick
Backlit and phosphorescent controls are perfect for low-lighting conditions
Software/hardware allows looping, sampling, cueing, beat matching, crossfades, skratching, EQ, effects, pitch changing, and quick song searches
Durable ABS plastic carrying case converts to slip-proof base
Shoulder strap is included
2-year warranty
/pdp/reviews/productReviews.jsp
Loading....
I thought it had very resourceful information and it looks cool. Great for people who mostly have experience
I purchased this unit from another source. The software was not not included. I attemted to log on the website and register to obtain help from the Hercules Co., but never recieved a response. This after waiting and resending for more than 3 weeks. Hercules Headquarters are located in France and The long distance charge would be to much. I was looking forward to useing it but I cannot. I currently use Traktor and hoped it would give me HeadphoneQue and Main out. After I return this item, I would be hesitant to buy another due to the lack of support from Hercules.
After reading about it, I finally ordered the portable dj mixer, It has great features, the extra soundcard lets you pre-listen to a song like a real dj, however the software wasnt that great. I used it at a club and it was a success. As long as a good computer is used its great for parties,Its a good start for dream dj's who wanna become a pro.
i love the idea of this thing, once they update the model a little more and add some better programs, this baby will be obsolete. We are begging to pass the time in which people use records for mixing into the time in which people use cd's but these cd turntables cost twice as much as regular turntables and this console does everything a cd turntable can do and more than vinyl.
I bought the usb PC version about six months ago. It came with a software bundle which in my opinion were all junk. I got Traktor 2.6 and it worked better but I found myself using the computers mouse alot and defeated the whole reason I bought the damn thing to begin with. The Hercules version of Traktor eliminates the unusable features of the program to those strictly on the console, and you are limited to using it in soundcard mode ONLY! There is no option in the program's setting for PCI. The design of the console is also very cramped up and I found myself bumping the jog wheel with the fader and vice versa. I found out it was better to lock the jogwheel seeking feature when deck is playing mode. The jogwheeel turned out to be a big disappointment, not only is cueing not precise but very difficult to manuver. You never get control of the record which makes scratching virtualy impossible. The pitch control can be used as volume faders or pitch control through the settings, whichever you like. All the other settings work pretty much like they say. Bottom line, this thing is pretty tight for home use or entertaining your friends at a pool party, but by no means a professional solution.
I have read all of the other comments and for the most part I can not agree with everything. I DJ at a club in Houston, Tx. I use this with Traktor 3 and it is a great tool. You can custom fit this unit to your specific needs. Along with keyboard short cuts and some changing of midi assignments this unit is hard to beat. It is a little tight and could use some spacing out. But I have no problems at the club.
I read all the reviews from a number of websites before I bought this and returned it. The copy of Virtual DJ that comes with the unit is a watered down version of the software, eliminating key features. (http://www.virtualdj.com/) The unit itself is very cramped. The crossfader is much too close to the jog wheels, the pitch faders control volume, the volume pots control pitch, the effects wont work, it has really bad latency, it screwed with my M-Audio patchbay and when I tried to scratch with a jog wheel during play, all it did was slow the music (or cut) down. The stream would not break, no matter how fast I spun the wheel. I then posted on virtualdj forums about this, and everyone said to go to timecoded vinyl. GO TO TIMECODED VINYL... this is not the solution.
Adds true hands-on mixing control for Laptop Djs. No more mixing with mice or hot keys. The Hercules does what it says it will do- though there was a minor crash during my time using it. Quick recovery, though. Before Hercules, you had to buy a mixing software company's own (expensive) control surface, if they even offered one. Hercules already has set up agreements to work with some of the proven mixing software out there. In addtion, the 'soundcard issue' is already handled. Play through the Hercules built-in card, cue through your computer's. Wish list: Making it look like a more substantial, higher quality unit for those of us wanting to use it in professional situations. This little box does a lot but looks a bit like a toy. You can't beat the price for what it does, but you may want to wait to see if Hercules or another company comes out with a deluxe/high end model. If you're just mixing in your bedroom, go for it.
After reading reviews, doing hours of research, I decided to purchase this. I was extremley let down when I opened the MF box to see that the Hercules box was already opened, damaged, and had missing parts. The controller itself crashed my Pc numerous times and wouldnt install. Huge letdown
{ "pageType" : "item_page", "placements" : "2", "placementNames" : "OOS,rr2" }