Back to Top

Overview

Jump to Overview

Features

Jump to Features

Warranty

Jump to Warranty

Reviews

Jump to Reviews

true
Zoom
tier1
Sonic Reality

Sonic Refill for Reason Volume 2 - Synths 2
Product

702463
YUI
true
MMGS7/702463000000000_MEDIA_SET
false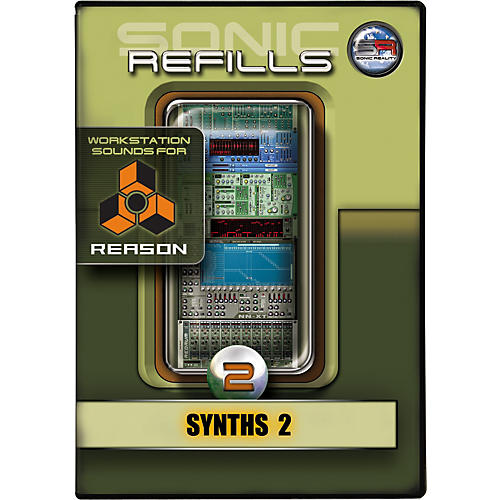 Lowest Price

Ships Internationally
(48 Contiguous U.S. States)
Free
Free Shipping With Backstage Pass
2-Day Standard Ground
Free Shipping With Backstage Pass

(48 Contiguous U.S. States)
USD
The Sonic Reality Sonic Refill for Reason Volume 2 - Synths 2 is a great sonic resource for more rich analog pads, ethereal and moody textures, wicke...Click To Read More About This Product
We're sorry-this item is unavailable.
Find a similar product below or contact our experts for a recommendation of great alternatives. Call us at 800-449-9128.
Customers Also Viewed:
OVERVIEW
Deep new sounds for Reason!
The Sonic Reality Sonic Refill for Reason Volume 2 - Synths 2 is a great sonic resource for more rich analog pads, ethereal and moody textures, wicked FX plus a variety of atmospheric soundscapes that work for soundtracks and the latest styles of pop, R&B, and dance music. Consists of pads, FX, and miscellaneous vintage and modern synth samples and patches for each of the most popular modules in Reason including the NNXT Sampler, Malstrom, Subtractor, ReDrum, and others.

Sonic Reality takes Reason to a whole new level with their Sonic Refills series of sound libraries. Each of the highly affordable volumes in this over 20-volume collection offers amazing playable instruments, meticulously recorded and expertly programmed.

FEATURES
NNXT Patches
118 Effects
60 Elements
209 Pads
M¤lstrom Patches
66 FX & Misc. Synths
34 Pads
Subtractor Patches
41 FX
28 Pads
49 Poly Synth
Alien Gutz
Analog Basketball
Ancient Wind
Beammed
Chaos on Pluto
Chirp to Death
Crazy Loopy G
csmany
Death Wash
double reverse
elastic
Elcomp FX
EML Oiee
EML Synclicker1
EML Ya ya
flood
FM Zing
FMallet Metal
FMBumble
Glass Chirp
growning machine
Hey Swallowed
Hit Asnz10
Hit Asnz12
Hit Clang
Hit Industry
Hit Small T
Hit Syntheticrash
Hit Thunderdrum
HitCye
HitDigiSnr
HitWicked Low
Hold This Mess
In a Blender
IN VCS Wind 5
its cool
Kooleffekt
Lazzer
Legal Alien
like an animal
Little Green Men
Lopter
MachineFM
Martian Wind
movieintro
Moving Whisper
New World
Origin Unknown
Pah Hit
passing lane
perty weird
pink machine
Pinknz 1
Pinknz 12
Pinknz 2
Pinknz 4
Pinknz 5
Pinknz 7
Pinknz 8 Whistle
Pinknz 9
Piong Hit
Plz Hold Me
Pm SynthFall
Pmsynth 01
Pmsynth 03
Pmsynth 04
Pmsynth 05
Pmsynth 06
Pmsynth 07
Pmsynth 10
Pmsynth 11
Pmsynth 12
Pmsynth 13
Pmsynth 14
Pmsynth 15
Pmsynth 16
Pmsynth 17
Pmsynth 18
poly ester
PolyPad
Popping Electrons
PPG Bellsyn
PPG Buzzsynth
PPG ClavionK 1
putow
Pysche Fall
R2 Eat you MW
Ringmod
ruff sweep
scary string synth
Shling Ghist
Snap Crackle Pop
st paddy
Stir Fried
Surfing on Mars
synpaty
thats pleasant 2
The Beckoning
the romans
Torn FMetal
triple dip
triple flip
Twizted Angle
VCS Wind 1
VCS Wind 2
VCS Wind 3
VCS Wind 4
westward
wet bandpass
What Am I
Wind Explosion
Windnz
Wizzer
wonderous rythm4
wonderous rythm5
wonderous rythm8
wonderous rythm9
You Scare ME
IN ADDBELL1
IN ADDBELL2
IN ADDBELL3
IN Arp 2500 Pulse
IN Arp 2500 Saw
IN Arp 2500 Sine
IN Arp 2500 Square
IN Arp Noise
IN Bottle Blow 2
IN Bottle Blow
IN Breath Nz
IN CS80 Whitenz
IN DK Bell 1
IN DK Glastp
IN DK Vbell 2
IN GW Brthvox 2
IN GX Brthvox 1
IN Harpsiwave
IN Key Click
IN Pan Breathnz
IN Pm Blowpipe
IN Pm Metalike
IN Pm Mutelike
IN Pm Tarish
IN Rhodes Rls
IN Seashore
IN Spektral Nz 01
IN Spektral Nz 02
IN Spektral Nz 03
IN Spektral Nz 04
IN Spektral Nz 05
IN Spektral Nz 07
IN Spektral Nz 08
IN Spektral Nz 12
IN Spektral Nz 13
IN Spektral Nz 14
IN Spektral Nz 15
IN Spektral Nz 16
IN Spektral Nz 17
IN SW Noise 1
IN SW Noise 2
IN SW Noise 3
IN SW Noise 4
IN Synthwind 1
IN Synthwind 2
IN Synthwind 3
IN Synthwind 4
IN Tack Attack
IN Top Pno B
IN White Noize
IN Wine Glasses 1
IN Wine Glasses 2
IN Wine Glasses 3
IN Wine Glasses 4ST
IN Wine Glasses 5
IN Wurly Release
PM Breath Elemnt
PM Growl
PM WindTube
1 FriedChicken
6 pole Synstring
60 Jun Pad
after faze
Alien Baby
Alley Alien Pad
Ana Strings
Analog Prophet
Aster Pad
At most Pad
band pasture
Banksynth
Belly Dancer
Beyond Voyage
bigness
Blade Running
Blown Glass
Bowed Pad2
Brightness
Bubble Ghost
Butterfly Monks
Buzpad
Chorus Cavern
City of Sun 2
Clear Skiez
CS80 Noisetone
Cyber Pellets
DA Hybrid
DG pluck pad
Dream Academy
Echo Drop
Echo on the Right
electro flute pad
emotion pad
Ems VCS 01
Ems VCS 02
Ethereal Sheer
Falcon Pad
Ferris Pad
Fifths Sweep1
Filta Padiwan
Filterine
Flippy Skippy
Floydian
Flutter
For N er Pad
Fremen Pad
Gene The Ghost
Glass House
Glassic Harmonia
Goblin's Den
Haywire
HighPass
Hollowbelpad
Ice Ice Very Ice
In the Add K5BLPAD
In The Air Pad
In the Dark
In the Distance
Inner Turmoil
It Moves a Bit
It Shakes a Bit
It Shakes
J Cox VS
jp majesty
jp stack
Juno Strings
Jupe Strings
Katrina Pad
Keyboard Giveaway 81
Konflict
Landing Of The Rubber Alien
Late Eighties
Lonely Man Pad
Lonesome Pad
lotsa filtering 2
lotsa filtering
Matrix Phasepad
Mayhem Man
McFeelings
Meditation
mega brass syn
Milky Sunday
Moola Pad
MotionAtmos
MotionCavern
MotionCrystaline
MotionDrone
MotionFmepPad
MotionHollow
MotionNicePad
MotionShiny
MotionsyFMhrmnx
MotionzHolly9
Movement
Moving On
Mr Softy Aint Sawft
Mystic Juice
neewooaaah
New Dawning
Newage Pad
Not Quite Sure
nusyns
OB Hollow Pad
ob seq 2
OB SquidPad 2
Obbrass
Obhm PolyPad
oblisk
Oboe-ve The Clouds
Octave Swap
OrgAdd Pad
P10 Again
P5 AbaPad
P5 TriPadsxt
P5 Warmth Pad
PadSweep 001
PadSweep 002
PadSweep 003
PadSweep 005
PadSweep 006
PadSweep 013
PadSweep 026
PanFilt Swap
Parsons Me
Pass the Band
Pass the Pad Plz
PBBeeeaaw
Phases of Mars
Phazsaw
PPG Bellpad
PPG WarmPD
Pretty Hate
Propaganda Pad
Prophet Sawpad
Prophetic
Psychotic Flutes
PVS Filtpad
PVS ShimmerPad
PVS Striedit
randome
Reso Goofy Pad
Resolute
Rezo Madness
Rich Analog
Ring Ding
Ringer
Say Yes Pad
Science Fiction
SCirc Pad
SD Pad Rez
Seal Pad
Separations
Shaow Pad
Shayna Pad
Shimmering Beez
Shimmersmith Odeon
Silkscreen Pad
Silky Sonics
Simply Pad
Slobber
Soundtrack 5ths
Space Pad
Spooooky
Square Daylights
St w fall
Stand By For L
string synth
Stringy Brassina Pad
Sweep This
sweepy
Sympasizer
Syn Brass1
Syn Strings1
Sync Ya Later
tek stack env 2
The Creeps
The Dorf Does Golf
The Shining
triple brassy
Tropipad
Tuning Out
Tunnel Vision
Twenty 4 WLD Pad
Two Clears
TXFM 8 Glass
UFOdd
velophase syn
Voyetra Furpad
Voyetra Ghostpad
Voyetra Spacey
Voyetra Strings
Wally pad
Watercress Pad
Westend Pad
wide eporg
Windy Chime pad
Wine Glasses 2
Wisked Away
Wobble It
wonderous rythm
wonderous rythm4
wonderous rythm5
wonderous rythm7
wonderous rythm8
wonderous rythm9
wonderous
Yetra 8 Furry
Ze Future Organ
Alien Gardeners
Alien Sniffles
Anvil Crickets
Bella Donna
Bowed Baboon
Bowed Constrictor
Bowed Pole
Bug Copter
Burbles F
Buzz Lightsaber
Chime to Go
Clinkets
Dijeridon't deux
Dijeridon't
Electro Fonz
Episode 3
ET Pogostick
Falling Scrapmetal
FINDER
Florencbee
Fuzzy Chimez
HEavy BReather
Ice Scream
Indigest
Jetsons Minibike
Jupiter Storm 2
Jupiter Storm
Mad Gurgler
Mad Props 2
Mad Props
Me Like Pie
Metal Random
Metal Scraper
Metalabon
Metallic Cat
Mishelan
Monster Tunnel
Motion Science
Musicbot Practice
Pickles in Space
R2 Defunct
R2 in Trouble
Robot Catfight
Shackles
Shananiganz
Space Cat
Space Tunnel
Spacey Crickets
Spinning Mess
Square Bare
Super Byke 2
Super Byke 3
Super Byke
Throw It 2 Ya
Tin Man Cometh
Twist Z
V Ger 2
V Ger 3
Veeger
Video Gamester
Vocold
Wall Pollen
Wicked 2
Wicked
Yay oh Wow
Yeah Alright
Beautimus
Blade Running
Byriani PadDrone
Crystaline Choir
Dream Shapes
Echoscape
Escapade
FINDER
Fluffy Dream Pad
Future C Gull
Io
Jane Paul Jeans
Left Behind
LegnA
Longitude
Man Ican Dreamz
Messenger
Milky Way
Mo how
Mood Swing
Nether Netherland
Oceana
Pad Shmad
Padme Cres
Parity Pad
Sail To Nowhere
Sarah Jane 2
Sarah Jane
Shimmerton B
Silky Sunday
Sweepy Eyes
Waywind Pad
Wide Valley
With Grace
A Wash
After FX
Alien 4 Player
Bass Pit 2
Bouncy Talker
Cyborg Lung
Deep Forest
FINDER
FUMP
Glass Strike
Glassy
Growly Pulse
Haywire
ICan Do
Li
Lots of Cats
M_Echtomorph 2
M_Gateway 2u
Mello Soundtrack
Melody Maker
Metal Mess
MFO
Mind Warp
Monday After
Muted String Thing
PHASAL
PULSER
Raptor
Rythm Ace
Rythmic Steamer 2
Rythmic Steamer
Scary Pad
Shrapnel MW
Slow Singer
Sonic Shiver
Splash Sync
Talking Drum
Trance Rythm
Transmission
What's
With Big Bottom
Zephyrhills
Ani 1
B pad
Bandpassing Lane
Cornelius
FINDER
Flippin' Pad
Flutey Chiff
Gabes Pad
Gate Pad
Gen Pad
Glass Harmonix
Hiat
Layer Pulse Pad
LFO Pro Pad
Noi
Overview
Padded Room
Poma
Ramper Room
Reality Crumbler
Sad Noise Pad
Sim
Sub Ractor
Substation pad
Taxi Pad
Ten Inch Nail
Tinkly cz pad
Uba
Umix Strings
4 big chords
4 rave chords
Ack Out
Aftermath
Alien Horn
Bellini
Bitting
Bottle Neck
BOWL
Bp Slippy
Chirpy lead
Clavine
Dark Wind
Dexercise
Dm Xyla
Fan Fare
FINDER
Glass Strike 2
Glass Tone
Growly
High End Wag
Just Nice
lfo progression 5ths
M Flap
Mega Accordian
Megga V
Mettalic Flute
Mutted ER
Odd Ball
Popsicle Lead
Pulse Thing
Purty 1
Purty 2
PURTY
Quick N Round
Roman 5th
Ruf Pull
SHO
Slapped
Space Wurl
Spacy Lead Horn
Stabber
Synthaponey
Thin
Trance Rythm
Tuning In
Turqoise Monday
Wet Synth
Wobbly
Zinger

Steer Reason into new waters with this great collection. Order now!
SPECIFICATIONS
Sounds may be used in all samplers supporting the following formats
Reason NNXT
Reason ReFill
/pdp/reviews/productReviews.jsp
Loading....
{ "pageType" : "item_page", "placements" : "2", "placementNames" : "OOS,rr2" }