Back to Top

Overview

Jump to Overview

Features

Jump to Features

Warranty

Jump to Warranty

Reviews

Jump to Reviews

true
Zoom
tier1
Summit Audio

ECS-410 Everest Configurable tube channel strip
Product

583116
YFM
true
MMGS7/583116000000000_MEDIA_SET
false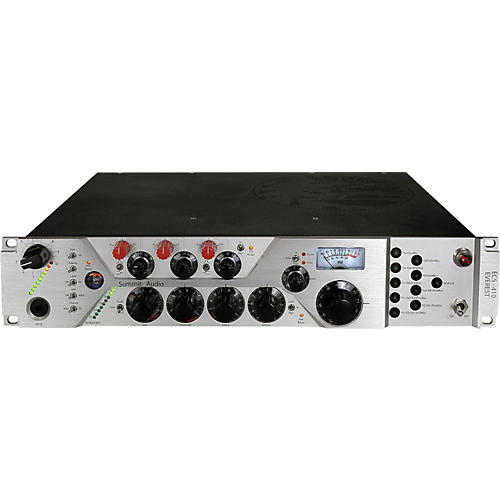 Lowest Price

Ships Internationally
(48 Contiguous U.S. States)
Free
Free Shipping With Backstage Pass
2-Day Standard Ground
Free Shipping With Backstage Pass

(48 Contiguous U.S. States)
USD
The Summit Audio ECS-410 Everest Configurable Tube Channel Strip takes 4 of the most intense, flavorful audio processing blocks and fuses them into 1...Click To Read More About This Product
We're sorry-this item is unavailable.
Find a similar product below or contact our experts for a recommendation of great alternatives. Call us at 800-449-9128.
Customers Also Viewed:
OVERVIEW
Four complete processors combined into one amazing, all-encompassing master channel strip.
The Summit Audio ECS-410 Everest Configurable Tube Channel Strip takes 4 of the most intense, flavorful audio processing blocks and fuses them into 1 master channel strip. A distinctly different four-section analog processor and mic preamp, the ECS-410 Everest is ideal for tracking, recording, and processing. With its own fully balanced IO, each section is completely independent or can be internally routed together via TouchPatch, a unique and amazingly intuitive routing section.


Flexibility?

The ECS-410 Everest excels in all regards. Since each section has it's own I/O (and in some cases, multiple I/O), each section can be wired to your patchbay for individual use. Each section can also be routed internally with the TouchPatch one-touch routing section while the outputs of each section remain active. For example, route the ECS-410 Everest from the Mz2 Preamp, to the Dc1 Compressor, to the Fe1 EQ, to the Db2 Drive Bus. Plug your microphone into the preamp section and adjust the gain and processing sections so you get what you want out of the main XLR output. The Mz2 preamp's output is still active, sending an unprocessed output from the mic. The Dc1's output is still active, sending the compressed and amplified signal out. The Fe1's output is active as well, sending the amplified, compressed, and EQed signal out it's individual output. Add to this the -10dB TRS outputs on both the Mz2 and Db2, and with one microphone you can get six outputs, all at different stages of the processing!

Looking for flavor?

Looking for pristine quiet and precision? ECS-410 Everest has it all. Put the Mz2 into tube mode, drive the Dc2 compressor in Tight mode, use the Fe1 EQ to tone and shape, drive the Db1 drive bus into tube or transistor overdrive and shape your sound into shapes and sizes never before heard. Put the Mz2 into solid-state mode, bypass the Db2, and you have an incredibly quiet, precise, open preamp, free of artifacts with very low THD and noise "and all points in between.

Design Philosophy:
Summit Audio's design philosophy with the ECS-410 Everest is a no-compromise, high-value approach to every step of the design and manufacturing process. From the choice of thru-hole parts for high reliability and easy repairs, to using gold plated circuit boards, Summit Audio has crafted the ECS-410 Everest for a lifetime of use. The modular design of the ECS-410 Everest makes service and updating extremely simple, as well as giving great separation for each section, with direct power, audio, and ground connections. Each card has double-redundant contacts to the main board, using actual wire "not failure-prone ribbon cables. All contacts from the cards to the front-panel controls use three-finger contacts, the most reliable and solid connections available. The inputs and outputs are all fully balanced and use high-end connectors in all cases. The steel chassis is very strong and offers excellent shielding with a highly durable coating for a lifetime of use with a minimum of evidence of wear. And most importantly, each section is laid out by hand, so trace routing is the result of experience and testing, not the accidental routing coming from a computer generated auto-route feature. Attention to details like this truly make the ECS-410 Everest stand above.

Mz2- Microphone and Instrument Preamplifier
At the far left of the ECS-410 stands the Mz2 microphone and instrument preamplifier. The culmination of Summit Audio's many years of experience making preamps, the Mz2 is made for tone and sweetness with no sacrifice in noise or distortion specs "the perfect blend of fidelity and flavor. The design in the Mz2 starts with a discrete, matched and hand tested transistor stage. Next is an interstage, bypassable 12AX7A vacuum tube, getting full plate voltage (185V). Following that is an interstage Jensen transformer, which is the best location for a transformerm since feeding it with high level provides the best sound, isolation, and noise immunity.

When you plug an instrument into the Hi-Z in, it goes directly to the tube, then to the transformer (not to an op amp), instantly lending tone and life to your bass, guitar, or other instruments. Controls include sweepable gain with a top-of-the line potentiometer offering 10X the rotational life of most other pots; 10 segment LED metering; super clean +48VDC phantom power (see power supply); -20dB pad; switchable polarity; 60Hz high-pass filter; and tube/solid state switch. I/O includes XLR mic in, front panel 1/4" Hi-Z in, balanced XLR line level out, 1/4" Insert, plus balanced 1/4" -10dB out (great for using the ECS-410 as the front end to your bass or guitar rig).

Fe1- Passive Three-Band Equalizer
Standing at the top of ECS-410 Everest is the Fe1 passive three-band EQ. Summit chose to design a passive EQ circuit for the distinct sound, warmth, and great phase coherence that come from passive LC circuits. Based on the incredible FeQ-50 passive EQ, the Fe1 is a flavor enhancer, perfect for sculpting your sound as you record, and adding a distinctive touch when mixing. This passive EQ features a custom LF inductor with all inductors shielded against EMI; high-quality film capacitors; four transistor buffers; and a very minimal signal path. Each of the three bands has six selectable frequencies using sealed, gold-flash switches with sweepable 12dB boost or cut, on the highest-end center-detent potentiometers. The low and high bands are also switchable between shelving and peaking filters. Master straight-wire bypass included. I/O includes balanced XLR in and XLR out.

Dc1- Dual-Mode Dynamics Control
Summit Audio's 20+ years of compression tradition is well represented in the Dc1 compressor. Utilizing a discrete transistor attenuator design, the Dc1 has that sweet program-compensated and user-directed timing that Summit Audio is famous for"making for a very musical and satisfying compression experience. The Dc1 is VERY low-noise, even under hard compression, and is fully temperature-compensated to avoid any thermal drift. Along with the make-up gain, threshold, attack, and release controls (on top-of-the-line potentiometers), the Dc1 adds a mode switch for choosing "Classic" or "Tight" compression modes. Classic is the smooth, signal-dependent compression you're used to hearing from Summit Audio. It is clean, smooth, easy, and musical. Tight mode tightens the reigns, allowing for a much higher compression ratio, clamping the signal and controlling those peaks while still maintaining the integrity of the sound. Standing to the left is the accurate and easy-to-read 10-segment gain reduction meter showing 1 1/2dB steps. It also includes master straight-wire bypass and stereo link mode (for linking with another ECS-410 Everest). I/O includes balanced XLR in and out, 1/4" stereo link jack, and 1/4" sidechain insert.

Db2- Drive Bus Master Output and Drive Section

One of the truly unique features of ECS-410 Everest is the Db2 drive bus. More than just a master output section, Db2 has multiple gain stages for overdriving either in vacuum tube, or discrete transistor mode, each with a totally unique and variable sound. With dual 12AX7A vacuum tubes, the Db2 use both a triple triode, zero-feedback vacuum tube and high-voltage transistor approach with real class A power, offering anything from clean and linear, to fully driven and saturated, and anything in between. Need very low distortion and lots of extra gain? Turn the output up all the way and use the drive gain to get the level you need. Want to add overdrive to a signal? Turn the output gain down and use the drive gain to get the amount of drive you need. Tube or transistor, each has a unique and distinct sound. Want the ultimate it quiet and low distortion? Bypass the whole section. Also included is a calibratable analog VU meter for true output level metering. I/O includes balanced XLR, plus 1/4" TRS -10dB out (great for using the ECS-410 as the front end to your bass or guitar rig).

Routing Section"
Unique to ECS-410 Everest is the TouchPatch master routing section. With the touch of a single button, you can route any section to and from any other section. These are no MOS switches"no audio routed to the front panel for the switching "it remains close to the signal path so no audio runs around the interior where it can lose fidelity from high-voltage or other noise-generating fields. Gold-flash, double-contact relays are used, and no computer or microprocessor makes noise inside the unit. Need to route the preamp to the compressor, to the EQ, to the drive bus? One button. Need to pull the EQ out of the chain? One button. Want the EQ before the compressor? One button. Choose one of any 10 routing schemes in the most intuitive and flexible routing section ever offered. And remember, each section has it's own independent input and output, so any one not routed is still fully operational on its own.

Power Supplies
ECS-410 Everest utilizes two separate power supplies. For all audio, a discrete linear supply is used, featuring fully regulated and double isolated B+ with discrete, regulated and triple LC-filtered +48VDC phantom power for absolute purity when powering your mics. A separate power supply supplies power for all metering and control, keeping any possible noise generating components fully isolated.


The ECS-410 Everest offer great sound, the most flexible and easy-to-use routing scheme, and a huge array of inputs and outputs in a beautifully crafted 2RU steel chassis.
FEATURES
Mz2 tube or solid state mic preamplifier
+48VDC phantom power, polarity switch, HPF, pad, 10-segment LED meter
Fe1 passive 3 band equalizer
Switch selectable frequencies, +/-12dB per band, peaking/shelving, bypass
Dc1 dual mode dynamics, "Tight" and "Classic" compression modes
Sweepable gain, threshold, attack, release, bypass, stereo linking with 2 units, 10 segment LED meter
Db1 DriveBus output, variable drive and output
Tube/Solid State/Bypass, VU meter
TouchPatch routing- 10 routing schemes at the touch of a button
Each section has independent I/O
Three 12AX7A/ECC83 vacuum tubes (one Mz2, two Db1)
4 complete units in one
3 Year Warranty
Four XLR inputs, four XLR outputs, two 1/4" TRS outputs, side chain, stereo link, insert
This four-section analog processor and microphone preamp is ideal for tracking and processing your most important tracks.
SPECIFICATIONS
Mz2- Microphone Preamplifier
Max gain: +60dB (plus 20dB when routed through the Db2 drive bus output)
THD+N (@ +30dB): 0.008% (A weighted), 0.01% (unweighted)
Max Out: +25dB
Frequency Response: Solid State 10Hz-200kHz +/- 3dB; 15Hz-120K +/-0.5dB
Tube 15Hz-159K +/-3dB, 0Hz-65Hz +/- 0.5dB
Input impedance: 2K ohms
Type: Switchable tube (12AX7A) or discrete transistor
HPF: 60Hz, 6dB/8va
Metering: 10 segment LED
Phantom Power +48VDC
Pad: -20dB
Polarity: 0 or 180 degrees
IO: Balanced XLR mic in, front panel 1/4" Hi-Z in, balanced XLR +4dB (nominal) out, 1/4" TRS -10dB (nominal)
Fe1- Passive 3 Band Equalizer
THD+N (@+4dB, no cut or boost): (A weighted) 0.009%, (unweighted) 0.025%
Frequency Response: 5Hz- 100kHz +/-0.5dB , 5Hz- >200kHz +/-3dB
Frequencies
Low 33, 60, 100, 150, 270, 390HZ (peak or shelf)
Mid 560, 630, 1K, 1.6K, 2.5K, 3.3K Hz
High 5K, 7.2K, 8.2K, 10K, 12.5K, 16K Hz (peak or shelf)
Cut/Boost: +/- 12dB per band
Low shelf: 6dB/8va, peaking bandwidth 2 octaves
Mid peaking bandwidth: 2 octaves
High shelf: 6dB/8va, peaking bandwidth 2 octaves
IO: balanced XLR +4dB in and out
Dc1- Dual Mode Compressor
THD+N:
(@+4dB, with no compression but through gain cell)
0.025% (A weighted), 0.041% (unweighted)
(with 6dB compression)
0.013% (A weighted), 0.013% (unweighted)
Frequency Response: 5dB >200kHz +/- 3dB, 5Hz-136kHz +/-0.5dB
Gain: -4dB to +10dB
Attack: variable from
Release: variable from
Ratio: Classic Tight
Metering: 10 segment LED for gain reduction
IO: Balanced XLR +4dB in and out, 1/4" side chain, 1/4" stereo link
Db2- Drive Bus Master Output and Overdrive
THD+N (@+4dB, no cut or boost):
Bypass: 0.002% (A weighted), 0.008% (unweighted)
Tube: 0.3% to overdrive (unweighted)
Solid State: 0.013% to overdrive (unweighted)
Frequency Response:
Tube
Solid State 5Hz- > 200kHz +/- 3dB, 5Hz-130kHz +/- 0.5dB
Gain: +20dB
Type: Tube (12AX7A) or discrete transistor
Metering: analog VU output level
IO: balanced XLR +4dB in and out, -10dB 1/4" TRS out
Physical-
Size 2RU, 19" x 3.5" x 17"
Weight 26lb.
Power requirements 100VAC-240VAC (different fuse for 100V, 115V, and 240V)
/pdp/reviews/productReviews.jsp
Loading....
{ "pageType" : "item_page", "placements" : "2", "placementNames" : "OOS,rr2" }