Buying Guide:Aphex Exciter
Sizzle and brawn
By Russ Kent, Harmony Central Contributing Editor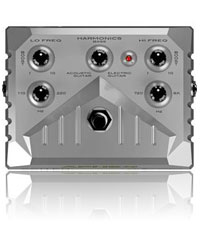 Aphex's Aural Exciter technology has evolved over the years from an esoteric audio enhancement tool—originally a mysterious secret weapon on hit albums and coveted by excited producers everywhere—to a commonly available enhancement accessible in hardware and plug-in form to consumers as well as audio geeks. What hasn't changed is Aphex's unique approach to vastly improving an audio signal with dependably simple controls. The circuitry just does its job with a minimum of fuss and no endless hierarchy of digital parameters to slog through to get good results.
The recently redesigned hardware Exciter includes the Aphex Optical Big Bottom circuit, which does for the low end what the Aural Exciter has traditionally achieved on the high-frequency side of the spectrum: make any signal—from a mono kick drum to a full stereo mix—achieve a new richness that, at its best, can turn a mediocre mix into something that really makes listeners sit up and take notice.
The basics

Aphex Exciter is a one-rackspace, two-channel processor with Aural Exciter and Optical Big Bottom circuits on each channel. The design of the controls couldn't be simpler. Each process has three parameters accessed by well-spaced black knobs, making for 12 front-panel controls plus a Process On/Off button for each channel. The Exciter does all of its processing with analog circuitry. It also does all of its processing in a side-chain, meaning that the entire input signal is not processed. The input signal goes directly to the output, but a send from the input is sent to the processors. Then you decide which frequencies are processed, how much they are processed, and how much of the processed signal is mixed back in with the input signal.
The Aural Exciter frequency knob allows you to set a high-pass filter frequency. Only frequencies above the high pass filter frequency will be processed with even order harmonics added to the signal. The Harmonics knob determines how much harmonic generation is created. The Amount knob allows you to mix the processed high frequencies back with the input signal.
The Optical Big Bottom frequency knob allows you to set a low pass filter frequency. Only frequencies below the low pass filter frequency will be processed with compression. The Drive knob determines how much compression is added to the frequencies below the low pass filter setting. The Amount knob allows you to mix the processed low frequencies back with the input signal. Frequencies between the low pass filter and the high pass filter are phase cancelled as the Exciter adds only processed high and low frequencies to the input signal.
The rear panel has one set of XLR and one set of 1/4" connectors for input and output and a switch to toggle between –10dBV and +4dBu input levels (the traditional dividing line between consumer and pro gear, respectively) on each channel.
Each mono channel of the Exciter is independent, so you could insert one processor on an acoustic guitar channel and one processor on a vocal channel of your mix. Also, each processor has an Amount knob for the Aural Exciter and Optical Big Bottom. Simply turn the Amount knob down for either processor if you only want high- or low-frequency enhancement. For example, you might use only high-frequency enhancement on an acoustic guitar and you might use only low-frequency enhancement on a kick drum. For stereo signals, matching the controls of the two channels is critical because there's no "gang" switch to lock the two channels to a single set of controls.
How it works

The Aphex Aural Exciter works its magic through patented circuitry that selects and enhances frequencies in a unique and intelligent way. The process recreates and restores missing harmonics, which brings out fine differences among voices and various instruments.

At first the effect sounds like something you could achieve with outboard graphic or parametric equalizers, but there are big differences. For one, the Exciter takes the guesswork out of the process, imparting musical enhancements at almost every possible setting. More important, unlike EQ units, the Exciter does not significantly boost noise or output level. That means no sudden level changes when you add the effect at the end of a signal chain, and no remixing when you strap the Exciter across the bus inserts before a final mix.
In use

I found the hardware Exciter to be an extremely useful tool in my home studio. One big benefit is its ability to increase intelligibility on vocals. On mixes, it brings out the frequencies you identify with high-end studio recordings. I processed an acoustic-guitar mic, a crunched electric guitar, a programmed kick drum, and several full mixes through the Aural Exciter and Optical Big Bottom circuits and heard improvement in every case.
Even with some of my favorite mixes from CDs and FLAC files, the effect was extraordinary. With both Aural Exciter and Optical Big Bottom optimally adjusted in stereo, engaging the effect was like switching from my bookshelf stereo monitors (with their 6" woofers and 2" tweeters) to a pair of built-in pro monitors with 15" drivers and horns. The character of the mix was not fundamentally changed, but everything sounded bigger and crisper.
That doesn't mean you should put the Exciter on every single thing you record or mic. But it does mean the overall quality and design of the Exciter make it a unit that is at home in a pro studio and even more useful in a more modest personal setup, live-show rig, or DJ system. No longer a secret weapon for the biggest names in the business, Aphex Exciter is a processor that everyone can get excited about.
Features and specifications
Frequency Response: 10Hz-38kHz (± 0.5dB)
Dynamic Range: 120dB
Hum and Noise (unweighted 22Hz-22kHz): -93dBu
Crosstalk (10Hz-22kHz): -79dB
   
Input
Connectors: XLR-3F and 1/4" TRS phone jacks
Type: Transformerless, active balanced
Balanced: 40kOhm; Unbalanced: 20kOhm
Maximum level (Input +4dB): +27dBu
Maximum level (Input –10dB): +12.5dBV (+14.8dBu)
   
Output
Connector: XLR-3M and 1/4" TRS phone jacks
Type: Active balanced (may be used unbalanced)
Balanced: 112 ohm; Unbalanced: 56 ohm
Maximum Level: +27dBu Unloaded; +25 into 600 ohm
Check out the sonic capabilities, ease of use, and affordability of Aphex's new hardware Exciter. Order today from Musician's Friend and get our 45-Day Total Satisfaction and Lowest Price Guarantees.