Buying Guide:Ashdown Engineering MiBass 220 Bass Amp
The Mighty Mouse of bass amps
By Tom Foster, Contributing Editor, Harmony Central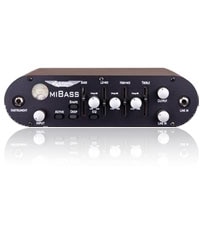 Like the shrinking of everything from microchips to cell phones, the inevitable miniaturization of bass amp gear is a welcome trend for the weary bass players of the world. Yet today's category of "portable" continues to be redefined. Just being able to haul around a bass head without throwing your back out was once enough. Today's micro bass heads are to traditional bass amps what a smartphone is to a desktop computer. One great example of this is the MiBass 220 from Ashdown Engineering, a tiny but powerful bass amp that is loaded with features.
Big features, small package

How tiny is the Ashdown MiBass 220 you ask? Imagine a decent-sized hardcover book—or for you digital types, a large hard drive—that weighs around five pounds. Housed in a rugged steel case, the MiBass can easily fit into a gig bag. The small size of the MiBass is matched by some impressive sound power. The MiBass 220 packs 200 watts of clean Class D power, more than enough for most smaller gigs and even some mid-sized gigs.
The controls on the MiBass amps are designed to make dialing in your sound fast and easy. You'll find smooth-feeling, four-band EQ sliders (bass, low-mid, high-mid, and treble) right up front. The sliders are a nice touch—you can immediately see if your settings are where you want them just by looking at the sliders' positions.
The magic button

One feature that can dramatically improve your bass sound is the "Shape" button. It actually does three things at once to help your sound punch through the mix: 1) adds an 8dB burst at 30Hz; 2) adds an 8dB increase at 10kHz; and 3) drops the signal by 12dB at 400Hz. The result is that your bass really pops to the front of the mix with punch and clarity and without the mud that often lurks at the low end. If you decide you need to add more low end, the Deep button adds in a 15dB increase at 50Hz.
Ports of call

The MiBass also sports a complete complement of inputs and outputs that are essential for the gigging bass player. The 1/4" input can be switched between active- or passive-electronics bass guitars, while the built-in VU meter helps you set the ideal level for your axe. There is also a stereo line input for plugging in MP3 players (or other aux inputs) along with a dedicated level control.
The output section of the MiBass is even more impressive, with a Speakon speaker/amp output, a DI output for going direct to the PA, an effect send/return, and a headphone out for late-night or otherwise silent practicing.
MiBass to the rescue

During the review I had to go out of town, so I decided to bring the MiBass, my gig bag, and my trusty bass to jam with some old friends. The second night I was there, I received a panicked call. My friend's bass player couldn't make a major gig, so he needed me to play at the gig the following night. Oh, and could I learn 30 tunes by then?
Enter MiBass to the rescue. I was able to download the band's tunes to my iPhone, and then plug my iPhone right into the MiBass line input. I plugged my bass into the MiBass 220, plugged my headphones into the back, and spent the next three hours jamming away in the hotel room.
The next night I ended up using a borrowed bass cabinet and the MiBass 220 on the gig. I had already dialed in the sound I wanted to use the night before, so I was all set. The 220 powered my onstage cab while sending a DI feed to the house PA. The band was blown away when so much sound came out of such a tiny amp. When I finished the night, I just put the MiBass back into my gig bag, grabbed my bass, and headed out. I think Ashdown Engineering needs to change the MiBass marketing slogan to "MiBass: Don't leave home without it!" I know I won't.
A tiny Titan

The Ashdown MiBass 220 is an impressively powerful, full-featured bass amp that is even more amazingly portable. If you're a gigging musician, you can use it as your main amp or even as a backup for your regular bass head. Working bass players who consider carefully the three Ps—portability, power, and price—should give the MiBass a listen. And be sure to lift it up while you're at it.
Features
200W Class D Amp
Stereo aux input with level control
Small form factor (8.3" x 2.6" x 6.3")
Under 5 lb.
DI output
Effects send and return
Headphone out
For a great-sounding bass amp that is deceptively powerful despite its compact form factor, check out the Ashdown MiBass 220. Order today from Musician's Friend and get our 45-Day Total Satisfaction and Lowest Price Guarantees.