Hands-On Review:Avid Pro Tools MP 9 Bundles
Pro Tools for the rest of us
By Craig Anderton, Editor in Chief, Harmony Central
Someone at Avid (M-Audio's parent company) must like the "Extreme Makeover" shows, because that's what's happened to their venerable Pro Tools software recently. Pro Tools has long been an industry standard, but was available in a confusing variety of versions—some using DSP hardware, some not; all requiring specific interfaces; some designed more for pros and others for project studios; and then to confuse matters even more, there was the "M-Powered" version that required M-Audio hardware and wasn't compatible with other Avid hardware. Got it?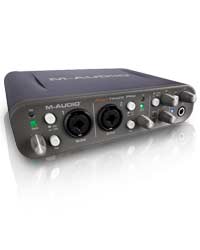 Newer, simpler, faster

But that's old news, as Avid has streamlined their assortment into three broad categories: the high-end Pro Tools HD and HD Native versions (for industrial-strength production environments), the standard Pro Tools for pro and project studios that now works with any ASIO audio interface, and Pro Tools MP for mobile and general recording applications. Within the MP line, there are three bundles—the subject of this review. Each bundle includes a USB audio interface and Pro Tools MP 9 software.
The software

Starting with Pro Tools 7, the program became exponentially more powerful with each revision—adding effective time-stretching, new virtual instruments, deeper MIDI implementation, and more. Pro Tools MP 9 adds path delay compensation (that allows plug-ins of varying internal delays to remain aligned time-wise), more efficient coding, and a friendlier user interface.
Compared to the standard Pro Tools, the MP version's limitations are 24/96kHz maximum recording resolution instead of 24/192kHz, 48 tracks maximum compared to 96, simultaneous recording of 18 tracks instead of 32, 32 virtual instrument tracks rather than 64, and 32 buses instead of 256. None of these restrictions are significant unless you're doing huge projects, and the remaining restrictions are fairly esoteric (e.g., no OMF import/export). Furthermore, the MP version retains many crucial features, like third-party plug-in support.
The hardware

Avid's M-Audio interfaces have always had a good reputation; they can hold their own against the competition, work with any ASIO application, and the drivers are solid . . . a good thing, because Pro Tools MP 9 requires a connected M-Audio hardware interface. This makes sense in a bundle designed more for those entering the pro world, as you don't have to worry about hardware issues—it really is "plug and play"—and you save money by buying the hardware and software together.
The Pro Tools MP + MobilePre bundle is the least expensive, most compact option. Its two inputs accommodate mic, line, or instrument signals, with phantom power you can turn on or off for both inputs. The stereo outputs can drive headphones and powered speakers simultaneously, a direct monitor button allows listening to input signals without latency, and four controls (two for input gain, and separate level controls for headphones and line outs) are recessed in the top, making for an extremely compact box you can throw in a laptop bag. It's bus-powered—no AC adapter required.
Pro Tools MP + Fast Track Pro is the next step up. It has all MobilePre features, but adds MIDI in/out, S/PDIF digital in/out, insert jacks for the two ins to add external hardware processors, input pad switches, four RCA phono jack outputs as well as stereo balanced outs, mix control (DAW playback and inputs), and stereo/mono switch. In addition to standard recording, an A/B cueing switch is ideal for DJs, as are the dual output pairs. Unless you need the MobilePre's somewhat smaller size or are dealing with analog audio only, I think the additional features—particularly MIDI and S/PDIF I/O—more than justify the higher price.
Pro Tools MP + Fast Track Ultra is the top of the Pro Tools MP + M-Audio interface line of bundles. It has everything the Fast Track Pro does (however, the six outs are 1/4" balanced instead of a combination of RCA and phone jacks), and adds two extra mic pres that also have pad switches, two extra 1/4" line ins, USB 2.0 to provide the necessary bandwidth for the extra features, dual headphone jacks, and the ability to record eight tracks simultaneously (six analog plus stereo digital via S/PDIF). What's more, it features internal DSP that lets you add delay and reverb effects for monitoring (vocalists will love you for this!) as well as allowing you to set up a variety of mixing and monitoring routings. To take full advantage of all these features, though, you need to use the included external power supply.
Conclusions

If you have an older M-Powered system, you can upgrade to Pro Tools MP 9 (or buy it outright if you bought the hardware to use with other programs and weren't into Pro Tools), as well as crossgrade to standard Pro Tools 9 software. In any event, these new bundles represent an extremely cost-effective way to get into the Pro Tools world—and given the recent improvements in both hardware and software, there's no better time to enter that world.
Features & Specs:
Cost-effective way to get into Pro Tools MP 9

Compact, capable interfaces

Interfaces can be USB bus-powered (although Fast Track Ultra requires the included power supply to use all features)

Software supports third-party plug-ins

Includes virtual-instrument and effects plug-in suites

Compatible with Mac OS X 10.6.2 or higher (32/64-bit); or Windows 7 Home Premium, Professional, or Ultimate (32/64-bit)

Records up to 48 tracks with 24-bit/96kHz resolution

Gentle learning curve
Pro Tools is the industry-standard DAW, and the MP bundles make it accessible—and affordable—to more people than ever. Order today with the complete assurance of Musician's Friend's 45-Day Total Satisfaction and Lowest Price Guarantees.