Hands-On Review:Bedell OH-12-G Performance Series Parlor Guitar

Petite perfection
By Russ Kent, Contributing Editor, Harmony Central
Parlor guitars aren't normally my thing. I'm a big guy with big hands who likes the big sound of a full dreadnought or jumbo acoustic. But sometimes an instrument is so beautifully appointed, so well made, and so sweet sounding, that you begin questioning all the guitar characteristics you thought you preferred. With Bedell's stunning OH-12-G Parlor Acoustic Guitar, modifying my preferences was a matter of pure seduction, in the best sense of the word.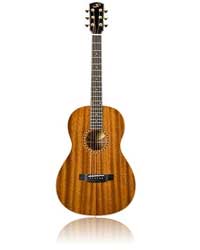 Craftsmanship

The Bedell OH-12-G, like all Bedell guitars, is made of solid wood (no laminates)—in this case, solid African sapele. And what a gorgeous finish it is. Highly grained, with a deep interlocking ribbon-stripe pattern, the wood appears roughly textured. Yet the light glossy finish makes the guitar silky-smooth to the touch. The guitar's top transitions subtly to the sides and back (also African sapele) past solid maple bindings. The maple grain shows through and complements the sapele gorgeously from the side edges to the handcrafted heel cap where neck and body come together.
The neck is made of solid mahogany. The ebony fretboard is attached to the neck by a traditional dovetail joint. The 19 frets are laid in by hand. Nut width is 1.7"; scale length is 24.7" and the body length of this petite looker comes in at just 19.75". The Bedell guitar measures 10.25" wide at the upper bout and 14.25" wide at the lower bout with an 8.85" waist—a true beauty structurally and cosmetically.
Gold Grover tuners adorn the OH-12-G along with the stylized Bedell peace sign on the softly curving headstock. The tuners provide ample resistance—easy enough to turn smoothly, but not easily enough to feel loose or compromise pitch while playing. A hand-laid "checkerboard" rosette enhances the organic, all-wood visual style of the bindings and surfaces, and the six-step precision natural finish ties everything together. It's a guitar that provides a lot of pleasure before you pick a note.
In your hands

More important than its beauty, this Bedell parlor guitar is a sonic beast. It can sound like a much larger acoustic, especially when it's played hard. The OH-12-G responds with rich and varied tones during aggressive strumming or soloing. I slammed this axe on everything from classic rock strummers like The Beatles and Richie Havens to heavy pickers like Yes' "Roundabout" and fingerstyle pickin' fests like "Jerry's Breakdown." The OH-12-G is a supremely responsive guitar that takes anything you throw at it.
It also sounds impressively full for a parlor-style instrument, but without the low frequencies that could create a bass trap in a small studio or excessive feedback with a mic onstage. In fact, the Bedell OH-12-G turned out to be a great guitar for recording—not too boomy and not too bright, with ample overtones on solo harmony passages yet still enough bite to cut through on leads. I cut several test tracks in my home studio, playing passages from the artists and tunes named above, and after more than 25 years of recording acoustics, I can say that this surprising little guitar is one of the best-sounding instruments I've heard in a studio.
With the right mic, this guitar can fill up any room with clarity and any recording track with top-shelf tone that will fit in a mix without excessive tweaking. Fitted and broken in with light to medium-gauge strings (it ships with D'Addarios), the OH-12-G sounds right on multiple styles and has terrific intonation (the finely tooled bone bridge saddle terminates each string at a different length before it descends into the bridge and is covered by an inlay-style pin).
Accessories

I can't say enough about the full OH-12-G package. Fans of vintage style with modern twists will love the guitar's case: a textured brown beauty with distressed latches and gold stitching—a great complement to the guitar's shading and varied hues. Inside, a strap secures the guitar to the case just below the headstock and the plush velvet lining enhances the high-end feel of the entire package. The Tom Bedell signature on the sound hole sticker is also a nice touch.
The company includes a booklet of tips for guitar maintenance—adjusting, cleaning, and stringing—that mostly amount to common sense: keep the guitar and strings clean, use very little water or polish, and don't put your strap in the case. This mixture of elegance and simplicity is a big part of the OH-12-G's and Bedell's charm.
Parlor powerhouse

You'll want to baby this Bedell, not because its delicate beauty makes it look fragile, but because it's a finely crafted instrument that will return many years of pleasure. Although it takes advantage of modern manufacturing techniques, you're not likely to find a more finely crafted guitar in its class that's better suited for gigs, whether you're playing for petit-four parties in a parlor or killing the crowds in the coliseum.
Features

Solid African sapele top, back, and sides
Solid one-piece African mahogany neck with hide glue dovetail neck joint
Same-grain angle solid mahogany neck block and tongue
Solid African ebony fretboard, bridge, and headstock veneer
Bone nut and saddle
Sitka spruce scalloped "X"-style bracing
Solid wood binding
Inlaid all-wood rosette and headstock logo
Gloss finish
Gold Grover tuners
D'Addario EXP Strings
Deluxe sculpted hardshell case
Limited lifetime warranty
Check out the unique beauty, excellent tone, and uncompromising craftsmanship of Bedell's OH-12-G Parlor Acoustic Guitar. Order today from Musician's Friend and get our 45-Day Total Satisfaction and Lowest Price Guarantees.