Hands-On Review:Fender Performance Inspired Audio Cables

Transparent sound, kink-resistant, and guaranteed for life
By Jon Chappell, Senior Editor, Harmony Central
Many musicians don't give a second thought to their cables. They skip right from their instrument's output jack to the amp or the first effect in the signal chain. But cables are an essential part of your setup, not only for sound but for the way you perform and handle them. After all, you don't move your pedals and amps around with you as you play, but your cable has to go where you go. Next to your instrument, the cable is the closest signal chain component to your body.
Fender cares a lot about cables and has released the Performance Inspired Audio Cable series, which focuses on audio as well as user-friendliness. This series includes many different types of cables for all your audio needs. There are instrument, microphone, and speaker cables, all in various lengths with different connectors and gauges where appropriate. Let's look at some common elements in the Performance Inspired series before checking out the specific cables themselves.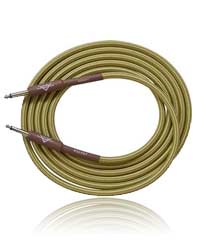 Memory loss

All Inspired Performance audio cables share an important quality musicians will appreciate right away: their lack of "physical memory," an undesirable trait where cables tend to coil back into their previously wrapped state. This also makes them more prone to kinking—putting stress not only on the insulation but the wire core.
But Fender Inspired cables won't kink and don't suffer from memory retention. You notice this while the cable is still in the packaging. For example, the instrument cable comes coiled in about nine wraps. This put an 18.6-foot cable into a circular shape of about nine inches in diameter. But when removed from its packaging, the cable unrolled into a virtual straight line. Try as I might, I couldn't reproduce the original diameter with any predictable degree of accuracy because there was no previous shape to go by—a complete lack of physical memory! All cables wrap easily at the end of a gig, and conform completely to your storage dimensions, whatever they may be.
Color blindness

The other important element in a cable, of course, is its sound—or rather, its lack of contribution to the sound. Plenty of cables will color the sound, and some are even proud of this effect. Not here. You don't hear any difference in your tone as a result of using these instrument cables, whether you're using full-length cables or the shorter patch cables to connect between effects pedals. These are transparent as can be. What you put in is what you get out.
I put all three types—instrument, mic, and speaker—to the test, listening closely for high-end drop-off. No aspect of my sound lost any of the clarity or drop in frequency response from the original signal. This is true of the speaker cables in either gauge: 16 AWG as well as the heavier-duty 14 AWG.
Able cables

Cables don't have moving parts or a view to their inner workings (unless they accidentally get sliced open by a lawn mower—don't ask me how I know this), so it helps to know just what's behind some of the components. The instrument cables feature a two-conductor 1/4" commercial-grade plug on each end, custom-designed by Fender specifically for the Inspired series. Nickel-plated steel barrels and shafts accommodate Fender's uniquely thick-diameter cable, and will withstand years of heavy use. Silver contacts and solder provide quiet and reliable connections. A nickel-plated zinc crimp-style strain relief and PVC shrink tube encase the connector and provide additional reinforcement.
For the XLR (microphone) cables, a custom-designed connector was used to accommodate Fender's new larger-diameter cables as well. Finished in black, the nickel-steel housing and silver contacts yield quiet and reliable connections. Black PVC strain reliefs also provide additional reinforcement.
For their speaker cable connectors, Fender went with a best-of-breed choice: the ubiquitous Speakon. Speakons are the industry standard for amp-to-loudspeaker connections and are designed to operate in the high-current inductive-load environment of loudspeakers. Fender's speaker cables feature a robust plastic housing, traditional Neutrik chuck-type cable clamp, touch-proof contacts, and a unique locking mechanism for extra security (great for those long runs and outdoor gigs!). As mentioned, they come in either 16 AWG or 14 AWG.
Making the right connections

A cable should be a lot like plumbing: when doing its job, the effect should be completely transparent to the user. Not only were all three completely neutral with respect to a sonic signature, the mic and instrument cables didn't resist me in any way during my various stage movements. Their suppleness assured complete free reign in walking and turning, never kinking or coiling in the slightest.
The instrument cables even look great too: White jacket-wrapped ends pay tribute to the vintage Fender look, especially if you're playing a black-and-white Strat—Eric Clapton's Blackie, anyone? Fender's Custom Shop also offers tweed versions. The construction is identical, but the tweed fabric is just a little more high-end in the aesthetics department, especially if you like the look of Fender vintage amps and instrument cases.
But whether you go high-end or opt for the working musician's version, Fender's Performance Inspired audio cables ensure you always sound your best and that you don't neglect the all-important link between your music-making gear.
Connect  your gear with Fender's Inspired Performance cables. They not only sound utterly transparent, they won't kink and curl. Order today from Musician's Friend and get our 45-Day Total Satisfaction and Lowest Price Guarantees.