Buying Guide:Hercules DJ Console 4-Mx

Rugged construction in a four-deck MIDI controller—plus external ins
By Craig Anderton, Editor in Chief, Harmony Central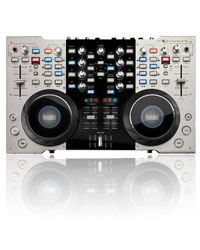 High-capacity hard drives, laptops, and software have changed DJing forever. It's not just about lower costs, increased convenience, or superior portability; it's also about opening up DJing to a wider group of people—and they're discovering just how satisfying it is to put together a set where tight transitions, creative arrangements, effects, and song selections propel a crowd ever higher.
DJ Console 4-Mx is a new entry in the DJ controller world. It's primarily a MIDI controller aimed at those who need more of a pro deck, but with several interesting features added that differentiate it from the pack. Let's check it out.
Overview

The metal construction of the DJ Console 4-Mx feels substantial, and there's some weight—this won't bounce up and down when the subs kick in. A pair of stereo external inputs for mic, line, and even turntables (with grounding post) let you mix in sound sources beyond your computer.
There are four virtual decks; one set of controls switches between the A and C decks, while an identical set runs the B or D deck. Furthermore, tracks in all four decks can play simultaneously. I found this useful for setting up a loop in one deck, then switching over to the alternate deck of the pair and bringing in another track while something else was playing in the other deck pair. Cool.
In terms of control, the 4-Mx's jog wheels are a big deal. They feel solid, and have multiple functions: Push down to scratch, or rotate without pushing to line up tracks or bend pitch. Pushing without rotating is like putting on the brakes. The base is the same diameter as a CD, and the wheel tapers up to the surface; overall, the wheels have a natural, precise feel.
As expected there are main and cue outs, and you can choose either one in your phones—you don't need a special sound card to do cuing, as the 4-Mx is a USB interface. There's also a mic input for when you need to do the MC thing.
Digging deeper

Sliders include volume for each set of decks, as well as a crossfader (which doesn't seem designed for user replacement), and pitch. Toward the controller's midsection, each deck also has bass, middle, and treble controls with individual kill switches, source select with gain, navigation controls for finding and loading files (basically a hardware interface for your software), and cue select.
Additional controls for each deck include six assignable buttons (effects, hotcues, loop, bend, sampler record, etc.) with a control knob (e.g., for varying an effect parameter) and shift button to gain six additional functions. Pitch buttons set the slider range, and allow for temporary bends while holding buttons down; transport-wise there's stop, play/pause, cue, four hotcue points, fast forward, rewind, and a sync option to match the tempo of one deck to the other.
The software

Like any laptop DJ setup, hardware and software are a team. While you can use the 4-Mx with various programs (there's a TRAKTOR Pro 2 template online that includes a map of the 4-Mx's MIDI controllers and notes), the package comes with the cross-platform Virtual DJ 7 LE. Don't let the LE fool you, because this is capable software with automatic beat detection, some cool effects (check out BeatGrid), the ability to record, load, and playback one-shot or looped samples to inject into the mix as desired, and even the option to record the overall output.
You don't need a powerhouse computer; I installed the controller software/drivers and Virtual DJ on an old Pentium M laptop with a gigabyte of RAM, and it ran fine. However, the process of analyzing tracks for automatic beat detection is CPU-intensive, so you don't want to analyze tracks while DJing with an older computer—analyze your music library in advance, so you can bring any track into a deck and use it immediately. With Windows, I also highly recommend using the 4-Mx controller's ASIO mode, as WDM's latency will make you wonder if you've lost your ability to cue on the beat.
The software accommodates VJing too; the controller treats video files like audio files. You can select transitions and even apply effects, although if you expect to do video, you'll need a more powerful laptop with good graphics capabilities. A simpler option than VJing is to associate video files with audio files so you can enhance your DJ sets with video. (Incidentally, if you want to check out the pro version of Virtual DJ, there's a 20-day full-function trial.)
Conclusions

I always get a kick out of DJing, so this was a fun review. The two standout elements for me on the Hercules DJ Console 4-Mx were the solid construction—this isn't a toy—and the jog wheels, which have a great feel. The multifunction buttons are also a big plus, as is the ability to use signals from external inputs. And I like that the 4-Mx handles all your audio I/O—no sound card required. Although the 4-Mx costs more than entry-level controllers, after playing with it, the reasons were obvious.
Features
Solid, all-metal construction with padded carrying bag
High-resolution jog wheels
Handles external inputs, including turntables
Includes Virtual DJ 7 LE software
USB audio (with ASIO 2.0 for Windows, Core Audio for Mac)
4-channel out for main and headphone mix
Microphone input
Bus-powered, no AC adapter needed
The DJ Console 4-Mx is a 4-deck pro DJ controller that's designed to take the rigors of all-night parties. Order today with the complete assurance of Musician's Friend's 45-Day Total Satisfaction and Lowest Price Guarantees.