Hands-On Review:Line 6 POD HD
The latest generation of modeling comes to the desktop
By Jon Chappell, Senior Editor, Harmony Central
Fourteen years ago Line 6 first released its red, kidney-bean-shaped POD—and created a milestone in digital desktop multi-effects processors. That bold design choice is still as viable today as Line 6 revisits it in the new POD HD. Nicknamed "The Bean," this unit retains the distinctive curvy shape and control layout of the original, but now comes in a matte black finish with gold highlights, readable white lettering, and many improvements and upgrades to both the sound and the interface.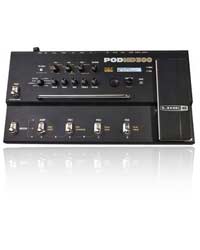 Overview

Processing-wise, the Line 6 POD HD inherits its DNA from Line 6's top-of-the-line POD HD 300/400/500 floorboard series, which themselves include the popular modeled effects from Line 6's M5, M9, and M13 series. The only difference between the desktop unit and the larger floorboard-based ones is that The Bean doesn't have quite the number of physical I/O options. But the sound quality is the same: 16 amp models using Line 6's powerful HD processing, over 100 M-based effects, and a versatile looper.
That's not to say that The Bean is compromised in matters of connectivity, though. A quick look at the back panel reveals a 1/4" guitar input, XLR mic input (with level control), RCA S/PDIF Out, USB (for direct digital recording as well as software updates and use with the free Editor/Librarian software), network port for an FBV Shortboard, two balanced 1/4" jacks for Left and Right stereo output, and a 1/4" headphone output. There are plenty of options for hooking The Bean into a project studio setup involving vocals, guitar, and bass. Additionally, the POD HD supports a dual signal that blends two discrete guitar rigs. Or, you could run vocals through a compressor, EQ, and verb while running your guitar through a full rig.
On The Bean

The Line 6 POD packs a lot of controls onto its control panel without feeling too crowded or confusing. Around the edge are eight large knurled knobs that control the amp functions: Drive, Bass, Middle, Treble, Presence, Tweak (a preset-specific control that alters whatever parameter the user assigns to it), Volume (programmable per preset), and Master (which is global and preset-independent).
With the variously shaped knobs and excellent visual feedback, it's a cinch to combine effects (pre and post), amp, and cab models, and even mics and their positions, into a preset rig that you can recall with one button-press. The use of icons in the signal chain, along with the "Move" command, makes it easy and intuitive to configure your virtual signal chain. One of the most powerful aspects is the ability to move an amp block from Pre to Post modes. This opens up your tonal options considerably, and lets you configure the audio chain as you would in a studio situation.
The backlit LCD can show one of four views, from the presets to the signal flow, and variations of each depending on your performance preferences. There are four rotary encoders just beneath the display that change functions depending which screen is active, and there are additional navigation buttons on either side of the display. A bank of seven switches control bank/preset switching, tap/tuner, and looper functions. Putting these switches at the very bottom of the unit, along the lower edge, is a very user-friendly design move—I found I could actually work the switches with my toe or tip of my shoe. Pretty good for a "desktop" unit!
Model behavior

The models onboard the POD HD Bean represent the latest and best in digital modeling technology. For amps, POD HD has 16 amp models, whose sections can be "split" in order to access the preamp stage separately. These models encompass both British and American classics, including a '65 Fender Twin, '58 Bassman, and '64 Deluxe Reverb, along with Marshall '65 JTM-45 Plexi, '82 JCM-800, a '67 VOX AC-30 (with Top Boost), and archetypal entries from Hiwatt, Park, Mesa Boogie, Bogner, and others. It's the amp models that are really the big news in the HD line. The amp renditions benefit from the increase in DSP horsepower that the HD series inherits. Amp selections just sound more dynamic, complex, and lifelike. They respond smoothly to your playing style, and even in the extreme ends of their settings, they still sound analog.
Also onboard are Line 6's awesome M-series effects. These originally were released as standalone boxes, each in a different color, and they retained that scheme when absorbed into the floor-based multi-effects. Now they're all contained within desktop format in The Bean—with upgrades. There are 19 delays, 22 modulation effects, 30 distortions, 26 filters, and reverbs—including the famed Verbzilla—for a total of 109 different effects to choose from.
Board business

Should you find you want the realtime performance control that all those footswitches on the larger HD boards give you, you can hook up Line 6's optional FBV MkII Shortboard. The POD Bean integrates very well with the FBV by providing additional footswitch control plus an assignable expression pedal. The FBV is The Bean's bridge from desktop to floor, or project studio to stage.
In use

I used a couple of different guitars, both single-coil and humbucker configured, to check out the new HD-based amp models. Running through a Fender Twin, Marshall JC-800, and JBL Eon powered speakers (to test the POD's amp and cab sims in a clean setting), I explored all 16 models. To a model, the results were viable and musical—analog-sounding and realistic with regard to the amps each model was based on. The guitar responds more dynamically in your hands and the amps just feel more "in the room" with you. Particular faves with respect to realism and vibe were the Fender '58 Bassman, Marshall JCM-800, VOX AC30 with Top Boost, and the various "boutique" amps, especially the Bogner Uberschall and ENGL Fireball 100.
Conclusion

In addition to offering the smoothest and most powerful DSP modeling available in a desktop unit, the POD HD offers powerful programming, making it perfect for the project studio. Optional hookup to an FBV Shortboard effortlessly transforms The Bean into a versatile live-performance multi-effects floorboard, including dual signal-path operation. Whichever route you choose, the POD HD provides state-of-the-art desktop signal processing, and is a boon to recording and gigging guitarists everywhere looking for a single solution to all their signal-processing needs.
For the high-quality amp and effects modeling in a compact desktop format, check out the Line 6 POD HD. Order today from Musician's Friend and get our 45-Day Total Satisfaction and Lowest Price Guarantees.