Buying Guide:Orange Amplification
Bold Looks, brash tone, and steeped in quality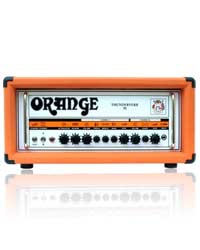 Despite being around since 1968, Orange amps aren't about nostalgia—Orange has a history of continual refinement, while using (and improving on) time-tested techniques. Although known primarily for their command of tube technology, not only was Orange the first company to produce a digitally programmable guitar amp (in 1975, no less), but very few companies would, decades after producing their first amp, decide that it was time to rethink transformers from the ground up. Yet Orange did that to great effect, as well as figured out new ways to reduce hiss at high-gain settings.

Aside from the distinctive and whimsical cosmetics, one of the hallmarks of an Orange amp is that you have to work extremely hard to get anything other than a really great sound. For example, their Orange Thunder series amps have a deceptively simple tone control stack where the midrange Shape control "morphs" among a variety of settings—so with one amp, you can create anything from an edgy country sparkle, to a tough, bluesy breakup to heavy distortion. Orange also understands the complex interplay between preamp tubes, power tubes, transformers, and speakers, which accounts for the highly "musical" transition from clean to distorted sound in all their tube amps.
Getting a Crush on an Orange

So what do you do for an encore? You introduce that high-end sound and construction to a new audience. Orange's economical Crush series of amps debuted in 2000, but in typical Orange fashion, they've continued to evolve. The line has expanded upward to more costly versions offering excellent digital effects, and downward to compact, economical practice amps. But remember, they're Orange practice amps. So, it's no surprise they deliver the acclaimed Orange sound and build quality (real wood!) while remaining affordable. And even though Orange makes no claims about these substituting for traditional amps, more and more musicians are discovering they can put a mic in front of even the smaller Orange amp models and tear up the stage.
And a Dark Star, too

Orange also recognizes that many guitarists want the Orange sound with their "old standby" cabinets, so in 2006 they created the Tiny Terror series—compact, all-tube amp heads that kick out serious sound to the cabinet of your choice. In that spirit, Dark Terror (the most recent family member) marks Orange's first foray into superheavy, high-gain tone. While you can get heavy sounds with Orange amps, the appropriately named Dark Terror was designed with metal in mind—and in a brilliant move, includes the Shape tone control so there's major versatility.

Ask someone who's never tried an Orange amp what they think, and they'll say something like "Yeah, I've heard they're good, I should check them out." But ask people who own an Orange amp what they think, and expect to spend some time hearing all about why they love their amps, would never switch, and can't wait to get another one. Play one—you'll understand.
Musician's Friend carries a full selection of Orange guitar and bass amps, cabs, and combos. Visit musiciansfriend.com today and find the sound you've been looking for!