Buying Guide:Peavey Backstage II and MAX 126 Stage Packs
All-in-one wonders
Russ Kent, Contributing Editor, Harmony Central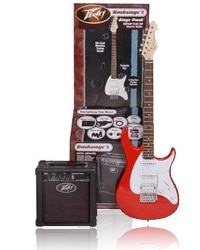 Entry-level gear used to be a real crapshoot with many players getting their first instruments from no-name manufacturers in old-school discount stores and pawnshops. Peavey has helped disarm that newbie trap with its Stage Packs—high quality sets with everything the beginning player needs to start learning, practicing, and, most of all, having fun. I recently tried out Peavey's Backstage II guitar pack, which features a Raptor Plus EXP Strat-style electric, and Max 126 Stage Pack, which features a Milestone BXP bass. Both guitar packs include amps matched to their respective instruments, along with multiple accessories, and they're so much fun to work with I'd still be playing them if I didn't have to stop to write this review.
Raptor on the loose

The Backstage II Guitar Pack is built around the Raptor Plus EXP, a tightly built electric that plays well and fast with the right hardware to make a beginner feel like he's playing on the big stage. With two single-coil pickups at the neck and middle positions and a humbucker at the bridge, five-position selector switch, fulcrum-style tremolo bridge, bolt-on maple neck with truss rod, smooth tuning keys, and tremolo bar, the Raptor will last into the advanced stage of your development as a player. My sample model was expertly set up, with perfect intonation, fast action, and no fret buzz at any spot on the 24.75"-scale neck.
Best of all, the guitar sounded great. The single-coil pickups had the requisite bite and identifiable "phased" sound at the second and fourth positions of the selector switch. The bridge humbucker lived up to its name, eliminating the minimal single-coil noise and giving major heft to the sound on crunchy rhythms and searing lead solos.
Those sounds shine through the Backstage II practice amp that comes with the pack. Don't let that word "practice" fool you. This amp also could work well for recording. A 10-watt amp with 6-inch speaker, this mighty mite uses Peavey's TransTube technology to generate amazingly tube-like response. It offers basic tone controls with a smartly designed gain structure. Pop in the Lead button, adjust the Volume and Overdrive controls, and the Raptor will sound like it's screaming through a much bigger amp. Note to parents considering a Peavey Stage guitar pack: that 10 watts may sound like a hundred when your aspiring rock star cranks it up in the bedroom, but the amp has a Tape/CD input and a headphone jack on the front panel for aiding practice and keeping the peace.
Bringing the bottom

New bass player in the family? The same high quality that Peavey brings to the Backstage II Pack is also evident in the MAX 126 Stage Pack. This pack features Peavey's Milestone bass, a sculpted beauty with a 34"-scale maple neck and rosewood fretboard, a dual-expanding truss rod, two straight single-coil pickups (hum-canceling when used together), a stamped steel bridge, and chrome hardware. The Milestone has two volume controls and one master tone control.
This bass generates tones you'd expect from high-end instruments. The pickups combine for a wide variety of sound, from clean thumb-popping funk to thundering metal growl. It's a fine axe to have around a studio as well as a great beginner or intermediate instrument.
The Milestone really shines with the included MAX 126 bass amp, which, like the Backstage II amp, has TransTube circuitry. The Max 126 adds a selectable Vintage gain control that allows you to dial up classic tones. It gets surprisingly beefy bottom from its 10 watts of power and Peavey 6-1/2" speaker. It also has a headphone output, CD input, and low and high EQ controls.
Best of the rest

The icing on the cake with both Stage guitar packs are the included accessories. With either, you get an instrument cable, strap, and gig bag. Peavey throws in an extra set of strings and picks. As if those weren't enough, with each pack you get a palm-size digital tuner and the Total Musician Series instructional DVD, a great disc for the new player that covers guitar, bass, and even drums using the Rock House Method. There's additional download material and a student chat room online, extras that make the DVD a good buy in itself.
Packed and ready

Like a lot of musician/parents, I've walked by "all-in-one" packs at the music and big-box stores and wondered what folks who opt for the convenience of those kits get for their money. I don't wonder anymore—if the pack is a Peavey. The high quality of the Backstage II and Max 126 Stage guitar packs is obvious as soon as you unbox, strap on, and crank up. Either pack is one that I'd feel confident giving to my own kid, recommending to a friend who plays casually, or picking up one for myself as an auxiliary rig in my studio.
Check out the quality, convenience, and value of Peavey's all-in-one Stage Packs, including the Peavey Backstage II Pack and Peavey MAX 126 Stage Pack. Order today from Musician's Friend and get our 45-Day Total Satisfaction and Lowest Price Guarantees.