Hands-On Review:Radial Engineering Tonebone PZ-DI
Sturdy switcher helps route magnetic and piezo pickups to the right places
Jon Chappell, Senior Editor, Harmony Central

There's nothing quite like the hybrid electric guitar—those axes that combine magnetic pickups with some kind of acoustic-type piezo pickup. The piezos render an excellent approximation of a true acoustic sound and, just as important, can be used to create unique electric guitar tones when blended with the magnetics. But you need the right setup.
"Right setup" is the operative phrase. Magnetic pickups sound great when fed to traditional electric guitar amps. Piezos sound best either direct to a PA or through an acoustic guitar amp equipped with tweeters. Most hybrid guitars have either a stereo out or two separate mono outs allowing you to split the signal between the two types of pickups, but you still need to manage two cable runs and route them to the appropriate destinations. Ugh.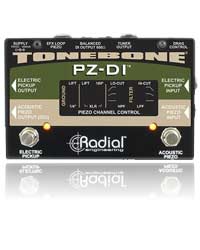 The Tonebone PZ-DI by Radial Engineering makes this process easy and seamless by providing a junction between the guitar and the two kinds of amps. But the PZ-DI is no mere DI box; it optimizes and isolates the signals of each pickup for ideal tone, allows you to turn each one on or off independently, and even lets you make important adjustments to the piezo sound right on the box. In fact, you don't need a hybrid guitar to find the PZ-DI useful: It's equally handy if you have to switch between electric and acoustic guitars and other amplified acoustic instruments—such as mandolin, ukulele, electric violin, and so on.
Layout and controls

As soon as I took the Tonebone PZ-DI out of the box, I was glad that I'd be stomping on it, not the other way around. This thing isn't a tank—it's a bunker. Construction couldn't be better suited for the rigors of the stage. Here's one example: The nuts at the 1/4" jacks are surrounded by plastic washers to prevent them from getting loose. Such attention to detail can be found all over the unit.
Both pickups plug into 1/4" jacks on the right side and exit through transformer-isolated 1/4" jacks on the left. The front panel houses a balanced XLR output and a TRS 1/4" effects loop jack for the Acoustic channel, a 1/4" Tuner output that sends signals from both channels at all times, an input for the 15-volt power supply (higher voltages give the PZ-DI the headroom it needs to deliver acoustic guitar transients), and a recessed Drag control that governs the impedance load at the Magnetic output (more on this later).
All other controls are on the well-labeled front panel, which not only tells you what each switch does, but also points to and describes each input and output with highly visible print—a small but very welcome design detail that makes the PZ-DI extremely user-friendly.
There are two footswitches: The one on the right activates the Acoustic/Piezo channel; the left is for the Magnetic channel. Each channel can be on or off at any time, so you can hear one, both, or neither. Each channel has its own LED to indicate status.
The center of the PZ-DI is dominated by five slider switches that affect only the piezo signal chain: ground lift for the 1/4" output, ground lift for the XLR output (both can reduce hum in some circumstances), a recessed switch reversing the XLR's polarity, a three-position low-cut filter, and a three-position high-cut filter. A nice complement of noise and phase tools here.
Plugging In

I tested the PZ-DI with several acoustic and electric guitars, but did most of the testing with a semi-solid hybrid with two magnetic humbuckers, a spruce top, an acoustic-style bridge, and a piezo pickup. I plugged the Magnetic out into a couple of guitar amps and used the XLR to feed a small PA. The first thing I heard was silence. With both outputs muted, there was no hiss or hum from the guitar.
Stepping on the Magnetic switch produced no pops announcing that the channel was active. The Magnetic output sounded a little more present than the guitar plugged straight into the amp because the PZ-DI actually buffers and boosts the signal for improved performance over long cable runs. I adjusted the drag control until the sound matched the straight-to-amp tone, but I liked the sound better with a little more detail, so I moved Drag closer to its original position. It's nice to be able to explore this option, even though in this case I stayed nearer to neutral.
I then switched over to the Acoustic output. My semi-solid hybrid electric—which has hard-to-reach EQ controls for its piezo—was producing a little too much low end. The PZ-DI's hi-pass filter dealt with that problem easily. I was especially impressed with how "acoustic," open, and uncompressed the guitar sounded when I strummed hard; none of the dreaded "piezo quack" was present. If my hybrid had heavier strings, it would have sounded almost exactly like an amplified acoustic.
The PZ-DI's true potential comes through when you combine the two signals. I loved the massive sounds I produced by layering a slightly overdriven tube amp with a full-bandwidth acoustic tone.
Step on it

The PZ-DI seems pretty utilitarian: After all, it's essentially a fancy direct box with some cool switching features. But that utility can unlock many creative possibilities by helping you get the most out of your acoustic and electric instruments. This one's a keeper.
For an elegant solution to wrangling magnetic and piezo signals with great flexibility, check out Radial Engineering's Tonebone PZ-DI. Order today from Musician's Friend and get our 45-Day Total Satisfaction and Lowest Price Guarantees.