Brad Paisley
This month, we're honored to join one of West Virginia's favorite sons Brad Paisley in celebrating his just-launched H2O II: Wetter & Wilder Tour. A world-class guitar player who fills his songs with head-turning licks, flashy solos, and lyrics depicting everyday life, this country superstar is no stranger to the limelight. His lengthy list of accolades range from Grammys to Country Music Awards.
Now several multi-platinum album releases into his career, Brad and his band The Drama Kings are hitting the tour circuit with new chart-topping hits. All musicians know that when it comes to thrilling an audience, confidence comes in part from the gear you use. Brad and his band have learned to depend on Shure, the world's most popular and durable microphones. The six models of Shure mics on Brad's stage reproduce the true sound of inspired performances €"making them atop choice for touring and venues of all types. Combine rock-solid Shure gear with Brad Paisley and the Drama Kings and what do you get? Exactly what it takes to go full-throttle on the good times!
Featured Gear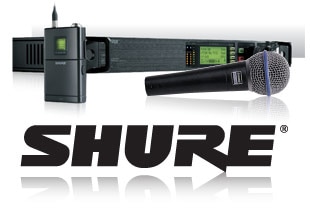 For demanding tours where freedom of movement, freedom from interference, and great sound are a must. This system offers unprecedented performance and flexibility with automatic frequency selection, transmitter sync, and fast, intuitive set up. Up to 2400 selectable frequencies across an ultrawide 60MHz bandwidth provide superior response to unpredictable RF conditions. UHF-R systems deliver up to 40 simultaneously compatible systems per band without audio degradation or interference. Includes UR45 single-channel diversity receiver, URI bodypack transmitter, and WA302 instrument cable. See web for channel options.
270886............................................MSRP $3,349.00 $2679.00
A fantastic pro vocal mic for stage or studio. Its consistent supercardioid pattern results in exceptional gain before feedback at all frequencies and maximum sound-source isolation with minimum off-axis coloration. Rugged steel mesh grille, advanced shock mount, and humbucking coil reduce unwanted noise. This is a high-sensitivity, high-output mic, so if you need to cut through a loud band, this is your model.
270120............................................MSRP $199.00 $159.00
Brad's Live Guitar Mics
From platinum-selling vocals to miking guitar cabinets, this mic does it all. With incredible clarity, the SM7B dynamic mic can handle up to 180dB SPL, which makes it not only one of hte best vocal mics ever made (used on Thriller), but also a great mic for guitar cabinets. It can add body to thin sounds and tame harsh highs. Shielded against electrical interference, it also has bass roll-off and midrange emphasis controls.
270247..................MSRP $436.00 $349.00
SM7B Multipurpose Dynamic Mic
Shure's bulletproof reliability built into a great-sounding ribbon. Want the smooth high-end and rich mids of a ribbon mic but are afraid to take one on the road? Don't be. The premium, bidirectional KSM313 ribbon mic is built to take it while delivering premier audio and superior off-axis rejection. With Dual-Voice tuned response—warm and full for amplifiers, or bright and flattering vocals—its proprietary ribbon material features high tensile strength and shape memory for superior resilience at extreme SPL.
274004..................MSRP $1,560.00 $1295.00
KSM313 Ribbon Microphone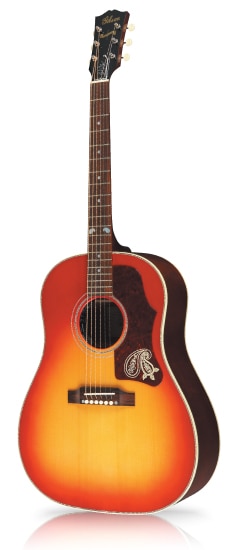 Brad picks the J-45 for top-flight acoustic tones
A big-bodied, round-shouldered dreadnought built in the image of the celebrated 1942 J-45 Legend model. It has a classic tonewood combo of red spruce top, solid mahogany back and sides, and one-piece custom mahogany neck. Get top-flight performance as an acoustic or electric with its Fishman Ellipse Aura pickup and preamp system. Only 300 will be produced!
430709
MSRP $5,158.00
$3999.00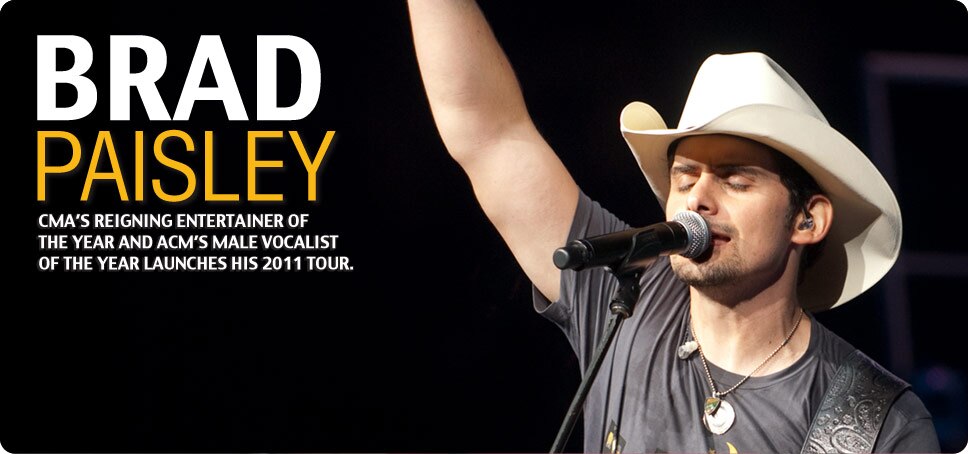 Brad Paisley's Awards
2010: Academy of Country Music: Top Male Vocalist
2010: CMA: Entertainer of the Year
2009: Academy of Country Music: Top Male Vocalist
2009: CMA: Male Vocalist of the Year
2009: CMA: Vocal Event of the Year
2009: CMT Music Awards: Collaborative Video of the Year
2009: CMT Music Awards: Male Video of the Year
2008: Academy of Country Music: Video of the Year
2008: CMA: Male Vocalist of the Year
2008: CMA: Music Video of the Year
2008: Grammy: Best Country Instrumental Performance
2007: CMA: Male Vocalist of the Year
2007: CMA: Music Video of the Year
2006: Academy of Country Music: Album of the Year
2006: Academy of Country Music: Video of the Year
2006: Academy of Country Music: Vocal Event of the Year
2006: CMA: Album of the Year
2006: CMT Music Awards: Most Inspiring Video of the Year
2005: Academy of Country Music: Vocal Event of the Year
2005: CMT Music Awards: Collaborative Video of the Year
2004: CMA: Music Video of the Year
2002: CMA: Music Video of the Year
2002: CMT Flameworthy Video Music Awards: Concept Video of the Year
2001: CMA: Vocal Event of the Year
2000: CMA: Horizon Award
2000: Country Weekly Presents the TNN Music Awards: CMT Music Video of the Year
2000: Country Weekly Presents the TNN Music Awards: Song of the Year
2000: Country Weekly Presents the TNN Music Awards: The Discovery Award
1999: Academy of Country Music: Top New Male Vocalist
| | | |
| --- | --- | --- |
| Date | Location | Venue |
| 5/28/2011 | Pittsburgh, PA | Heinz Field |
| 6/3/2011 | Virginia Beach, VA | Farm Bureau Live at Virginia Beach (Formerly Virginia Beach Amphitheatre) |
| 6/4/2011 | Hartford, CT | Comcast Theatre (formerly Meadows Music Theater) |
| 6/11/2011 | Cleveland, OH | Progressive Field (formerly Jacobs Field) |
| 6/16/2011 | Cincinnati, OH | Riverbend Music Center |
| 6/17/2011 | Maryland Heights, MO | Verizon Wireless Amphitheater - MO |
| 6/18/2011 | Noblesville, IN | Verizon Wireless Music Center - IN |
| 6/24/2011 | North Platte, NE | Wild West Arena |
| 6/25/2011 | Manhattan, KS | Tuttle Creek State Park |
| 7/2/2011 | Provo, UT | Lavell Edwards Stadium |
| 7/15/2011 | Holmdel, NJ | PNC Bank Arts Center |
| 7/16/2011 | Mansfield, MA | Comcast Center - MA (formerly Tweeter Center) |
| 7/17/2011 | Scarborough, ME | Scarborough Downs |
| 7/22/2011 | Moosic, PA | Toyota Pavilion At Montage Mountain(formerly Ford Pavilion) |
| 7/23/2011 | Darien Center, NY | Darien Lake Performing Arts Center |
| 7/30/2011 | Frisco, TX | Pizza Hut Park |
| 8/4/2011 | Detroit Lakes, MN | Soo Pass Ranch |
| 8/6/2011 | Tinley Park, IL | First Midwest Bank Amphitheatre (formerly Tweeter Center-il) |
| 8/7/2011 | Columbus, OH | Columbus Crew Stadium |
| 8/17/2011 | London, United Kingdom | O2 Arena - London |
| 9/9/2011 | Tampa, FL | 1-800-Ask-Gary Amphitheatre At The Florida State Fairgrounds (formerly the Ford Amphitheatre) |
| 9/10/2011 | West Palm Beach, FL | Cruzan Amphitheatre (formerly Sound Advice Amphitheatre) |
| 9/23/2011 | Camden, NJ | Susquehanna Bank Center (Formerly Tweeter Center) |
| 9/24/2011 | Bristow, VA | Jiffy Lube Live (Formerly Nissan Pavilion) |
| 9/25/2011 | Raleigh, NC | Time Warner Cable Music Pavilion at Walnut Creek (formerly Walnut Creek Amphitheatre) |