Hitting It Big—Worldwide
Multi-platinum band My Chemical Romance grace this month's catalog fresh from a back-to-back tour packed with songs from their fourth studio album, Danger Days: The True Lives of the Fabulous Killjoys. The New Jersey rockers have soared to the heights of fame in just over a decade. The band's music is heard on stages around the world and across pop culture—from video games to soundtracks and TV shows.
From the start, the band's goal was to make a difference—a fervor born from tragedy. They formed in 2001, only one week after 9/11. Lead singer Gerard Way was commuting to his job as a commercial artist when he witnessed the attacks firsthand. Shock proved to be one potent chemical when he and his bandmates drew on their grief for musical inspiration.
Today, My Chemical Romance remains true to the inspiration behind their performances—from hard rock anthems to award-winning stage theatrics. Shop a full selection of the gear they used on their recent "World Contamination Tour." And don't miss our exclusive interviews with the band, all right here!
Featured Gear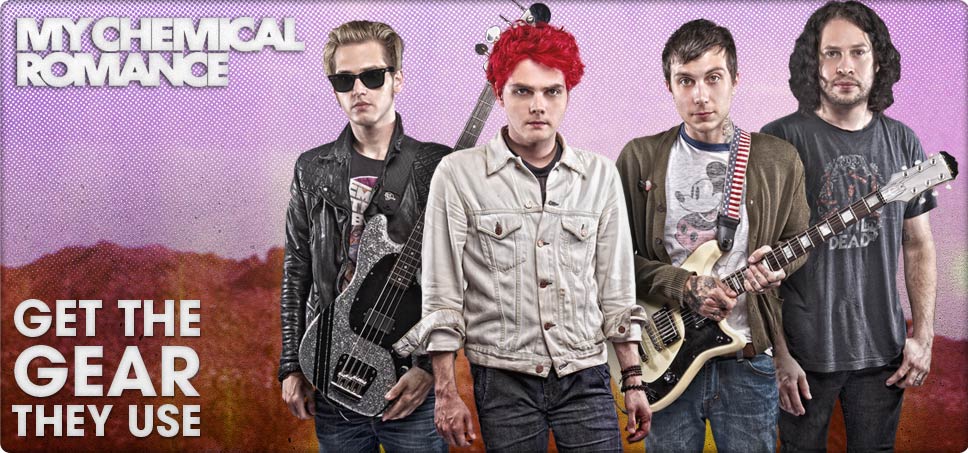 We were thrilled to meet with the four main members—lead vocalist Gerard Way, bassist and Gerard's bro Mikey Way, and guitarists Ray Toro and Frank Iero—who told us about their approach to songwriting, what gear they prefer, and how they get their sound. Frank talks about the inspiration behind his signature Epiphone Wilshire—enter to win it in the My Chemical Romance Epiphone Wilshire Guitar Giveaway!