Acoustic Bass Guitar Strings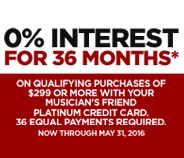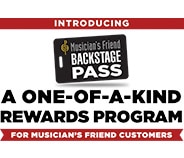 all
No Results Found
Quick Search Tips:
Try just one or two terms.
Instead of using the search box, find your gear by clicking the product category tabs and other navigation links.
Try varying the spelling to see if the word is spelled correctly.
Check out the items below that are suggested based on your search terms.
We'd love to help you find what you're looking for-call us anytime at 800-449-9128.
Suggested Items:
With any type of guitar, your choice of strings is one of the biggest factors in determining not only how your instrument sounds, but also how it feels to play. The perfect acoustic bass guitar strings are a set that's matched equally well to both you and your guitar. Thankfully, acoustic strings are fairly straightforward in their options. Most acoustic bass strings are made of phosphor-bronze. This material, which is also widely used in acoustic guitar strings, delivers a rich tone that offers plenty of character. Other strings are made of nylon, which is a modern equivalent of the gut strings that guitars historically used. A bass with nylon strings will sound softer and more subdued. Taking the middle ground are bronze-wrapped nylon strings with a nylon core and metal winding string. These hybrids combine the gentleness of nylon with the brilliance of phosphor bronze for a balanced tone. In addition to picking out a material, you'll also need to choose the gauge of your strings. Lighter gauges respond better to a softer touch, making them excellent for beginners, but they also produce the thinnest tone. As you grow in experience and improve your fretting and picking skills, you'll likely turn to heavier-gauge strings to enrich the instrument's tone. Thicker strings also have a naturally lower sound, so a heavier gauge is a good choice if your goal is to tune the bass to a low pitch. Since bass guitars come in different scales, make sure that the strings you choose are made for your guitar's size. Most bass guitars—and, therefore, most strings—are 'long scale,' which is 34 inches from bridge to nut. If you have a shorter instrument, look for strings that match the scale in order to make sure they wind properly around your tuning posts. When all is said and done, evaluating strings is a matter of trial and error. You may try a few different gauge and material combinations before you discover the strings that are perfect for you. String performance varies from guitar to guitar and player to player, but your ear will tell you when you've made the best match
.
You are changing the Ship-To country.
Our product catalog varies by country due to manufacturer restrictions. If you change the Ship-To country, some or all of the items in your cart may not ship to the new destination.
{"reportSuiteIds":"","prop2":"","prop1":"","prop5":"","prop6":"","prop3":"","prop4":"","channel":"","linkInternalFilters":""}
category
site1LABB
/acoustic-bass-guitar-strings
cat|site1LABB
?pageName=collection-page&N=500544