Guitar Stands & Wall Hangers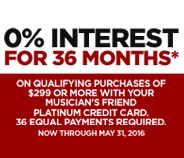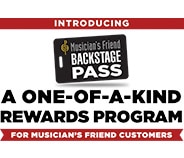 all
No Results Found
Quick Search Tips:
Try just one or two terms.
Instead of using the search box, find your gear by clicking the product category tabs and other navigation links.
Try varying the spelling to see if the word is spelled correctly.
Check out the items below that are suggested based on your search terms.
We'd love to help you find what you're looking for-call us anytime at 800-449-9128.
Suggested Items:
As much as we all wish we could be playing our guitars 24/7, eventually you're going to have to put it down. That doesn't mean going all the way into a case, though—with stands and wall hangers, you can keep your guitar ready to pick back up and play at a moment's notice. Stands are portable, which of course makes them the way to go for gigs and tours. At home you might want to put up a few wall hangers to bring the guitars up from the floor and show them off the way they deserve to be seen.There are many shapes and sizes of stand to suit your guitar-holding needs. Tubular stands are probably among the first to come to mind, and they're a great choice. Available in single, double, triple and quad layouts, tubular stands can hold up to four guitars, giving you the flexibility you need to take both electric and acoustic onstage for quick swapping. You might even add some more exotic instruments like the banjo or mandolin for a really varied set.What's important is that you have enough room for every instrument you want to have with you. If that's more than four, you're entering rack territory. Commonly sized to hold 3-7 guitars, racks can be simple frames, rugged flightcases or an upholstered guitar case style. Are you on the other end of the spectrum, looking for a compact stand for one guitar? Take a look at A-frame stands, which can usually fold up small enough to toss in a carry-on or gig bag.Your home studio or jam room might call for something a little more permanent than a stand or rack, and that's where wall hangers will help you out. These mounts take up no floor space, so you can line up as many guitars as you have walls to hang them on. Wall hangers are the natural choice if you're a collector putting axes on permanent display, and they can definitely make an impact on the look of any room—especially if you go for the cool hand-shaped hangers from Grip Studios.If you're like most musicians, you don't want to put your instrument back in its case every single time you're not using it. But you also don't want to just leave it lying around. Guitar stands and wall hangers are the happy medium, giving you a place to set your instrument whether you want to put it on display for a while or have it ready to pick back up and play
.
You are changing the Ship-To country.
Our product catalog varies by country due to manufacturer restrictions. If you change the Ship-To country, some or all of the items in your cart may not ship to the new destination.
{"reportSuiteIds":"","prop2":"","prop1":"","prop5":"","prop6":"","prop3":"","prop4":"","channel":"","linkInternalFilters":""}
category
site1LIA
/guitar-stands-wall-hangers
cat|site1LIA
?pageName=collection-page&N=500599