Stick Accessories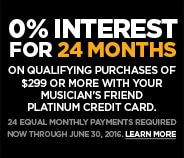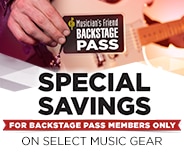 all
No Results Found
Quick Search Tips:
Try just one or two terms.
Instead of using the search box, find your gear by clicking the product category tabs and other navigation links.
Try varying the spelling to see if the word is spelled correctly.
Check out the items below that are suggested based on your search terms.
We'd love to help you find what you're looking for-call us anytime at 800-449-9128.
Suggested Items:
Sticks and brushes. Mallets and rutes. You're a drummer, and these things are more than just the tools of your trade—they're an extension of your very arms. With such an important role to play, your percussion mallets need to be finely tuned to your personal rhythm, and they deserve a little extra care in their downtime. The right accessories will give your sticks, brushes and rutes the attention they need to keep you playing at your best. From replacement parts that give sticks a new lease on life to something as simple as a case to hold your spares, your accessories make your kit more intuitive so you can spend less time messing with your gear and more time mastering your craft. Perhaps one of the most important accessories in your arsenal will be gripping aids for your sticks. Whether it be rings, tape, sleeves or elastics, these add-ons not only give you a firm, reliable hold on your sticks—they also add a touch of personalization to make those sticks all your own. If you prefer your drum sticks plain, rosin might be more to your style: just rub a little into the handles, and you'll have a grippy surface with no added weight or bulk. For the innovative drummer, a stick-mounted tambourine or shaker can add impact to every stroke, bringing depth and excitement to your sound. To make things a little easier at shows, a drum stick holder is a smart choice. And no drummer should be without a toolkit to maintain their gear. For every need, there is an accessory to suit. Don't let yourself go another day without the drum stick accessories that are right for you. Filling a variety of roles, accessories cover the bases from the vital (like helping you maintain your grip) to the novel (like adding effects to your swing). There is simply no substitute for a premium accessory to go with your premium drum sticks.