Stupid Deal of the Day
site1prod150821
150821
DigiTech DigiDelay Digital Delay Pedal
Today's Price
$3995
60
MSRP: $144.95
Regular Price: $99.95
(interim markdowns may have applied)
In Stock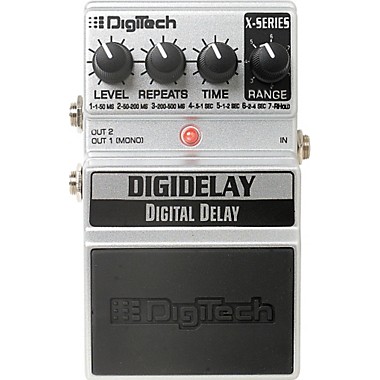 Please note - If we sell out of any daily Stupid Deal before 4:00 pm PT/7:00 pm ET, we post a new Stupid Deal deal. If you reached this page expecting another deal, it likely has been sold out.
Product Description
The Digitech DigiDelay gives you up to 4 seconds of premium-sound delay, more than is found in many studio-quality, rackmounted delay processors—and that's just the beginning! This standard-size delay pedal lets you select various delay types including ping-pong, tape, reverse, modulated, and looping. The Loop function records loops up to 4 seconds in length—and you can add overdubs! The DigiDelay also features Tap Tempo control and switchable CIT guitar cabinet modeling for great direct-to-the-mixer guitar sound! Stomp box controls include Level, Repeat, Time, and Mode. Outputs include Left/Mono and Right. The DigiTech DigiDelay includes a 9V battery.
Features
Up to 4 seconds of delay
Various delay types: ping-pong, tape, reverse, modulated, looping
4-second loops with overdubs
Tap Tempo
Switchable CIT guitar cabinet modeling output
Level, Repeat, Time, and Mode controls
Mono/stereo outputs
Get Instant Notification

Be the first to know the

Stupid Deal of the Day!
Get it first

Sign up now for smokin' deals, new & hot gear, plus exclusive offers.