Stupid Deal of the Day
site1prod271012
271012
Heil Sound PR40 Large Diaphragm Multipurpose Dynamic Microphone Restock
Today's Price
$19900
33
MSRP: $375.00
Regular Price: $299.00
(interim markdowns may have applied)
In Stock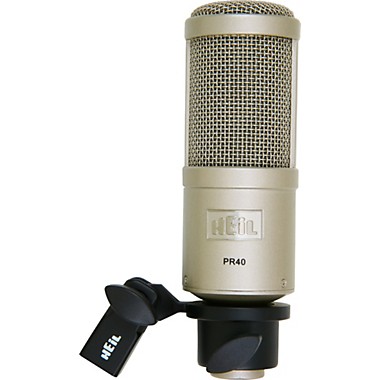 Please note - If we sell out of any daily Stupid Deal before 4:00 pm PT/7:00 pm ET, we post a new Stupid Deal deal. If you reached this page expecting another deal, it likely has been sold out.
Product Description
The Heil Sound PR40 is a full-range dynamic microphone designed with the ability to reproduce frequencies as low as 28Hz, ideal for live sound, recording, and broadcast applications. The unique, copper-wound voice coil uses a mixed metallic magnet structure that creates a magnetic field 10 times stronger than most mics. Coupled with a large 1-1/2", low-mass, quilted aluminum diaphragm, this makes for tremendous low-frequency response and low distortion throughout the PR40 mic's wide frequency range. A unique dual pop screen design ensures that breath blasts never hit the diaphragm directly.
Features
Large 1-1/2" aluminum diaphragm
Wide frequency response, down to 28Hz
End fire, cardioid pattern
Low handling noise
Natural articulation
Get Instant Notification

Be the first to know the

Stupid Deal of the Day!
Get it first

Sign up now for smokin' deals, new & hot gear, plus exclusive offers.