Stupid Deal of the Day
site1prodJ16556
J16556
Chauvet DJ Bank FX 4-Pod Beam Effect (2-pack)
Today's Price
$9998
38
MSRP: $229.98
Regular Price: $159.98
(interim markdowns may have applied)
In Stock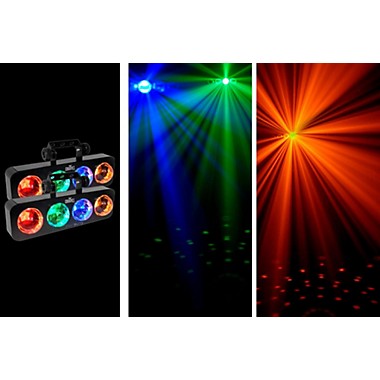 Please note - If we sell out of any daily Stupid Deal before 4:00 pm PT/7:00 pm ET, we post a new Stupid Deal deal. If you reached this page expecting another deal, it likely has been sold out.
Product Description
DJ Bank FX modifies the long-standing DJ Bank and converts it into a unique effect light that projects mid-air effects. Each pod of LEDs features a customized dome lens to produce hundreds of beams that scatter throughout the room. Plug it in and let the sound-activated programs create unique patterns and chases. This is a 2-pack.
Features
2-pack
Lightweight, compact effect
Redesigned lenses project eye-catching effects
Looks great with or without fog
Easily fills a room with colorful effects using a bank-style housing
Power through ambient lighting with powerful, 3W LEDs
Built-in, sound-activated programs dance to the beat of the music
Get Instant Notification

Be the first to know the

Stupid Deal of the Day!
Get it first

Sign up now for smokin' deals, new & hot gear, plus exclusive offers.