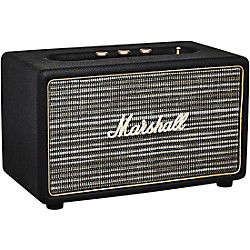 The Acton provides a listening experience that is loud and clear, and connects you to your music with ease and style. Its powerful deep bass belies its small size.

Acton's custom control three analog interaction knobs allows you to fine-tune the exact sound you're after. It joins the Marshall family's traditions of quality and value, and also carrying on a long standing tradition of loud, loud, loud.

Acton has inherited all the family traits, boasting the classical and durable vintage design, and iconic script logo that is so distinctly Marshall. The Acton is right at home with the rest of your Marshall collection.
$24999.00
$10099.00
$1490.00
Ends Tuesday 10/17
Limited quantity-while supplies last
Earn up to 2,000 points