Stupid Deal of the Day
site1prodH87203
H87203
MXL 920 Large-Capsule Condenser Microphone
Today's Price
$8999
70
MSRP: $399.99
Regular Price: $299.99
(interim markdowns may have applied)
In Stock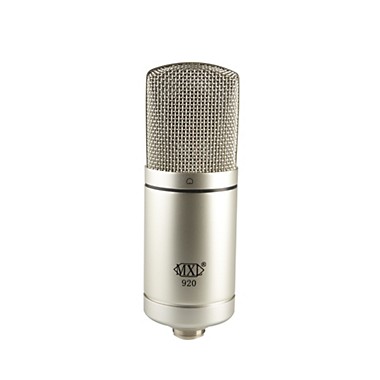 Please note - If we sell out of any daily Stupid Deal before 4:00 pm PT/7:00 pm ET, we post a new Stupid Deal deal. If you reached this page expecting another deal, it likely has been sold out.
Product Description
The MXL 920 is a wide diaphragm condenser microphone for vocals or instruments with a cardioid response pattern. It is ideal for guitars and drums, and also good for singers too. Its response pattern features a gradual rise from 20Hz through 200Hz, with a dip between 300Hz and 2kHz. There is slight rise from there with a peak at 5kHz. It is a side-address mic. Comes with a clip.
Features
Great for lead voice
Effective at group vocals
Get Instant Notification

Be the first to know the

Stupid Deal of the Day!
Get it first

Sign up now for smokin' deals, new & hot gear, plus exclusive offers.