Stupid Deal of the Day
site1prodJ00200
J00200
Ibanez Roadcore Series RC320 Electric Guitar Black
Today's Price
$24999
50
MSRP: $688.88
Regular Price: $499.99
(interim markdowns may have applied)
In Stock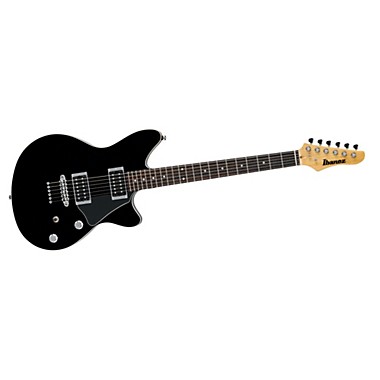 Please note - If we sell out of any daily Stupid Deal before 4:00 pm PT/7:00 pm ET, we post a new Stupid Deal deal. If you reached this page expecting another deal, it likely has been sold out.
Product Description
For the guitarist looking to distinguish themselves from the masses, Ibanez is proud to present the Roadcore Series. Representing an alternative to the overexposed models of yore, the RC320 provides access to classic sounds and tones while offering options to create something unique. The Roadcore Series represents a new path to a tonal palate designed to inspire and animate creativity.

Visually, the RC320 recreates a vintage vibe with an asymmetrical, double cutaway body and dual binding. At the heart of the guitar is a mahogany body combined with a bolt-on maple neck to create a warm, balanced tone. A rosewood fingerboard with gloss neck back finish and medium frets produces a familiar, comfortable feel for players of all styles. Thru the body stringing and the Ibanez exclusive Tight-Tune bridge improves sustain and tuning stability while facilitating quick, easy string changes. Two exclusive custom-design CORE-TONE pickups with 3-way selector switch provide access to a variety of tones that are pure rock 'n' roll. The Ibanez Roadcore Series: The vehicle for those willing to take the road less traveled.

Case sold separately.

Features
Custom-designed CORE-TONE pickups provide a warm, yet cutting sound
All-slab mahogany body with dual binding for a classic look and vintage vibe
Round-profiled neck ensures comfort, playability and a great vintage feel
Traditional neck joint with four screws
Tight-Tune bridge provides improved transfer of string vibration and better tuning stability
Case sold separately
Get Instant Notification

Be the first to know the

Stupid Deal of the Day!
Get it first

Sign up now for smokin' deals, new & hot gear, plus exclusive offers.