76 Key Synthesizers
Ways to Shop
Best Sellers

Items with Rebates

Open Box Gear

Top Rated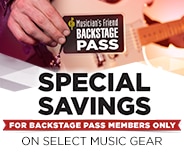 all
Open Box
Results 1 - 2 of 2 matches
Rebate

Compare

Compare Now

site1prodJ32067

Compare

Compare Now

site1prodH74195
Was:
If you're a concert synth player who wants a portable and lightweight instrument that still contains a wide range of notes, then a 76-key synthesizer is the best route to go. More versatile than a 61-note synth, yet more compact than an 88-note synth, you might say that 76-key synthesizers offer the best of both worlds. Sound appealing? Well you're in luck: only the most trusted names in synthesizers are offered here, including Roland and Yamaha. In fact, many of the 76-key synthesizers on this page are best sellers.

For a 76-key synthesizer that boasts high-end sound, playability and control, start your search with the Yamaha S70XS 76-Key Balanced Weighted Hammer Action Synthesizer. Whether you're performing live or composing masterpieces in your home studio, the S70XS is jam-packed with amazing effects and sounds to broaden your musical horizons. Notable features include: 456 megabytes of instrument samples, the Performance Creator feature to create custom performances quickly and easily, and a host of other extras that live performers will appreciate (like a combo jack that accepts mic inputs).

Another powerful 76-key synthesizer that deserves your consideration is the Roland Jupiter-80 Synthesizer. To say that that this synth is loaded with possibilities would be a huge understatement; this monster pays homage to the legendary Jupiter synth, but also packs in a heap of other features through advanced SuperNATURAL technology. The result is a seemingly endless range of legendary vintage synths, realistic organic acoustic sounds and much more right at your disposal. Along with a USB-memory Song Player/Recorder and built-in USB-MIDI/Audio interface, the Jupiter-80 is out of this world.

With technology improving by the day, modern synthesizers are like self-contained studios that allow you to tap into every corner of your musical imagination. The 76-key synthesizers that sit before you in this catalog were made to make your musical journey a more interesting and enjoyable ride, so try to give each model here a keen overlook - in the end, you'll be glad that you did.